Happy Customers

Our daughter, Megan, placed 1st yesterday in Western Pleasure at our local 4H stock show. She was riding Remington. He is absolutely the best horse we have ever had and has been really good with our kids.
Chris Ulrich
REMMY
TX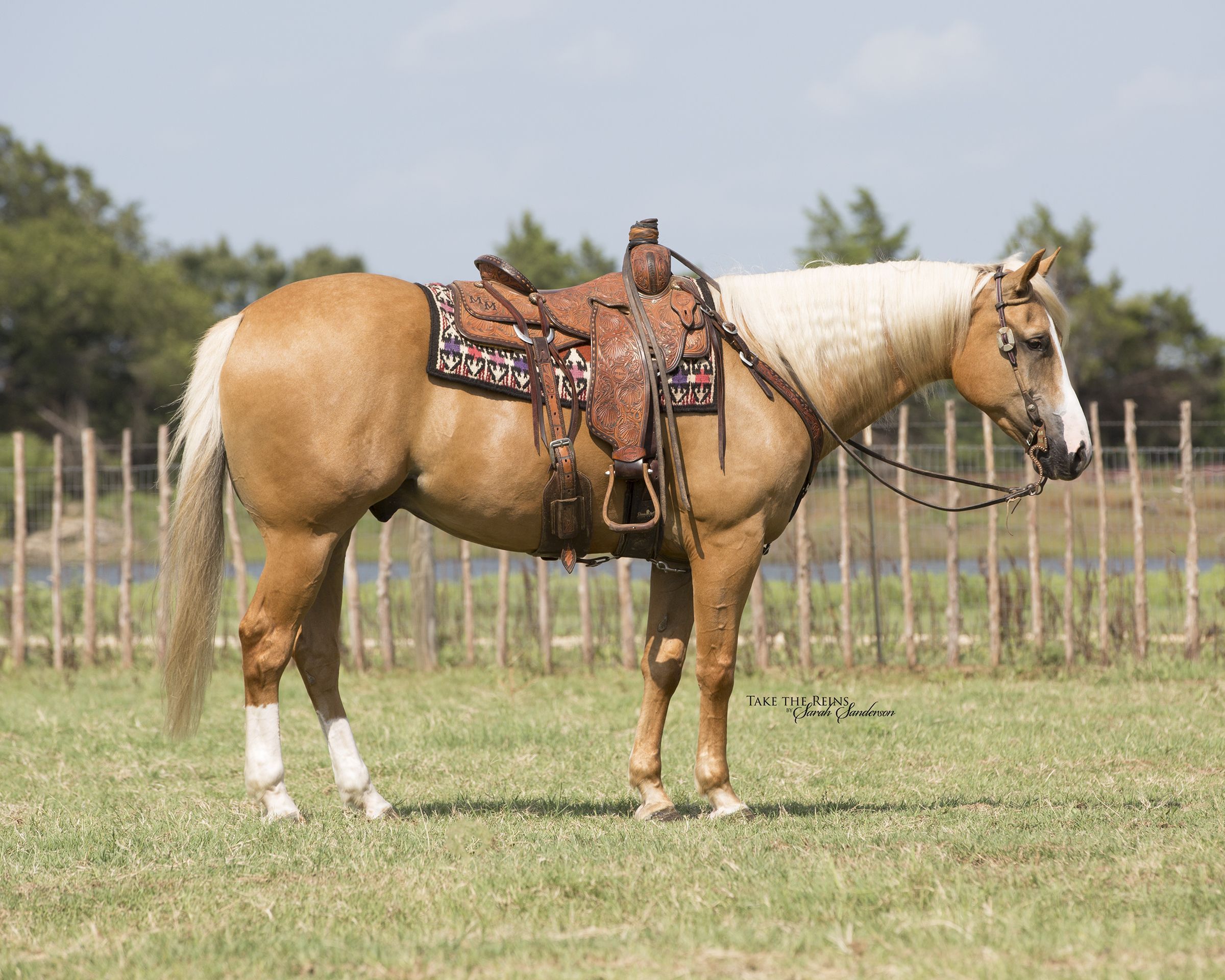 ---
She's the most beautiful and gentle horse in the world. I'm crazy about her! I've been looking for this horse my entire life! I honestly thought that if she was half as good as advertised, I'd be thrilled. Sarah and Mozaun could not have been more honest. They hand delivered a horse that was not only supremely trained and super safe, she is the sweetest horse I've ever met. Thank you Sarah and Mozaun! You guys are the real deal!
Portia De Rossi
ROSIE
CA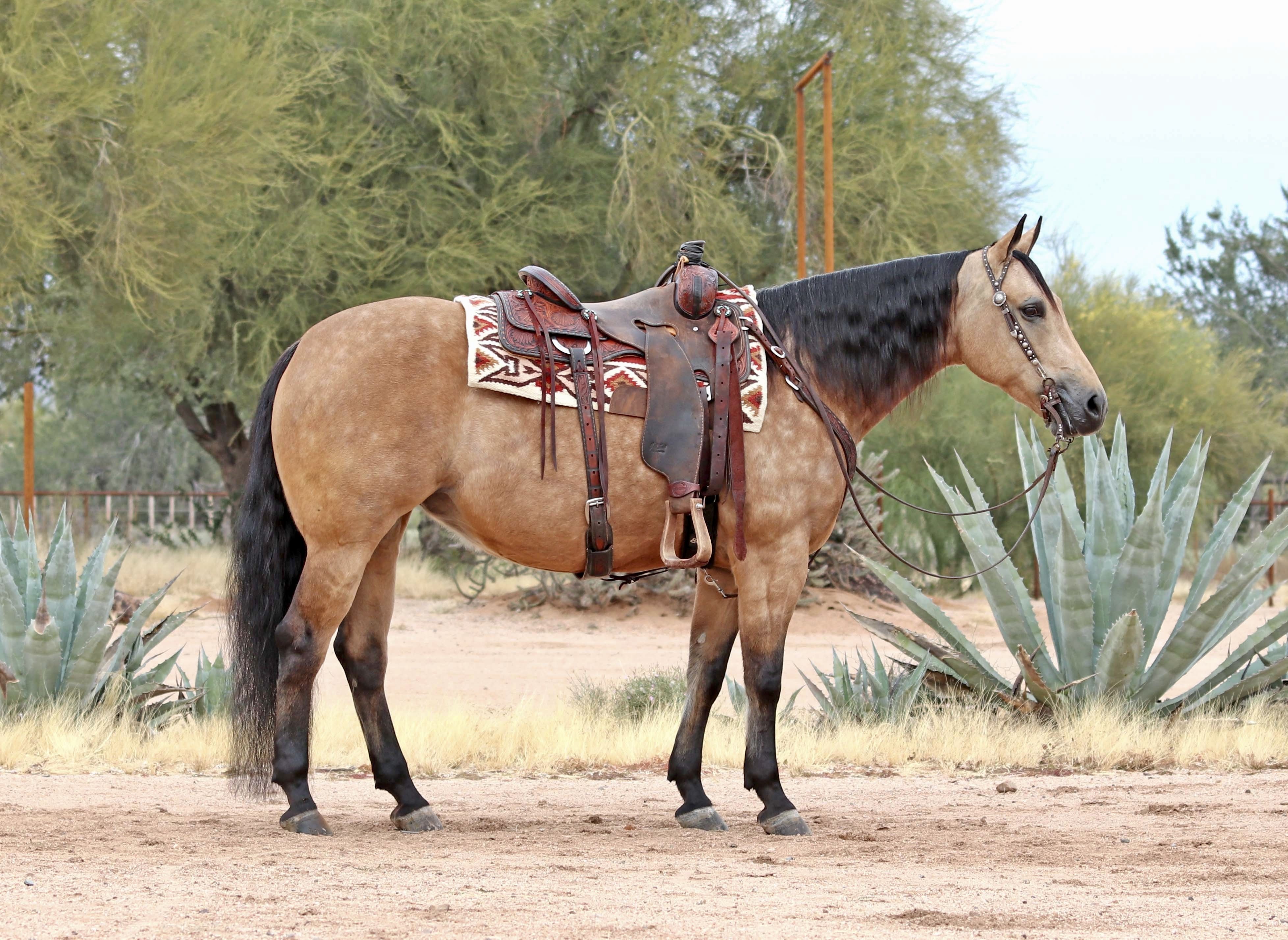 ---
Hello Sarah and Mozaun. My name is Keith Hogan, I live in northern Utah. I'm E-mailing you mainly to say that I watch your Horse video's at least once, twice and sometime if I'm lucky three times a day! I'm in amazement at what you can do with you horses. I can only imagine the time, dedications and hard work it must take to get horses to that level. Not 1 or 2 but a lot of horses all at top level. That all being said I hope you both keep doing what your doing for ever. To say the least I'm a fan! a BIG, BIG FAN!
Kieth Hogan
UT
---
Owning a mckibben horse is a dream. The training discipline and "cute tricks" is something that can't be taught anywhere. When getting a mckibben horse you know they are sound safe and your getting what was told. They are honest and have a true passion for their animals. After the purchase they are helpful and always wanting the best for their horses , weather its in competition, ranch, or a little girls unicorn. Our family is blessed to have 3 mckibben horses and can't imagine anything better.. thank you Sarah and Mozaun for the most beautiful and wonderfully trained horses !! We will love and cherish our horses and memories forever!!
Ashley Palumbo
CADBURY, INDIGO, DENVER
TX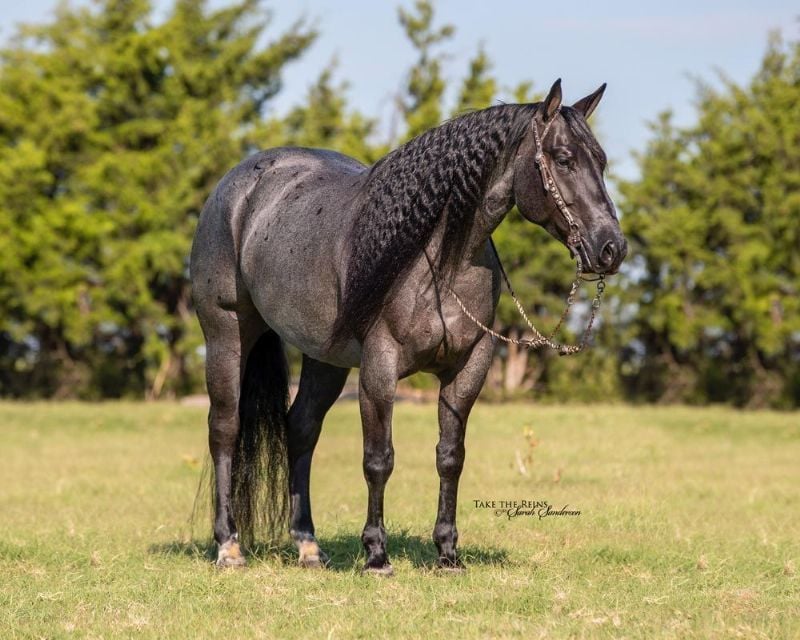 ---
We as a family can not express enough the importance of finding true and honest clients that offer the absolute BEST OF THE BEST! Sarah and Mozaun offer MORE than the BEST OF THE BEST! The horses that they hand pick for their program begin with their unique EXPERTISE in knowing what will become a true athlete and asset to any person!! Every single horse we have encountered from them is the ELITE OF THE ELITE and they both go far beyond what any trainer we have ever encountered in 18 years. We get asked often for referrals to the best trainers to purchase from and Sarah and Mozaun are our #1. They just don't offer amazing horses but the friendships that carry on for a lifetime is the sweet bonus! They are the most
passionate about their program and are HANDS ON! The honesty and integrity they put into their reputation and training is above all! Don't pass them by, get dug in knowing you will have exactly what you are looking for! Make the best investment!!
Thanks Sarah & Mozaun for the integrity you instill in the equine industry!
Stan & Tonya Alexander
OK
---
Mozaun and Sarah are forever a part of our lives now! We recently bought Cadbury at the Cowgirl Cadillac sale.
Being I already have two highly trained top quality Mckibben horses I thought I knew what to expect meeting Cadbury at their incredibly stunning Arizona Ranch. Blown away is an understatement because my experiences around their horses just keeps getting better! My niece and nephew age 7 and 10 accompanied me to the ranch. Immediately they were received with open arms and tossed aboard some beauties that were tacked up in the arena. I didn't blink an eye or worry for a second about the horses carrying them around. The McKibbens are straight forward with what horses suit certain people. They are very intuitive about each individual horses demeanor and ability. Growing up around horse dealers,racetracks, and show rings I can certainly recognize their fine ability to match horses with the proper rider/home! Meeting Cadbury was the highlight of my visit. He had never had a single bad day of handling and Sarah knew his story from start to finish. (She has a beautiful mind and remembers everything about every horse they've trained) We talked and rode together for quite awhile. Needless to say my husband and entire family fell in love with Cadbury! After Mozaun patiently went through hooking up Cadbury's cart with us, the deal was sealed while we were driving him all over the place! WE HAD TO HAVE THIS PRICELESS GEM! The McKibbens provide my family confidence through their hard work and training! I'm so proud we own Denver also know as Gunner,Indigo,and Cadbury!
I will forever fill my barn with these quality highly trained Mckibben horses! I look forward to always learning from the trainers I admire most! Thank you for all the joy your dedication to horses and dogs continues to bring into our lives! Mozaun and Sarah my entire family loves you both so much!
Amy & Danny Singleton
CADBURY, INDIGO, DENVER
TX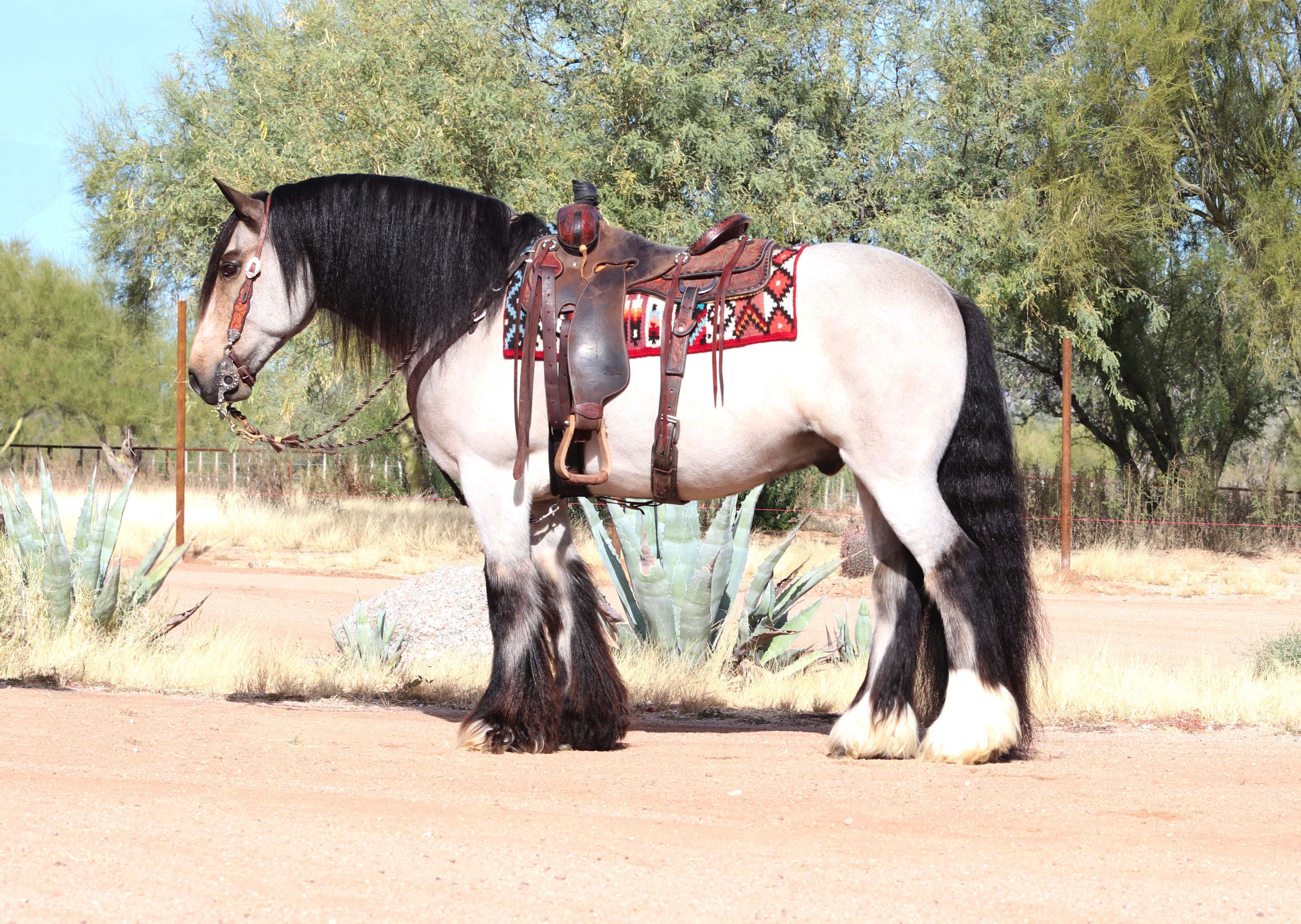 ---
I haul horses for Sarah and Mozaun going mostly to the Western United States. It is always a pleasure to handle their horses. The ground manners and overall of ease of transportation speaks to the amount of time and effort they put in to producing the absolute best quality equine partners that you can purchase. If you are in the market for a once in a lifetime horse, I highly recommend you shop with the McKibben's!
Jeremiah Moody
TX
---
The best horsemen and horse women I've ever met... blessed to be able to call them friends and colleagues
Kris Hair
TX
---
I recently purchased Black Jack from the McKibbens and I'm very happy with him. He is a push button reining horse (you don't have to have experience riding a reining horse and he will still make you look good)! He is also very respectful and willing. He's been here less than a week and we have already brought him on his first beach ride. He did great during this new experience. I highly recommend purchasing a McKibben horse. They represent them truthfully and he is even more beautiful in person than in the videos and pictures. I couldn't be happier.
Angelique Barbara
BLACKJACK
FL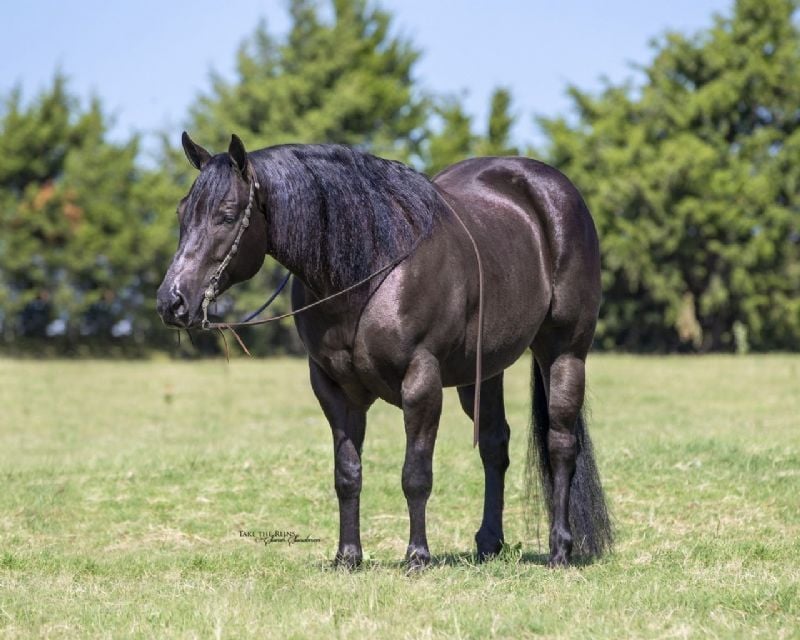 ---
Sarah and Mozaun McKibben sell magnificently trained stunning horses. After purchasing one incredible mare - Prada- from them, we were hooked. Since then, we have bought several more incredible horses from them after consultation with Sarah and Mozaun about the right fit. We have been extremely impressed with each of our horses' training and versatility, in addition to each of them being exceptionally beautiful. We also value the McKibben's ongoing support and the care in which they answer any of our questions. You know that you are getting a special and exceptional horse when you are buying a horse from Sarah and Mozaun.
Jill Dyal
JIGSAW, PRADA, MILO, BUZZ
NY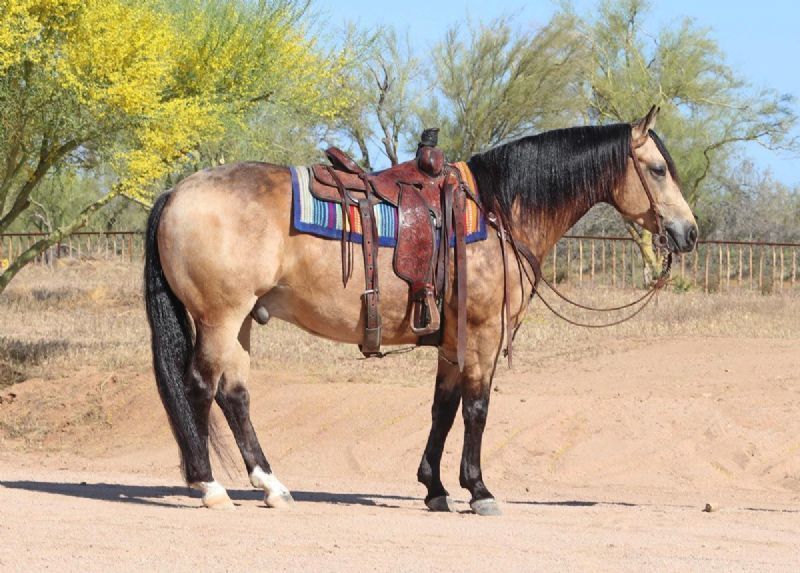 ---
I was fortunate enough to get two McKibben Horses thru the League of Legends Sale in Montana. these two horses are phenomenal. very happy with their gentleness and excepting training. Will buy from them again.
Deb Monroe
SHERIFF & CABO
MT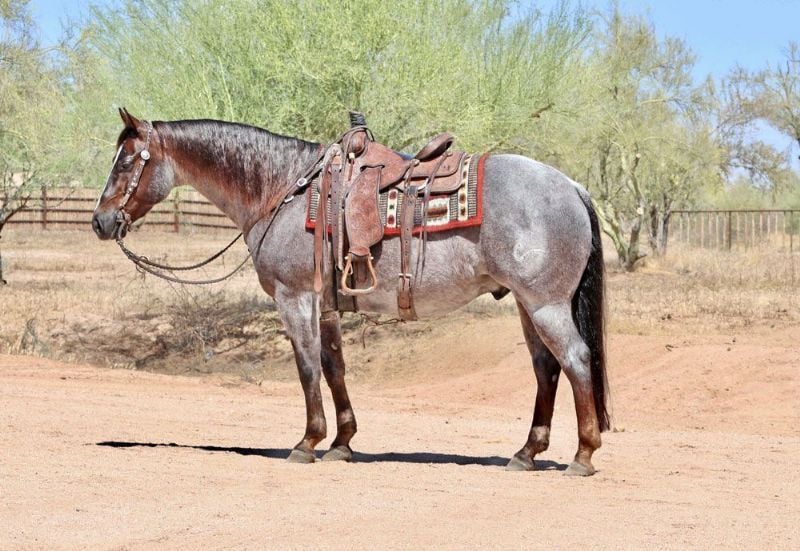 ---
I've seen Mozaun and Sarah do some amazing things with their horses, and what they provide is QUALITY. They are good people to be around and willing to help those who need it- not something you see very often in horse trainers anymore. Their horses are some of the best behaved, talented, and dirty broke horses you can find. I couldn't recommend anyone else more than the McKibbens!
Bridget Ellis
MT
---
Simba is absolutely perfect in every way. I'm honored to share my life with my new best friend. Thank you for all your support and guidance ?Sarah and mozaun. I'm 72 , you both have given back my lifelong passion, my new best friend Simba who will assist me and carry me safely.
Sandie Smith
SIMBA
CA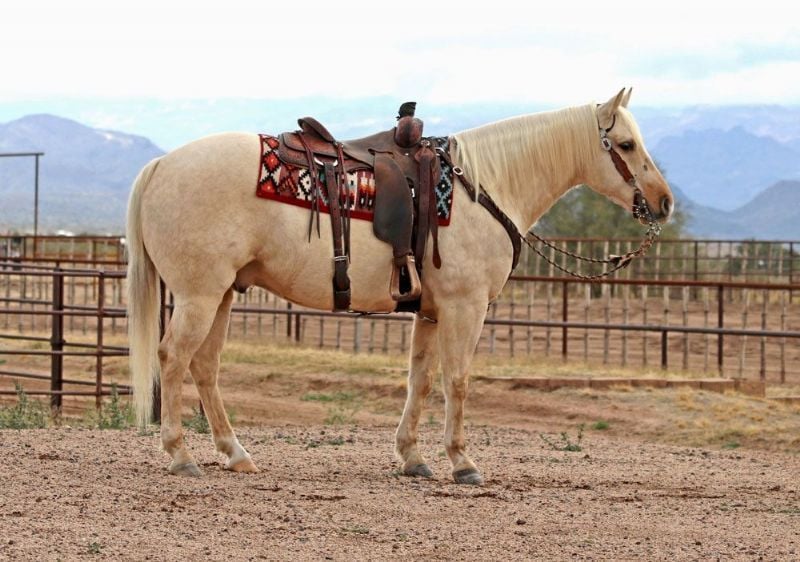 ---
I am so thrilled with the horse I purchased from Sarah and Mozaun. As an older adult amateur rider, but one who wanted "a lot" of horse, it was so difficult to buy online, sigh unseen. I have been following the McKibben horses at sales and also the reviews of buyers and so I decided to take a chance. There were four really nice horses offered in the sale from Sarah and Mozaun. They spent so much time with me talking through the attributes of each one and really listening to what I needed. Smooth, super safe but really well trained to show in ranch versatility and other classes such as western dressage. The two horses I "thought" would be a good fit Sarah talked me out of even though they were clearly going to more expensive than the one she suggested. I bought Zeke now called "Good Karma" who was her horse for three years and I couldn't be happier!!! He is perfect for me and just "enough" horse and very fancy. As a lawyer I rarely have time to write reviews, but I am so grateful to have a great horse that I can ride again that I can't say enough good things. Their horses are expensive but worth the price and they are HONEST. Tell them what you can ride honestly and what you want and Sarah and Mozaun will lead you in the right direction.
The longer I own him, the more I love him. He was off for two weeks when we were in London. I returned home two days ago and got right on him and he was perfect!!! No lunging, no turnout that morning, just riding. He is the most well mannered horse I have ever had, and I have had quite a few as a successful dressage rider and of course an open jumper in my younger years. Thank you Sarah!
Barbara Allen
ZEKE
TX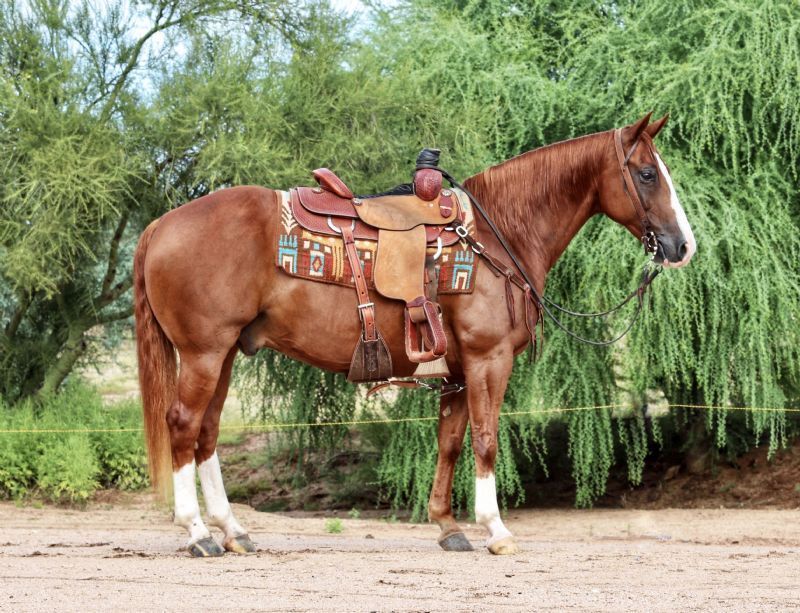 ---
Mozaun and Sarah are the hardest working trainers I know...I have shown horses for over 50 years and I've never seen better horses than theirs.. they are the very best!!!!
Bob Giacolone
AZ
---
I'm so impressed with the excellence you and your horses display. It's so refreshing to see such well trained and well rounded horses. Thank you so much for your time.
Gordy Speers
---
Wow is all I can say. Sarah, you are absolutely the best match maker. I appreciate your honesty and ingrity and so much passion for the horse business. After being scammed so bad with another trainer, I was very unsure about making another "over the phone" purchase, but after 2 minutes on the phone with you, I knew my next horse would be from your ranch. Jackson is everything you said and more. We absolutely love him. My grandchildren ride him everywhere and he takes the best care of them. He's a one in a million type of horse and he has a forever home. Again thank you so much for all the time we spent on the phone and not making me feel stupid for asking so many silly questions. My next horse will definitely come from you.
Samantha Struss
Jackson
Hawaii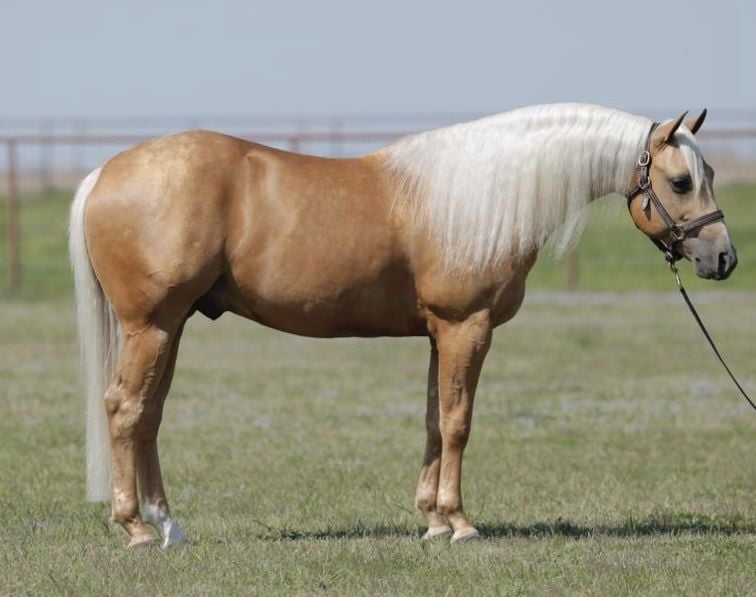 ---
We have certainly enjoyed Gunslinger & Tux. What amazing animals they are. Thank you for being so amazingly great in training them. They provide a nice respit from the stress of major business.
Steve & Cyndi Gilbert
GUNSLINGER & TUX
Utah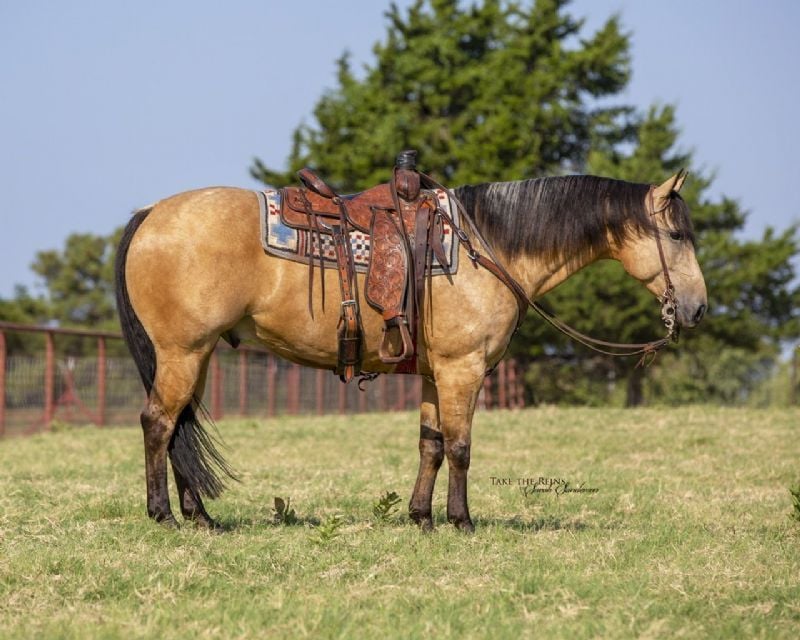 ---
Good evening Sarah, I bought Hank from you a year ago in December and just wanted to let you know I love him more and more every day! He is such a sweetheart! Very happy customer.
Carolyn Stoner
HANK
Maryland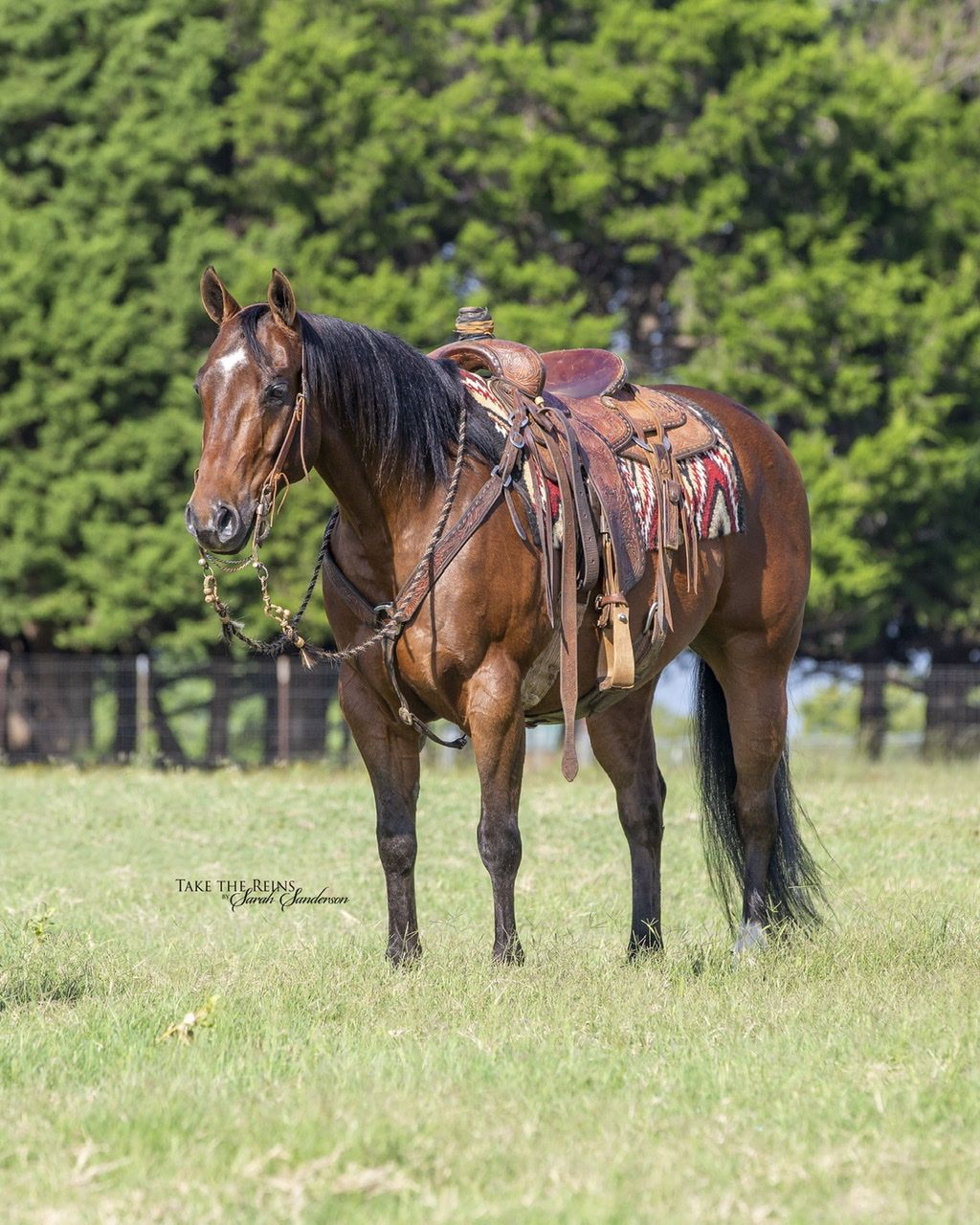 ---
I purchased a draft cross from Sarah. He is everything she said he was. Well trained, very kind and safe! He was one of the first draft crosses she sold and she did an amazing job with him. I would definitely buy from her again!
Hanne Chasney
BOUDREAUX
Idaho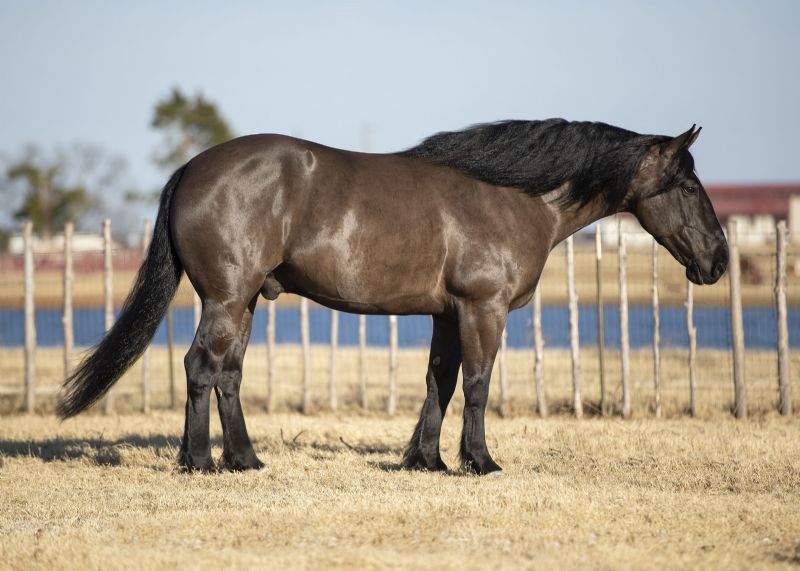 ---
Catfish and Crystal are getting along great. He is working so well for her. Thanks for making this happen
Ivan Gandrud
CATFISH
North Dakota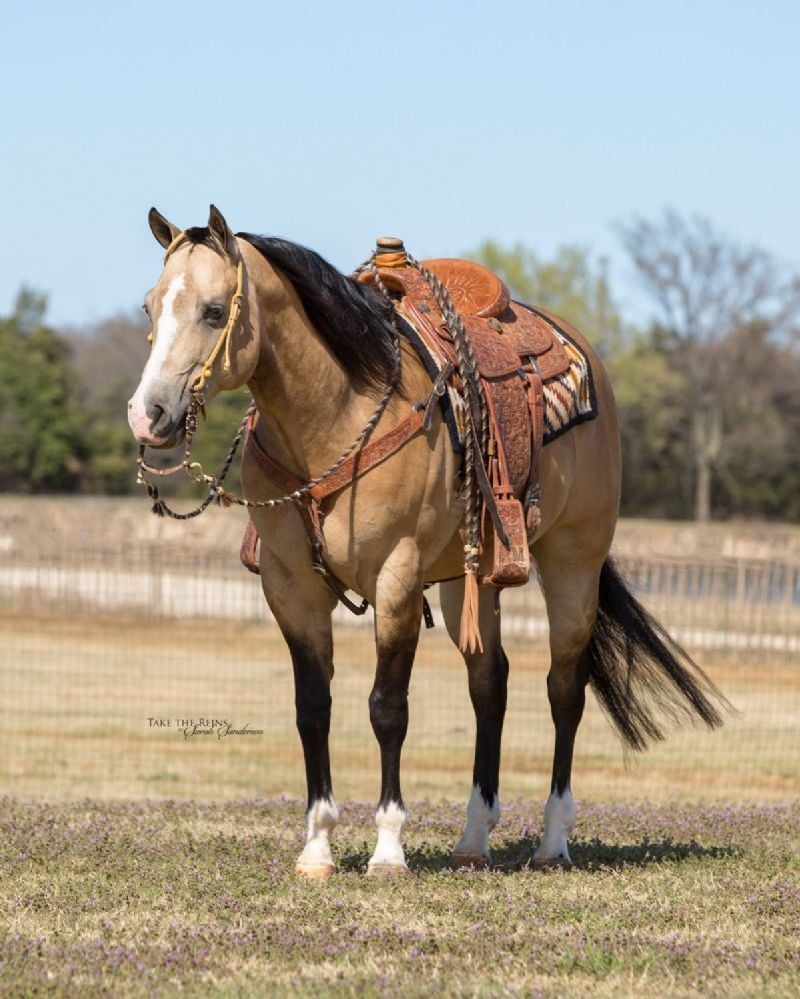 ---
What a whirl wind and wonderful couple of days! The boys made it safe and sound! They are such DREAM BOATS!!! And unsurprisingly, every bit as photo-can't-do-justice astonishing as you said they were!!! Each of these four gentlemen is so gorgeous, good minded, gentle, talented and full of heart. Truly guys, thank you thank you SO. MUCH. for making this special moment possible!!
Madison Stevens
BRAVO & TWINKIE
Idaho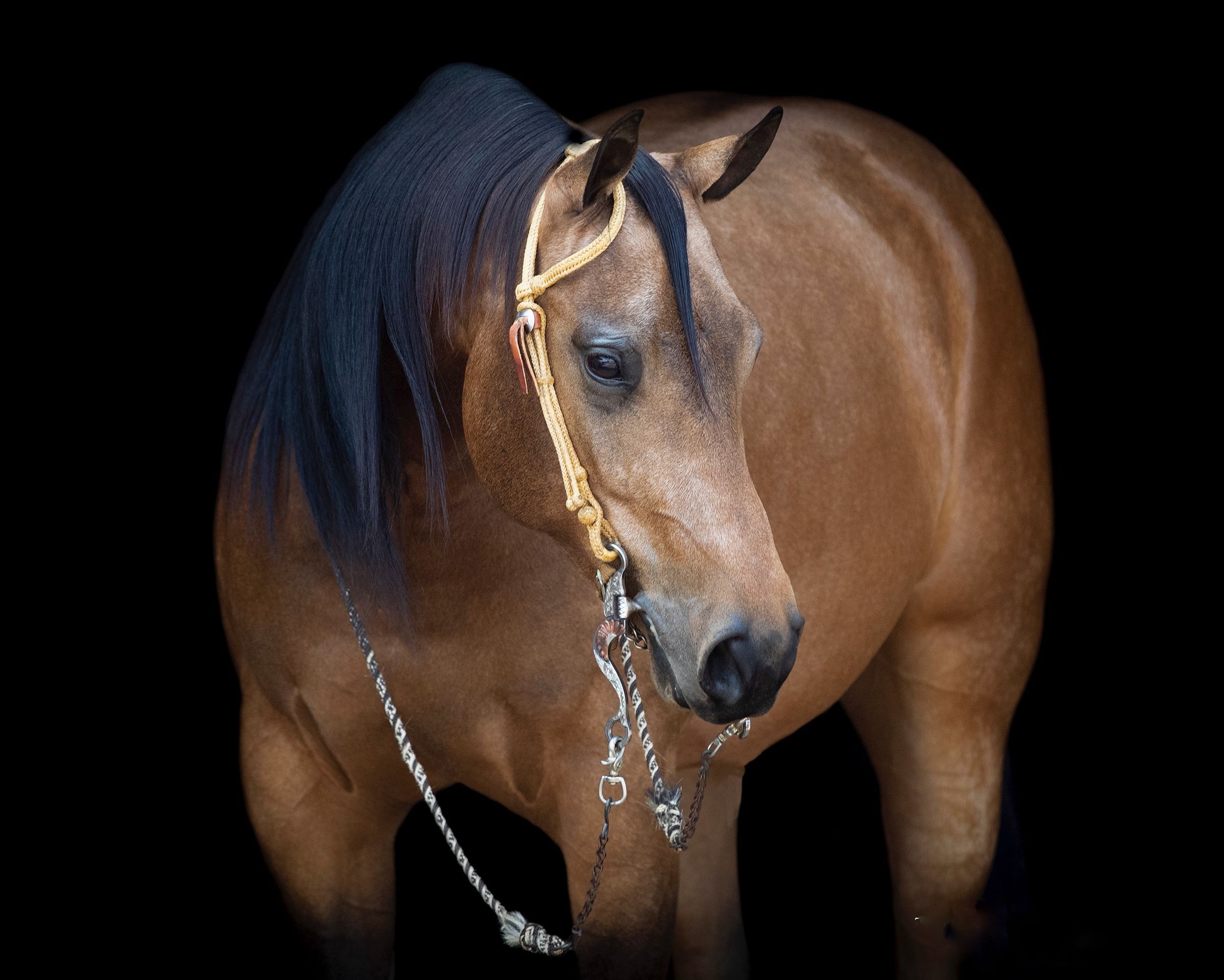 ---
I purchased "Apache" from the McKibbens about a year ago! I was incredibly nervous buying a horse sight unseen. Sarah and Mozaun encouraged and welcomed me to come out to the ranch and "try him out" I spent the better half of a day in the arena, learning his cues, his training and his quirky little personality. Both Sarah and mozaun popped over from time to time to help me work with him, by the time I left I was completely in love… but still plagued with (silly) reservations. Sarah helped me line up a PPE, insurance and shipping completely easing and eventually dissolving any fears I had left! A year later I'm still in love and have ZERO regrets! I would buy from the McKibbens again in a HEART BEAT! As a matter of fact I work very hard to avoid their website to prevent me from doing just that! I read every review I could find online during the shopping/buying process.. The Mckibbens work hard to align horses with riders when they can and have more than one review that talks about their passion and honesty in that regard, He is exactly the horse they described, quirky little personality and all, which is truthfully one of my favorite things about him outside of his Stunning good looks!
Nicole Szewczyk
APACHE
Florida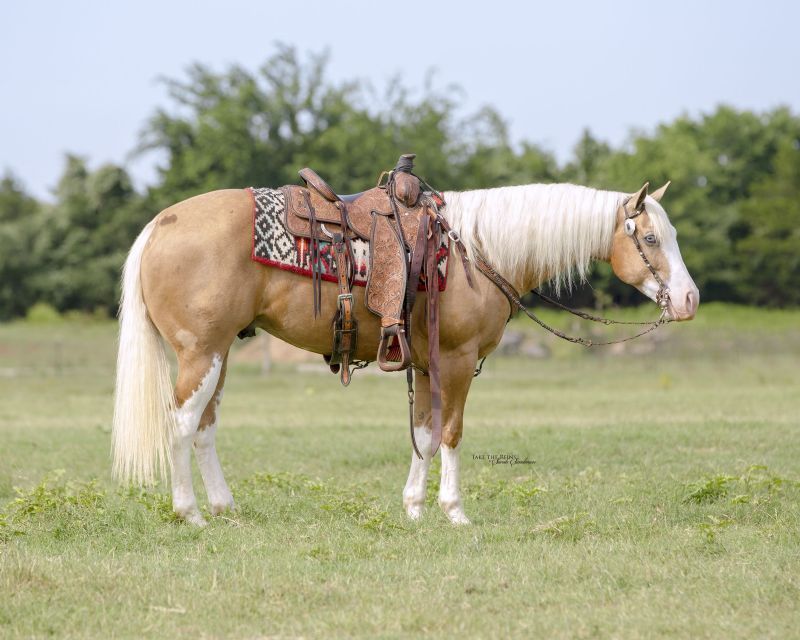 ---
Wow what a wonderful couple! Very knowledgeable and professional. Fabulous horses too!!!
Jana Lyons
Tennessee
---
We feel incredibly blessed to have purchased our beautiful horse Gumball from Mozaun & Sarah! We bought Gumball sight unseen & have no regrets or concerns. He's the sweetest & most gentle horse that we've ever owned. They're very honest & will take the time to answer all your questions. If you're looking for a well trained & extremely broke horse, then you've come to the right place. We will be purchasing another horse from them again in the future!!! Thank you to our new friends, Mozaun & Sarah
Melissa Becker
GUMBALL
Michigan
---
Like amazing neighbours, Mozaun and Sarah jumped in to lend us a hand as fellow horse trainers when we were short a horse to solidify some year end titles. They set us up with a fabulous and honest gelding who beyond exceed our expectations and ended up winning the entire class alongside some stiff competition!! If you are looking for the best and brokest horses in the business they are right here, along with the most kind, genuine and honest folks you will find! Thank y'all and thank you "Jackpot" for the ride!!
Ty & Rhea Pole
JACKPOT
Texas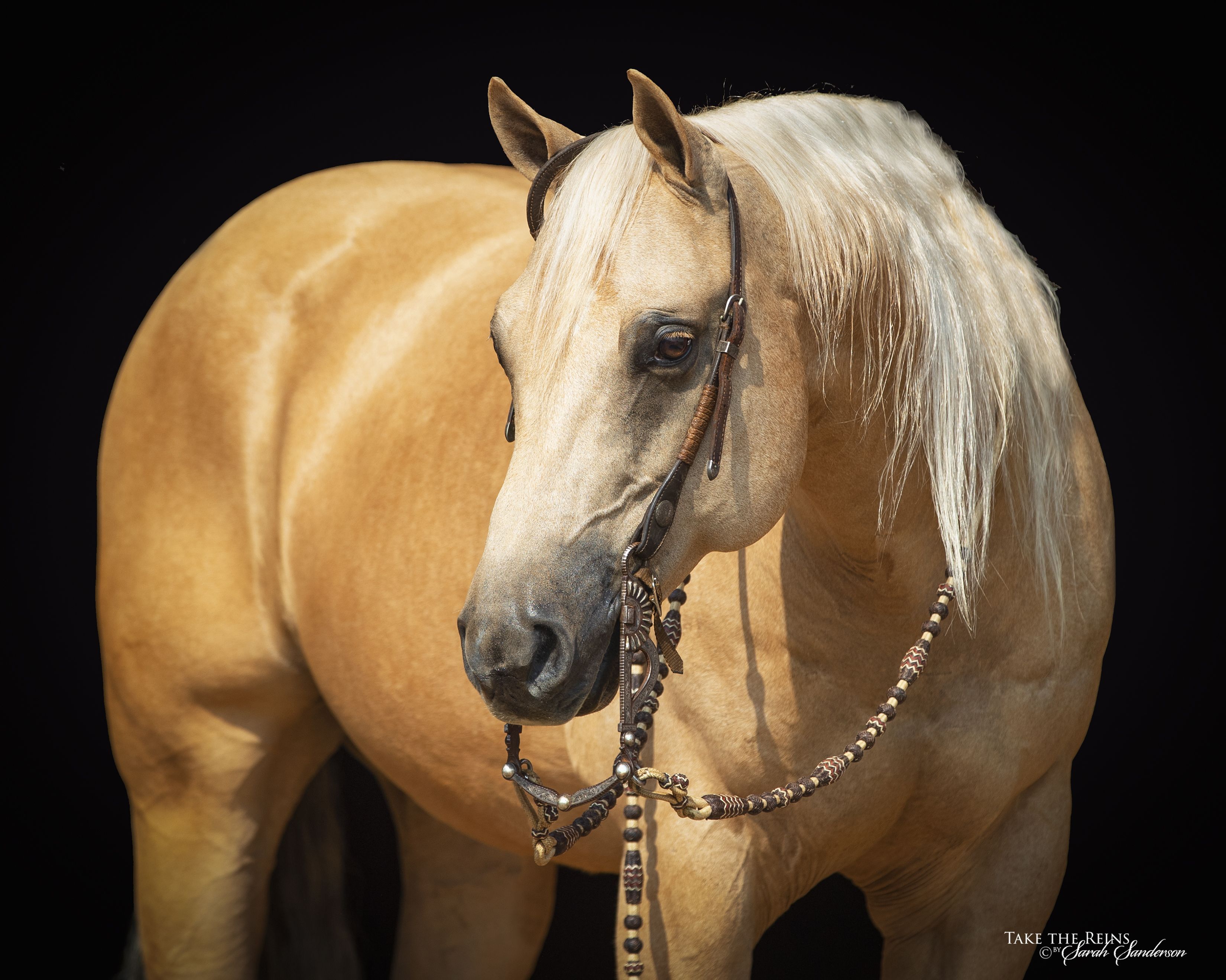 ---
Sarah and Mozaun helped us find the perfect horse! Sarah chose two that would be excellent for us to try. They were both well trained and a pleasure to ride. Sarah took the time to ride with us and gave pointers that were very helpful. Steve turned out to be the best horse for us. He is everything we were looking for. Smart, beautiful and very well trained. Sarah and Mozaun, thank you both for for your expertise, kindness and hospitality. We wish you both the very best and look forward to riding with you again
Suzanne Evans
STEVE
Texas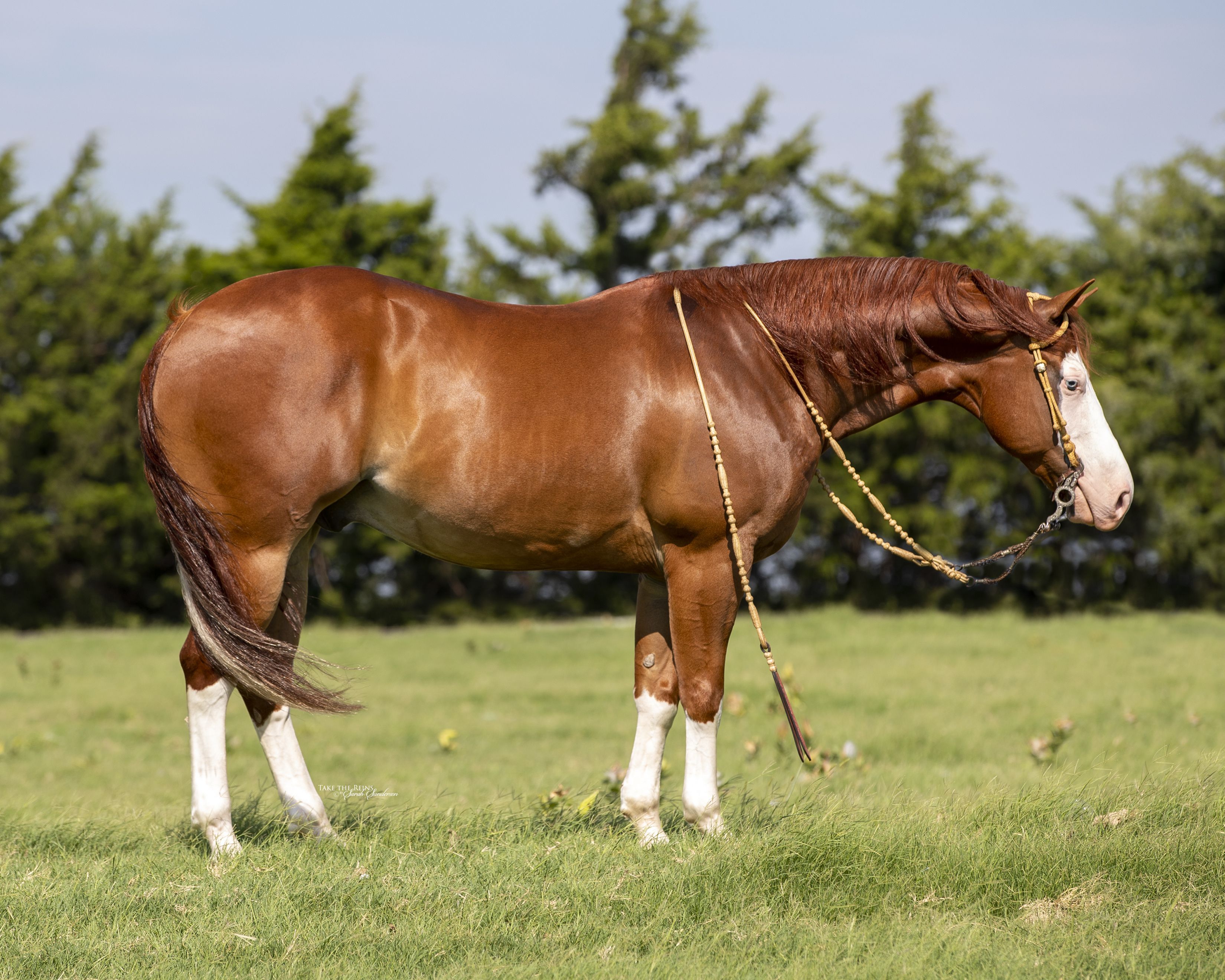 ---
Thank you thank you thank you both so much for entrusting us with this special pair and for making this entire process so so lovely! Your care, reverence and commitment to your horses shines through in every aspect. It's a rare gift, means so much to us and doesn't go unnoticed!!
Remington Monroe Equine
DUNSLINGER, TOPAZ
Idaho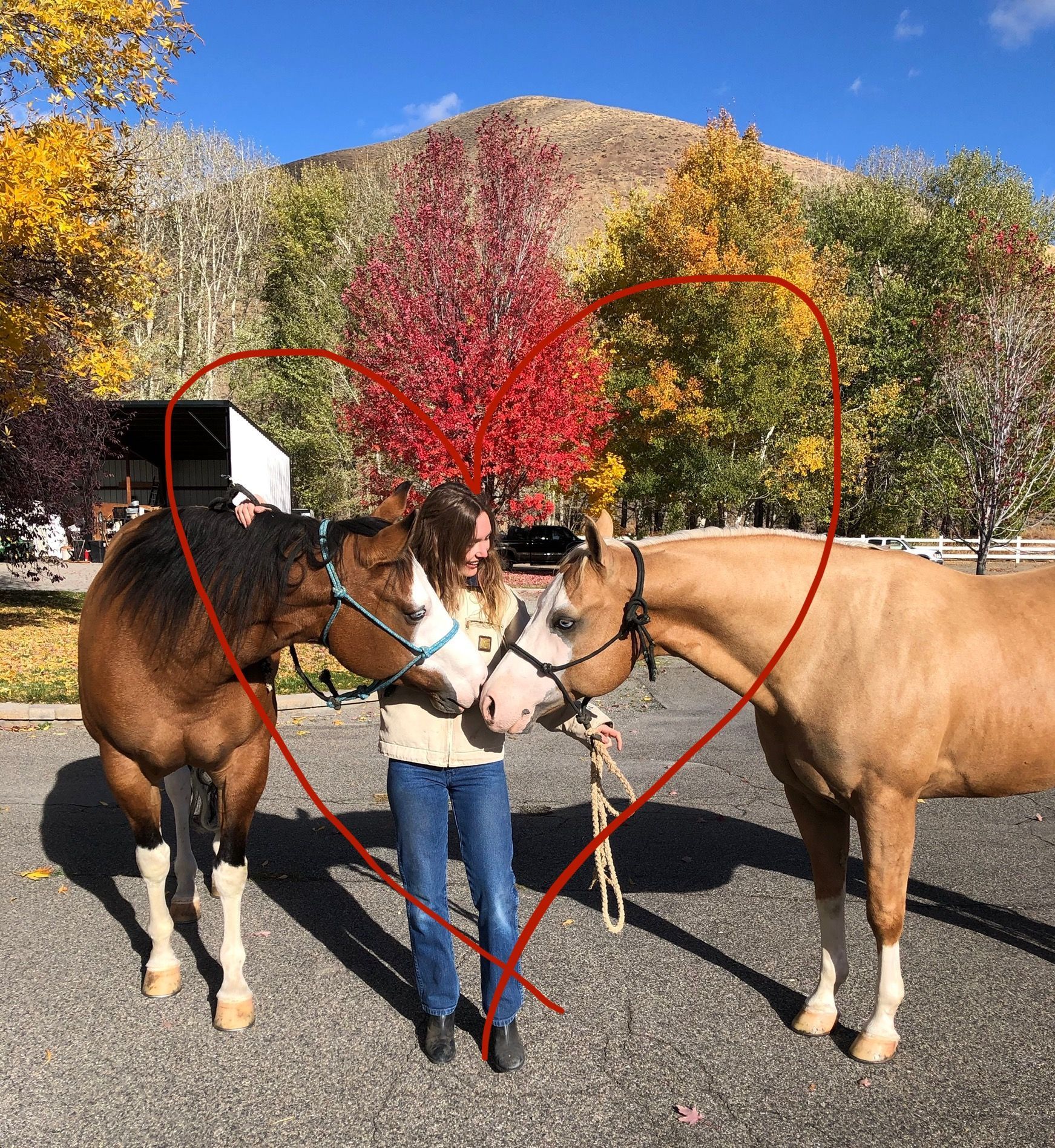 ---
What an amazing experience! Sara and Mozaun are wonderful patient kind people. Their horses are nothing short of AMAZING! Thank you guys so much! If your thinking of purchasing a McKibben horse, don't hesitate. You won't regret it.
Amber Rees- Trainer
TUX & GUNSLINGER
Utah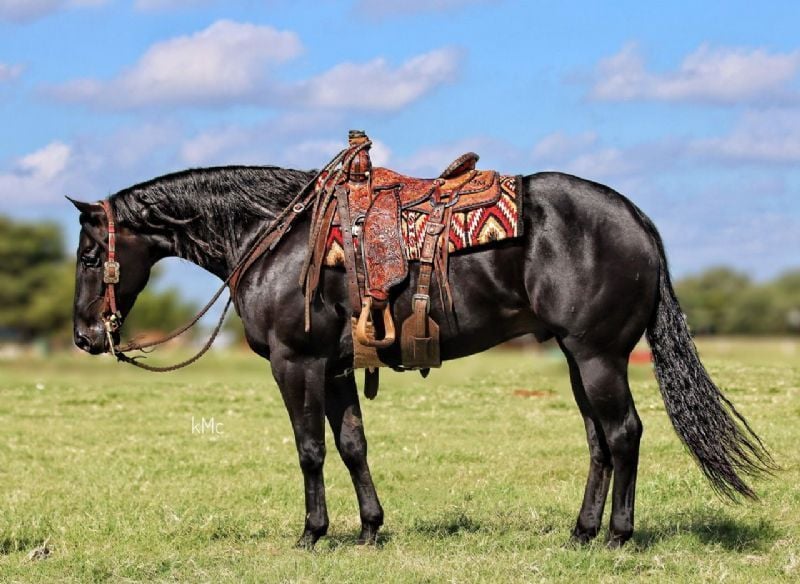 ---
We purchased 4 horses from Mozaun and Sarah McKibben, wish we would have met them sooner! My husband and I were looking for 2 good all-around well trained ranch horses...consistent, gentle, well trained for ranch work, and a bit showy...we got all of that and more + 2 more horses! Mozaun and Sarah were so accommodating from the first phone call and meeting at their arena. They took the time to get to know us and understand our riding skill set to introduce us the right horses. We had the pleasure of attending the Bots Sot auction in WY, seeing the horses in action and seeing how well respected the McKibben's are in the horse community confirmed we were getting the best of the best! If in the market for a new horse or more, the McKibben's horses are the safe bet, amazing animals...NO REGRETS!
Chuck & Lauren Green
TRES, SCOOBY, FRISKIE, SHOOTER
Texas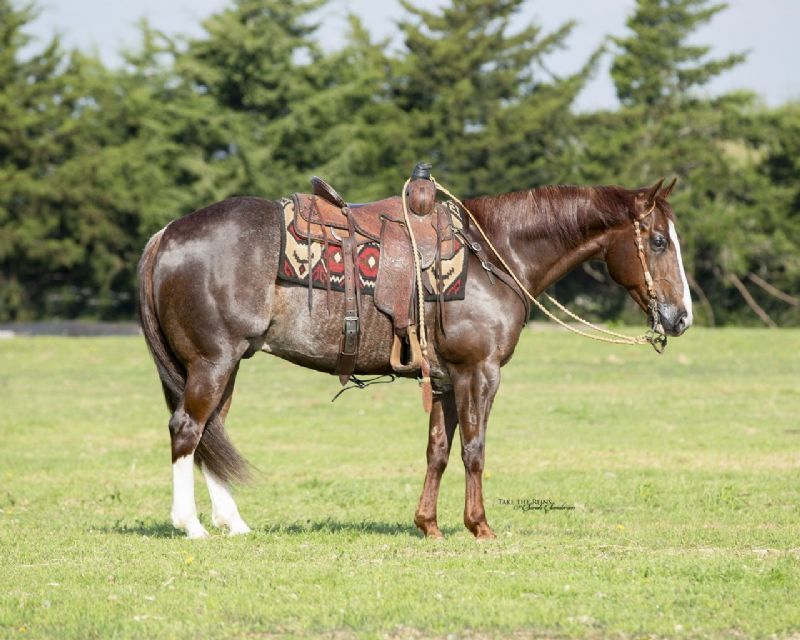 ---
This is where our new babies came from! I don't where to start to tell you how happy we are! I have been riding my whole life and never dreamed of riding horses this well trained!
Danny & Amy Singleton
DENVER & INDIGO
Texas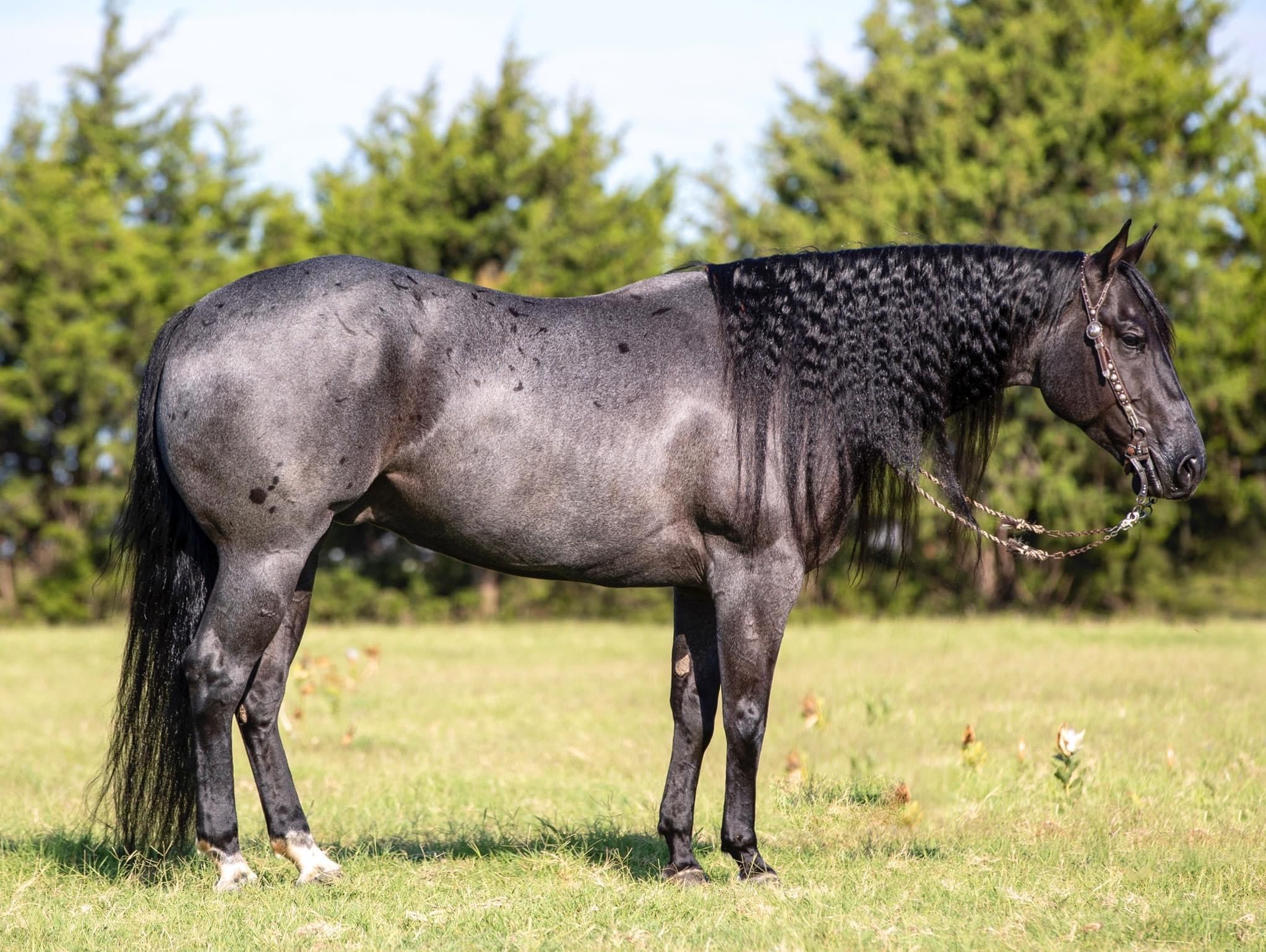 ---
We purchased Latigo about 18 months ago. He has became a deluxe Badlands cow horse. There is nothing that we cannot do together. He always knows where his feet are, and I can move any part of him with just a light touch. As a bonus, he has an incredibly sweet disposition. Thank you so much for the great job you did to make Latigo the fantastic horse that he is. Looking forward to the next purchase of a McKibben trained horse. Thanks from Mandan, North Dakota.
Bruce Stidham
LATIGO
North Dakota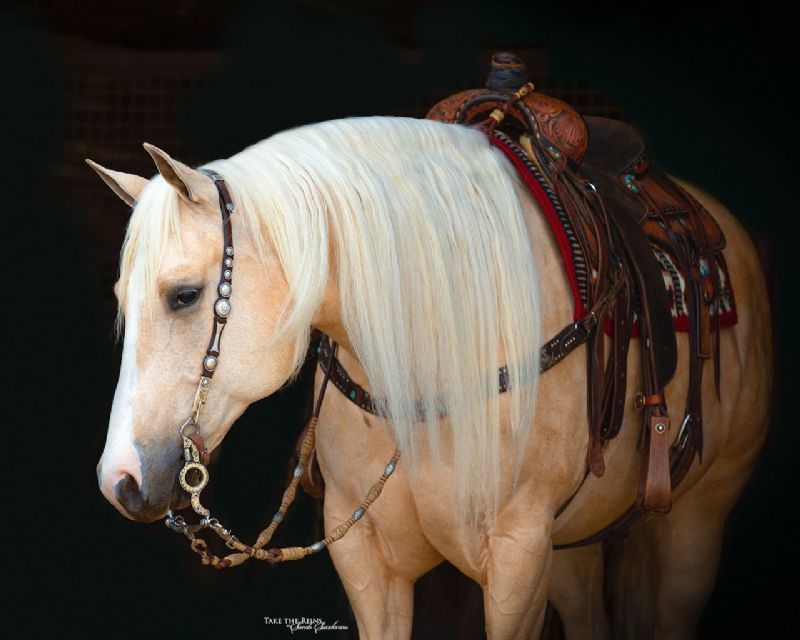 ---
I've fallen in love with "Texaco" purchased from Mozaun and Sarah McKibben. He is everything they said he would be. He's extremely intelligent and has been trained to stay calm. I love riding bareback and he lets me climb on without flinching. I feel so safe and secure on him. I only wish I had met the McKibben's before I bought four other horses. Not one comes close to him, and I feel guilty that he is the only horse I want to ride now. The McKibbens are wonderful people, and I highly recommend their horses if you are lucky enough to own one! When you buy a horse from the McKibbens, you won't want to get off!
Michelle Wilson
TEXACO
Texas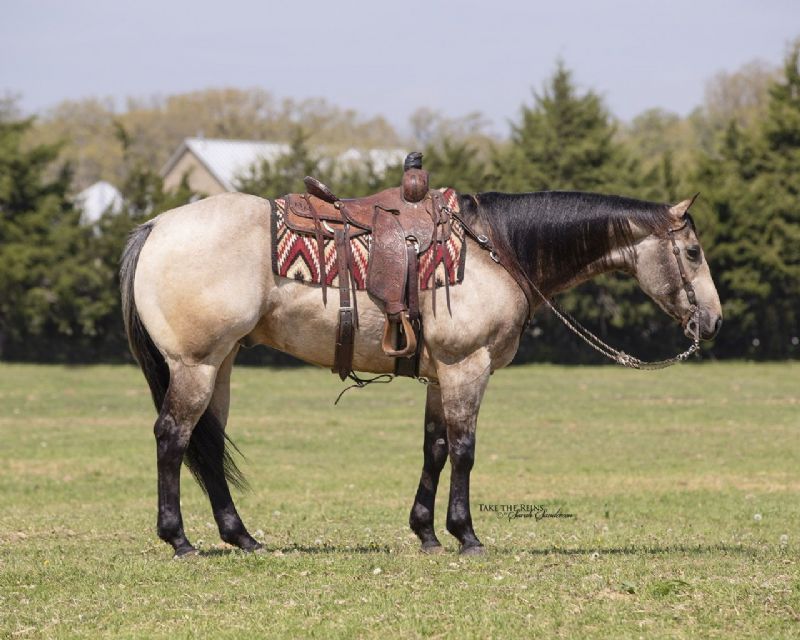 ---
I recently purchased a lovely horse named Mojo from Mozaun and Sarah McKibben. I can not say enough great things about Mojo and how happy we are with him. Sarah was extremely responsive to texts and any questions I had and they welcomed me to their ranch. I flew down from Oregon and rode horses all day inside and out of the arena. They were very helpful to find just the right fit and were transparent regarding horses they didn't feel would be what I was looking for. They never made me feel like I was a bother even though they run an extremely busy training barn. Even after purchasing Mojo, Sarah has checked in often to see how Mojo is working out for us. I wish we lived closer as I'm sure we would be good friends. If I purchase horses in the future, it will only come from the McKibbens. They have beautiful horses and they are all very well trained.
Becky Campbell
MOJO
California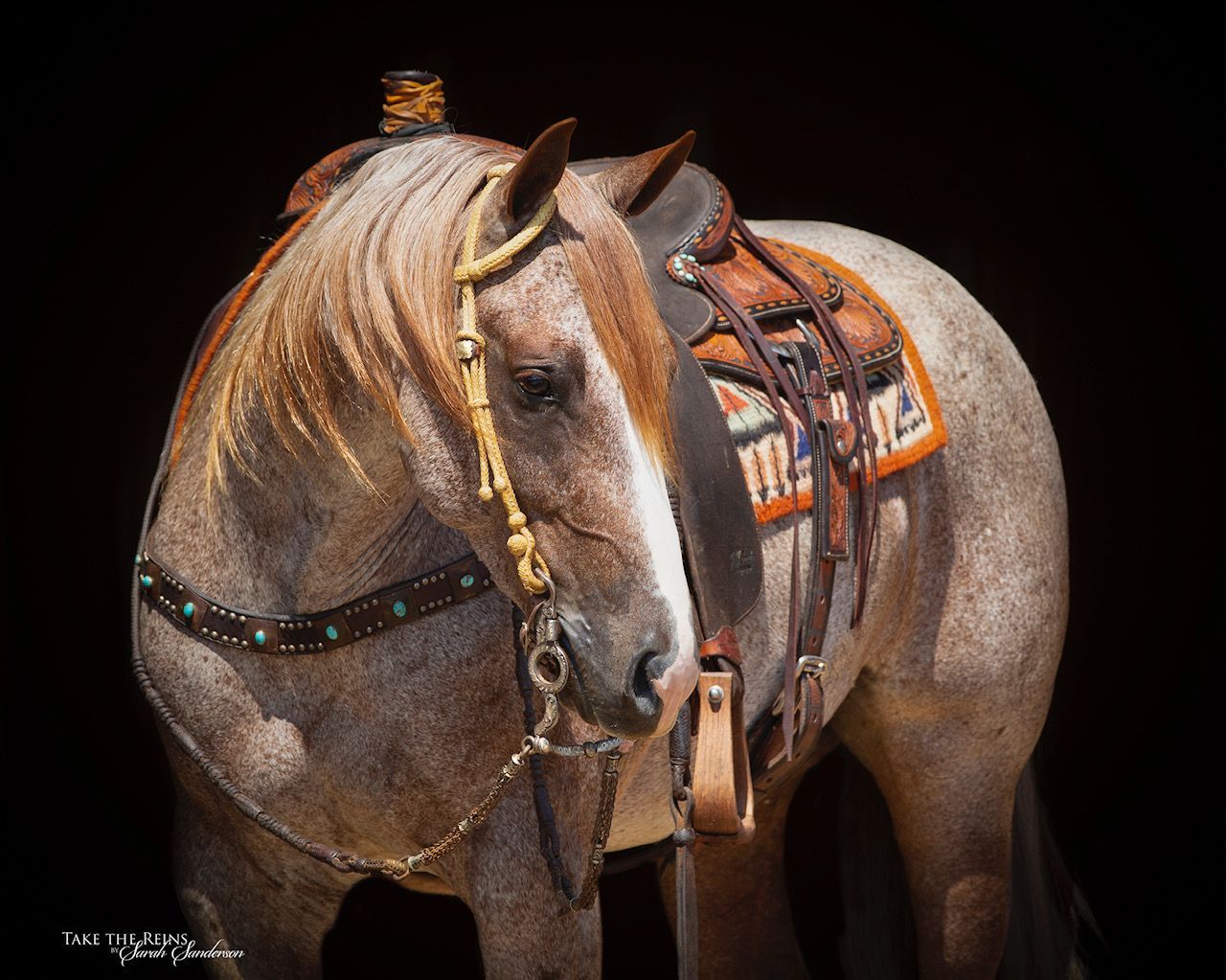 ---
Thank you both-you are special dream makers! It was such a pleasure to meet you both and please let us know if we might ever do anything for you! You have lifetime visitation rights and always welcome to come by, or even ride for old times sake. Lauren's heart is swelled with joy! Look forward to perhaps coming your way someday! The Evans Family: Chuck, Suzanne, Lauren, Bonnie, Magnum, Hank, Biscuit, Gracie, and Holly
The Evans Family
HANK
Texas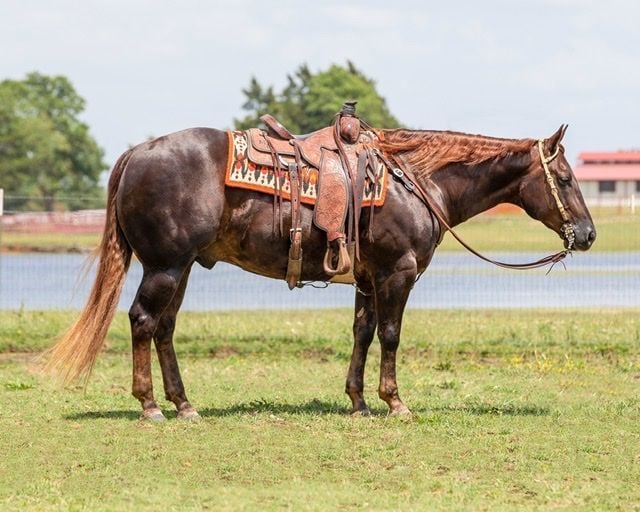 ---
Hey Sarah! Hope you guys are doing well. Cimarron is doing great and we love him.
Bronson Parker
CIMARRON
Texas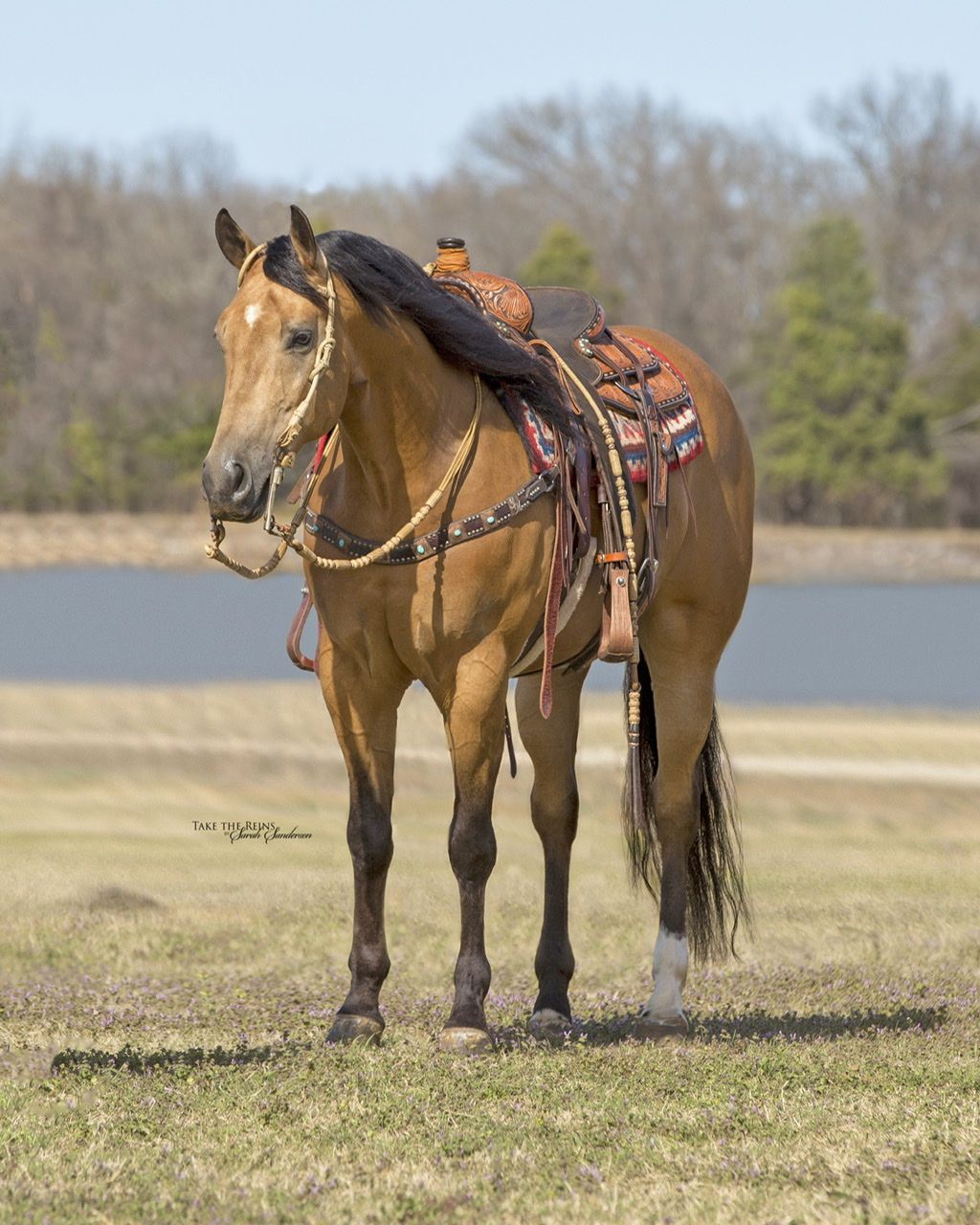 ---
I searched all over the internet, made countless phone calls, drove hundreds of miles and still couldn't find the one horse that would fill the void of my personal horse of 22 years that I had retired. Then one day I found an advertisement for a grey gelding offered through Triangle Horse Sale. That was 880 miles from me. My job didn't allow for me to drive to the sale. I made a phone call to the consignor, Mozaun McKibben. He informed me that the sale company offered phone bidding and I didn't have to be there in person. I was very uncertain of this and thanked him for the information and ended the call. For a solid week, the grey gelding was all I could think about. I made a second call to Sarah McKibben. Although the video on the gelding was pretty self explanatory and detailed, I still had a long list of questions. Sarah answered each and every question and was a complete sweetheart. She never once made me feel stupid for asking basic things that I should know. I still questioned myself on purchasing a horse that I had never ridden or even laid my eyes upon. I made several more phone calls to Sarah. I also sent an abundance of text messages. She answered or returned every one of my calls and messages. Needless to say, I bought the grey gelding. His name is Falcon. It was the best decision I have ever made. He is everything and more that Mozaun & Sarah said he was. I will buy my next horse from them. They are honest and good people. Falcon is a once in a lifetime kind of horse. I'm thankful I stepped out of my comfort zone and made that happen. I recommend the McKibbens 100% ...
Darla Zimmerman
FALCON
Wyoming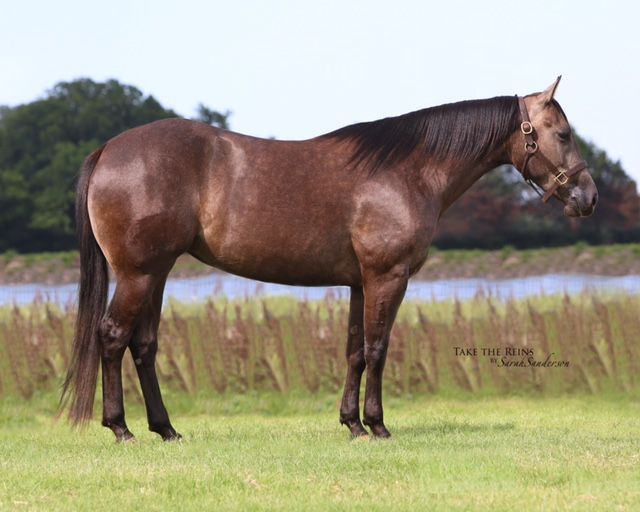 ---
When I called Mozaun to find a horse my main priority was safety. Of course I wanted a horse that could do everything that was required of a ranch horse too. My wife had been in a bad horse wreck several years prior and had zero confidence and really didn't ever want to ride again. It was our 40th wedding anniversary and I surprised her with Reba. They instantly connected. I don't know who to thank more, Mozaun or Reba. My wife rides almost everyday now and we are enjoying our retirement to its fullest.
Gary Childress
REBA
Florida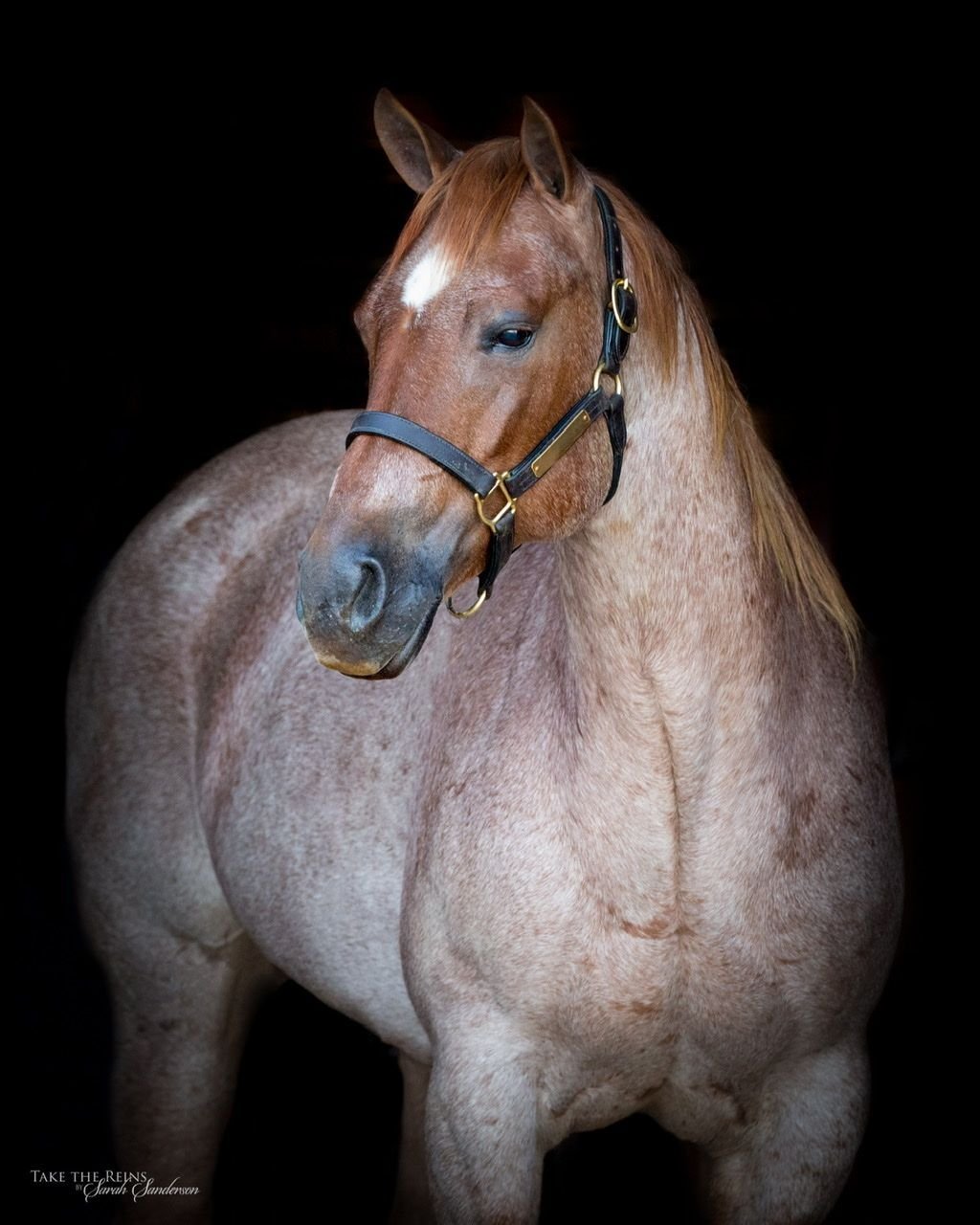 ---
Thank you Sarah for matching me with Ted. You are the perfect match maker! I called you about another gelding and you told me that Ted was the horse for me. Wow! You were so right! I can go to a team roping and he is great and then my grandchildren can climb on him right after. Our entire family loves him so much. Thank you for your honesty in a world where that's hard to come by. If you ever have another one like him, send him my way! Thanks again
Bob McCormick
TED
New Mexico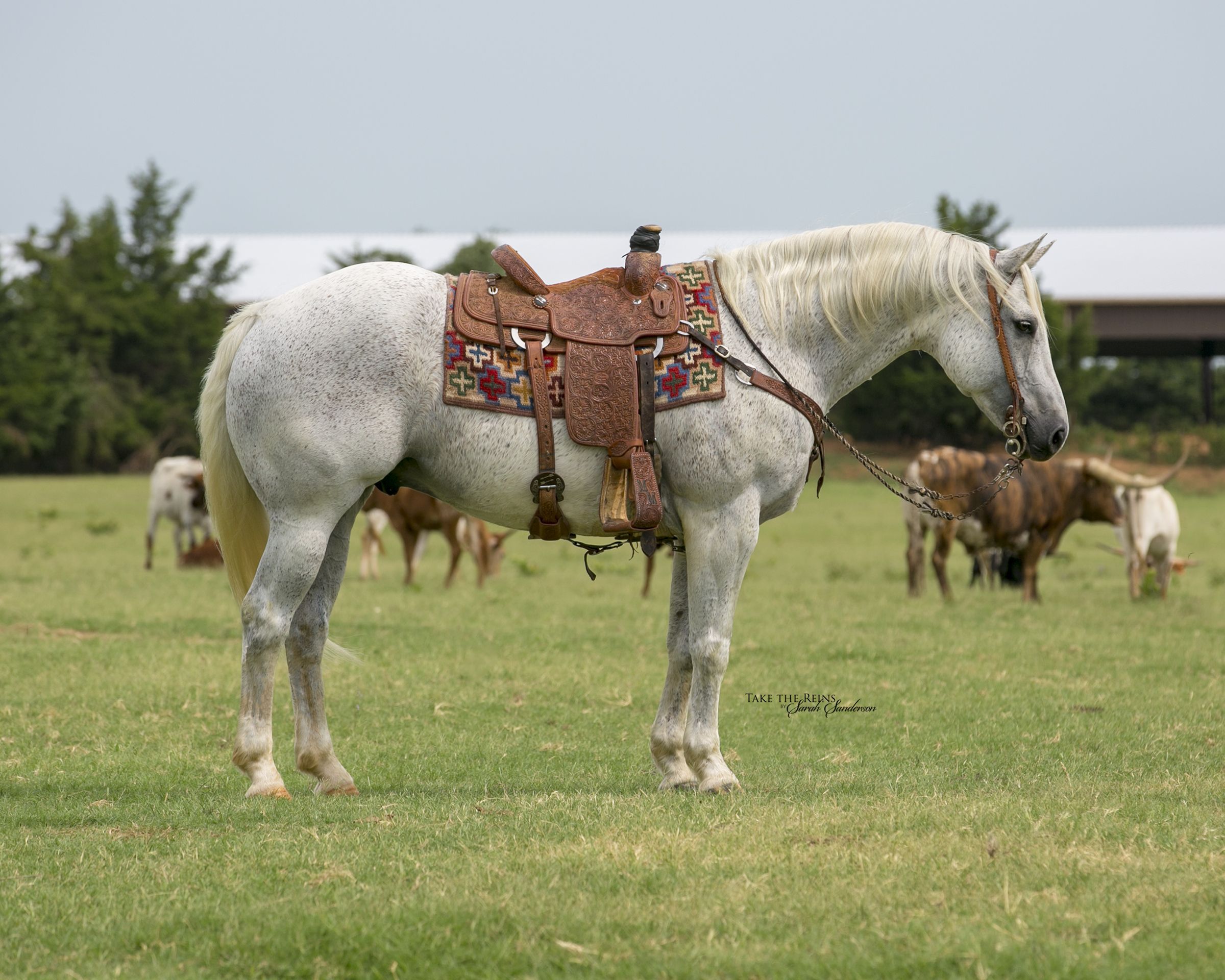 ---
Rowdee is Awesome! He's a character for sure. Handles great. Good minded. Had a hen turkey and about 10 babies fly suddenly about 5 feet in front of us when I was riding on our property. He didn't even stop walking. Just looked at them and didn't miss a beat. He's perfect for me. I am so grateful for him. Now if I can just keep my granddaughters away from him! Lol!
Ann Spratt
ROWDEE
Michigan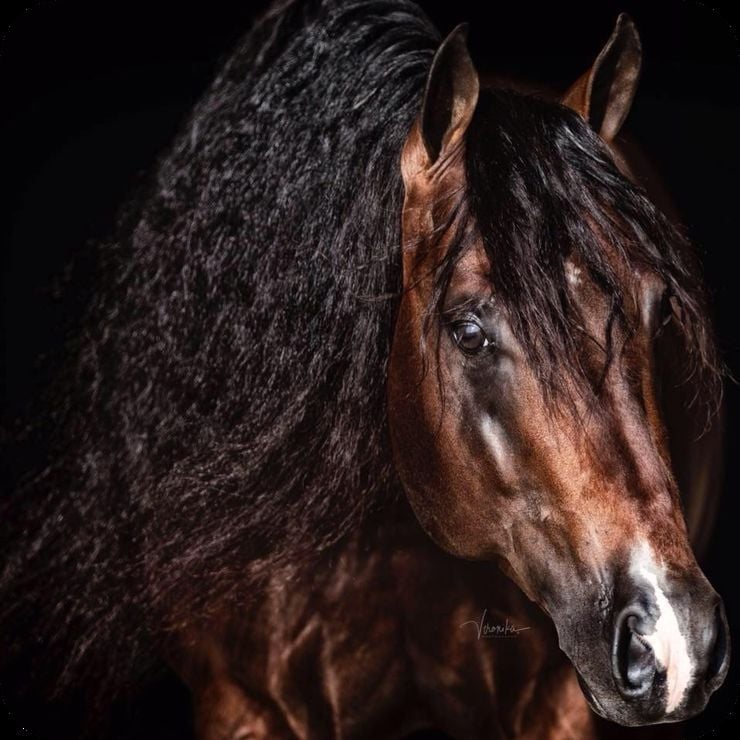 ---
Thank you! They are in wonder with her and they have seen some very special things all over the world. Prada is a work of art. We loved meeting you both and watching you ride. Such an inspiration. God is so good.
Diamond 4D Ranch
PRADA
Montana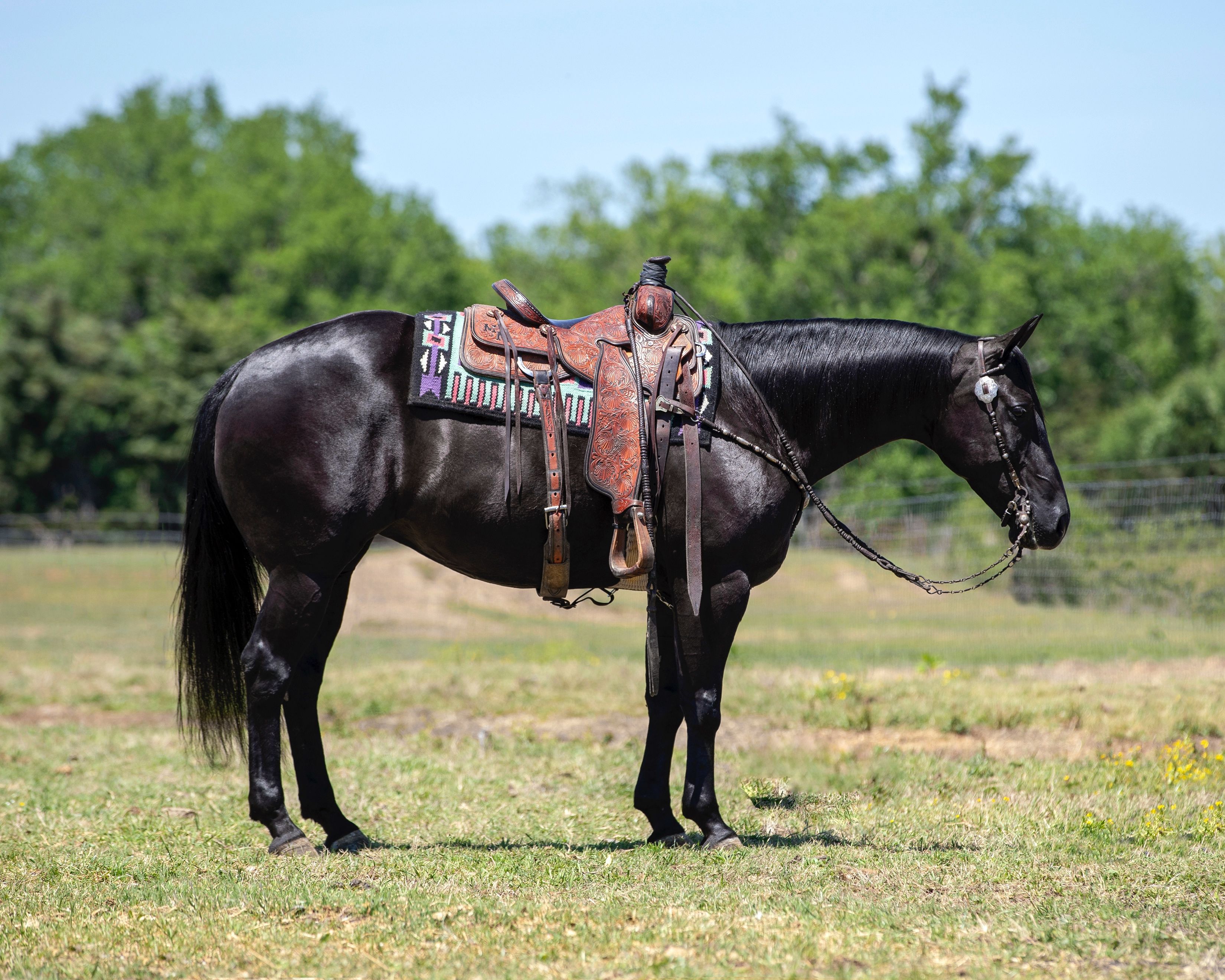 ---
I wanted to extend great appreciation for the kindness you & Mozaun shared with us in Scottsdale. We so enjoyed meeting you & riding your magnificent horses. Shady Nic Luvs Chics / Tahoe is a very sweet, talented, & willing horse. His try is so earnest in the new adventures (ranch camping, cow work, lessons, & ranch trail rides) I've taken him on that I just smile & smile . I hope I can send you more updates & a pic or two. Amy, Scott, & I wish you, Mozaun, & your loved ones everything wonderful always.
Carol & Scott Carpenter
TAHOE
California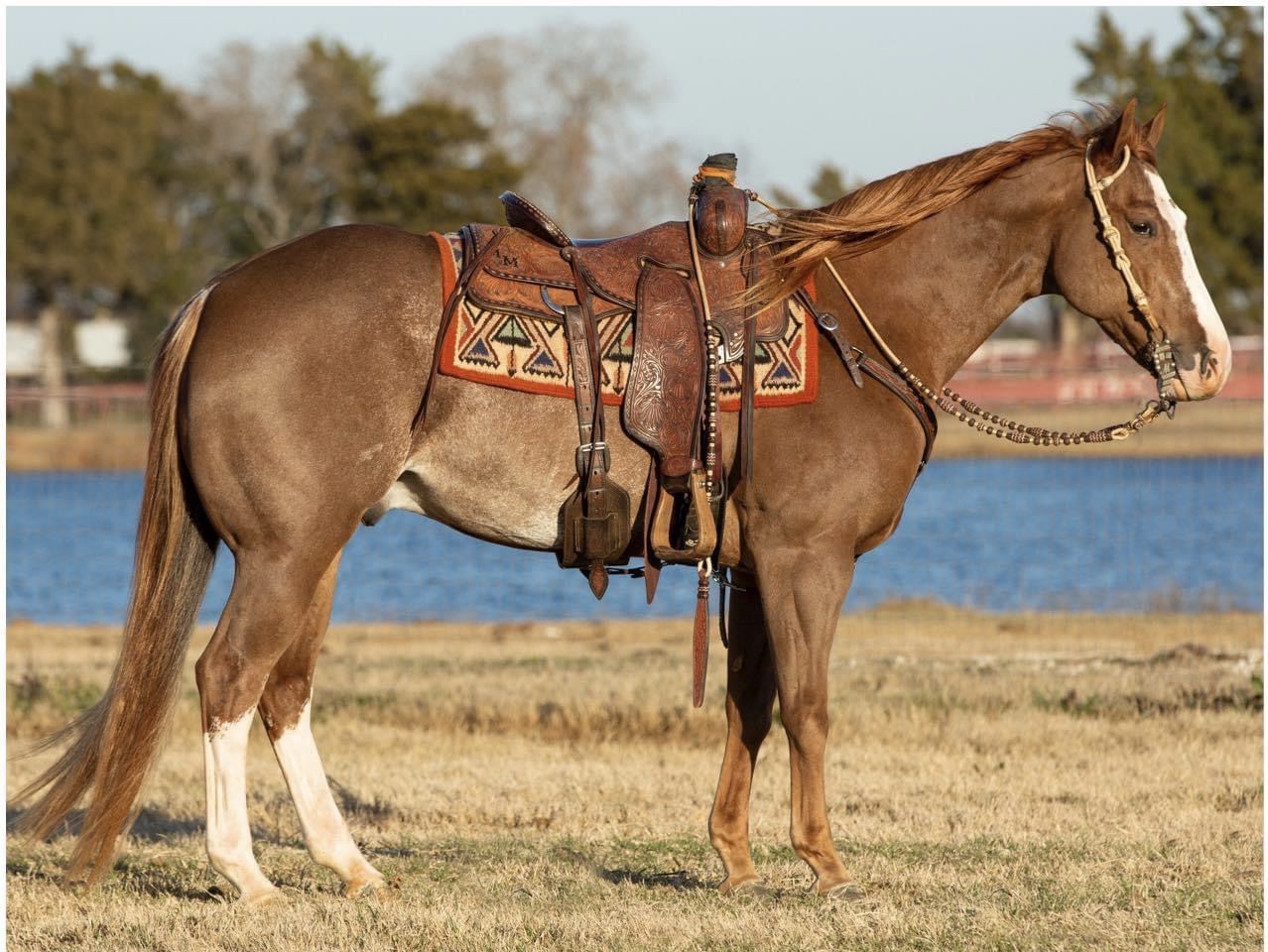 ---
Recently, I wanted to start riding again. I hadn't been on a horse in 25 years, so safety was foremost on my mind. I needed a horse that was fun to ride, but at the same time "bullet proof". A great friend of mine suggested that I visit Mozaun and Sarah McKibben to see their program. On my first of a couple of visits, I found Mozaun and Sarah to be great host and also incredibly talented. They spent the time to understand what I wanted and more importantly what I needed. I found the horse in Gunner. A few weeks after bringing Gunner home, I attended the a Craig Cameron Horsemanship Clinic. My goal was to improve my horsemanship skills for no better reason than to not embarrass my horse. We were awarded most improved rider...Gunner did most of the work. If you share my goals in purchasing a safe and talented horse from people you can trust, then give Mozaun and Sarah McKibben a call.
Matt Robinson
GUNNER
Texas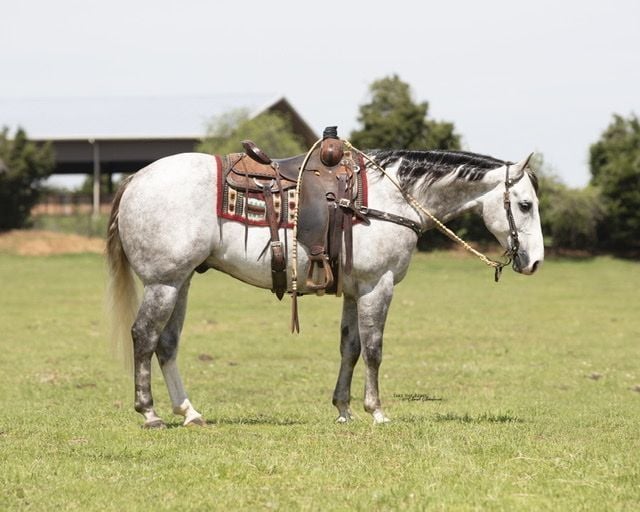 ---
Just to let you guys know the buyer is extremely excited about the horses. I've ridden them up here with him for the last few days. They are extremely happy with them. They are absolutely perfect and could not be happier. Thank you guys for everything, but had to let you know they are beyond excited and look forward to a long relationship. Your horses are great and exactly what you said they were. So thank you again and look forward to riding together soon. So happy we got to meet you guys and see what great people you are. thanks again.
Josh Lyons (Trainer)
TABASCO, HOT SAUCE, RANGLER
Pennsylvania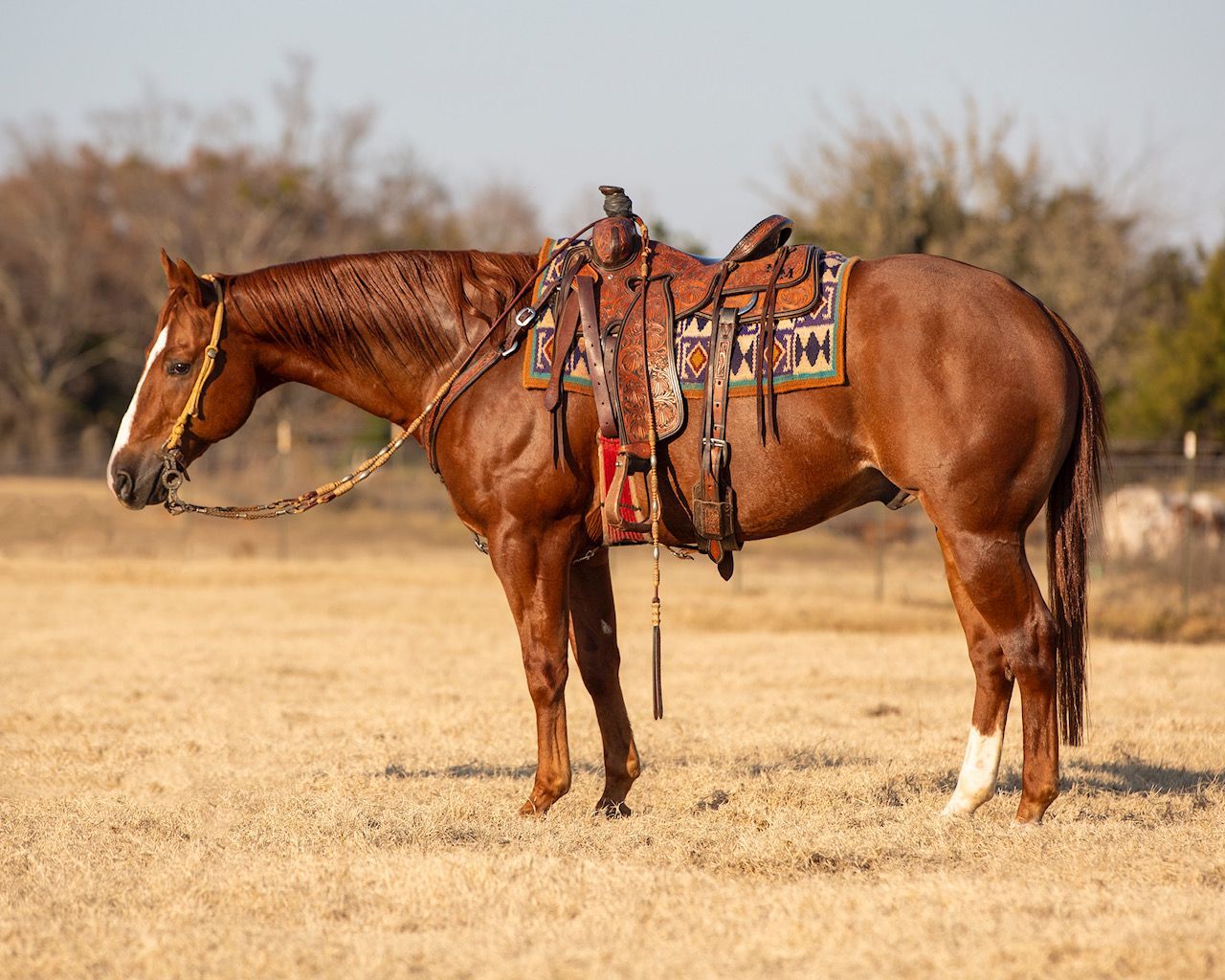 ---
When our family purchased Alice Cooper we knew we needed to buy more McKibben horses for our ranch. So we add to our stables with Cheeto, Timber and Magic. The horses all have different personalities (the best).We can do anything on them with confidence. Safety is a big deal with me and I will alway pay more money for a horse that I know if any of my family or fiends gets on them that the horse is bombproof. All four are excellent with younger riders, beginner rides, or with the Ranch Manger. Plus you will not work with nicer folks than Sarah & Mozaun. PS I need two more.
Brenton Family Ranch
CHEETO, TIMBER, COOPER, MAGIC
Wyoming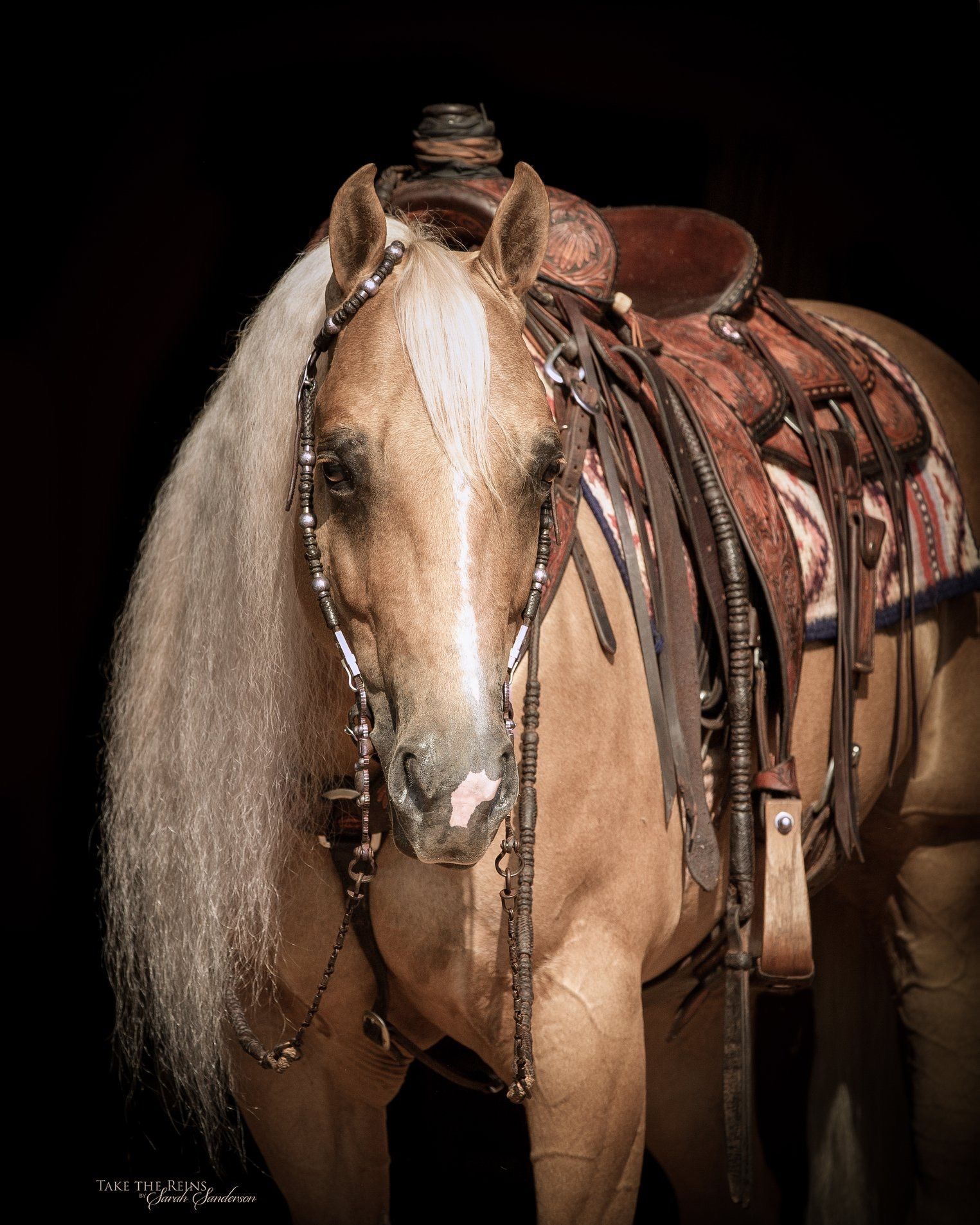 ---
Sarah, thank you both so much. We really appreciate you showing us around meeting horse people and quality horses. We are very glad to have met y'all and look forward to doing more business with y'all.
Shane Barrington
SKITTLES
Texas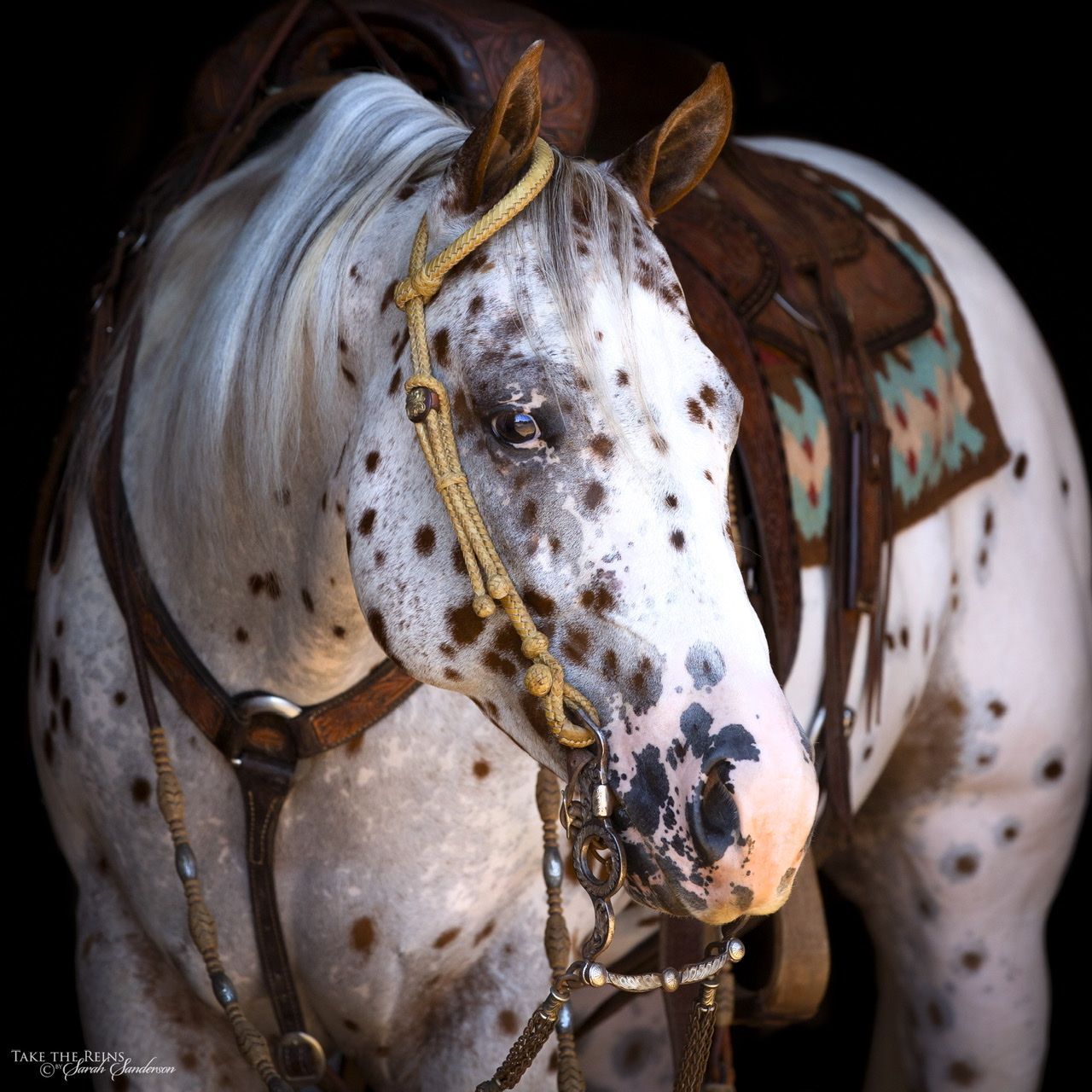 ---
We have purchased 3 horses from Mozaun and Sarah! They are awesome trainers and we could not be happier with our new babies. These horses are exactly as advertised! Skittles, Cowboy(aka Yo-yo)and Dallas will be the perfect addition to Blue Valley Ranch!
Blue Valley Ranch
SKITTLES, YOYO, DALLAS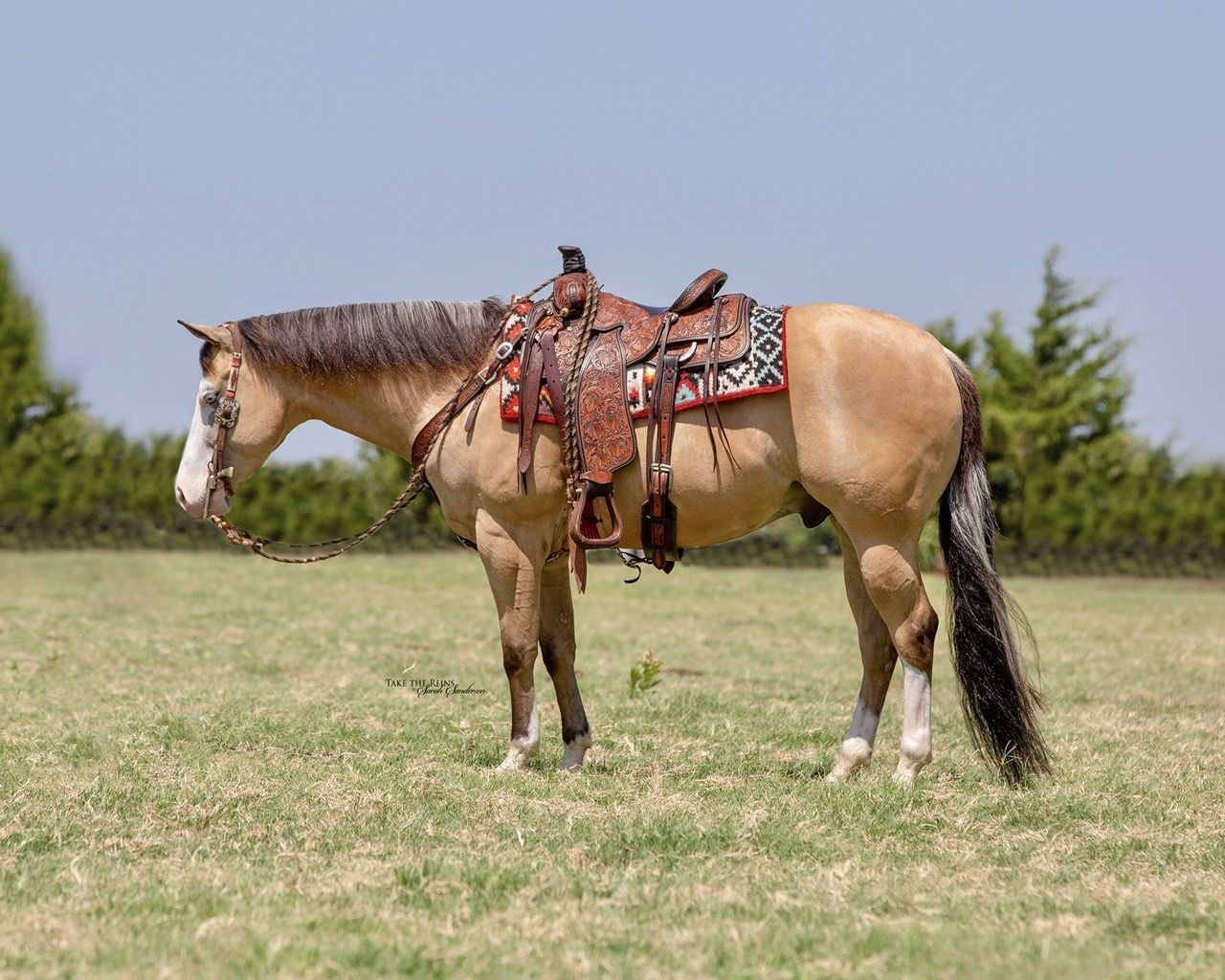 ---
I've been riding Dallas this morning in our friends arena. He is absolutely perfect!!! I love him. Thank y'all so much for hooking me up with such a sweetheart
Bev Barrington
DALLAS
Texas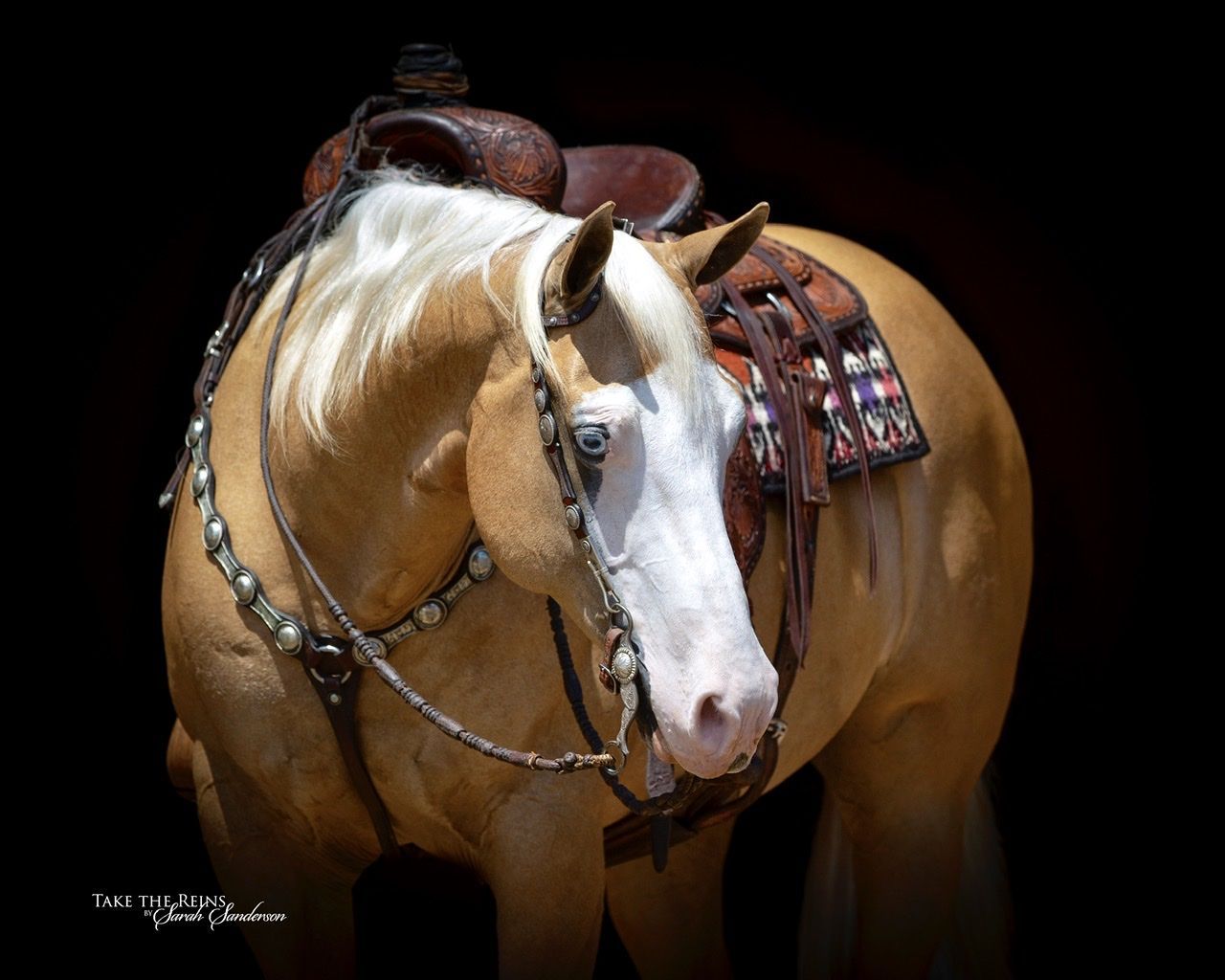 ---
He is beautiful!! Both Sarah and Mozaun do and AMAZING job on making excellent horses!!!!!
Circle Bar Ranch
JAZZ
Texas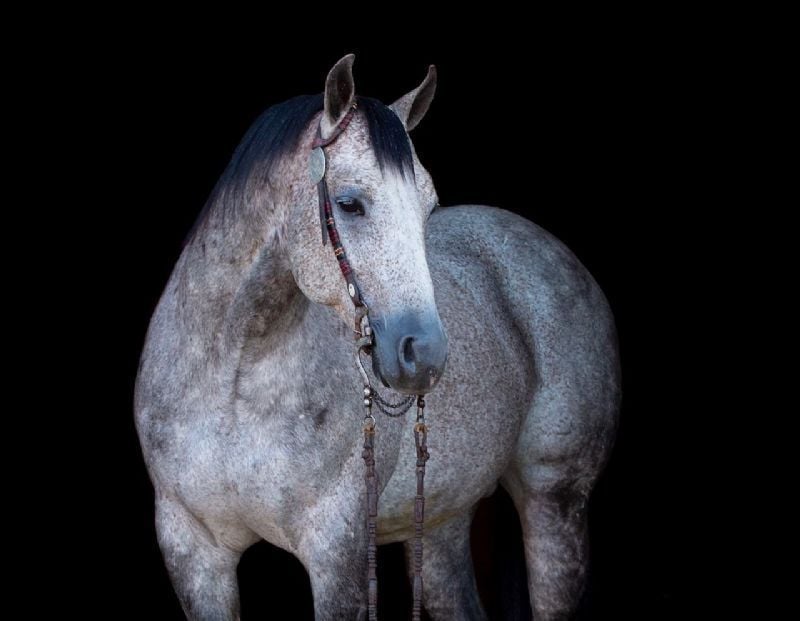 ---
It's always a pleasure seeing y'all and working with y'all. Thanks for always bringing the great ones.
Mike Pederson
Premier Equine Sales
Louisiana
---
One of the very best horse man I've ever known and I have known him for over 35 years and still very impressed with his ability
Rodney Payne
Oklahoma
---
True horsemen who's work speaks for itself!
Emily Hershberger
Arizona
---
always pretty and great conformation, broke to death, the real deal
Bruce Colclasure
Oklahoma
---
Mozaun and Sarah are very accomplished riders and trainer. They are honest and can match a horse to your needs and abilities. They are personal friends and would do anything for anyone. Just wonderful people.
Paige Westfall
Kansas
---
They have Beautiful All Round Horses They have nothing but the best All Horses
Jason Kearnes
Nebraska
---
I appreciate the quick response to the questions I had inquiring about a certain horse. This place is amazing! Their training & love for these horses goes beyond words! I see my future horse here! Highly recommend!
Tammy Delozier
California
---
Sarah and Mozaun are great to deal with. Their horses are amazing and would buy many more from them.
Chelsea Sandefer
PLAYBOY
Missouri
---
Mozaun and Sarah are not only great horseman, but are great people as well! They do the best job training a versatile horse to fit anyone. We are blessed to call them friends. You can buy with confidence out of this program!
Megan Cobb
Idaho
---
Wonderful people to work for and their horses are always exceptional
Hunter Freeman
Texas
---
The real deal! Mozaun and Sarah work hard and produce extraordinary horses! If you're looking for a horse that's above and beyond..both gorgeous and versatile..Mozaun and Sarah have what you're looking for. They are passionate about what they do and their horses prove it! What an amazing team! Superheroes in the horse world!
Mary Sharp
Texas
---
Sarah & Mozaun are the BEST in all aspects! Great people and even better horsemen and women! Their horses are always top of the line, you won't find any better!
Riley Schmitt
Iowa
---
These guys are hands down the BEST!!!! Not only are they the coolest people to deal with, but also make the coolest horses you can find. Just look at their horses and you can tell the hard work and many hours Mozaun and Sarah put in each and every one of them :))) everything they do is nothing but professional! Highly recommend!!!!
Shelby Black
Idaho
---
Nothing is too much trouble and they go out of their way to help you. Quality trained horses for all levels of rider.
Glynnie Walford
Tennessee
---
Sarah and Mozaun have nothing but the best horses to offer. We've watched as they have put a new and improved professionalism towards selling horses. They've consigned horses to our sales and have always been the high seller and/or reserve high seller. We've never had one complaint about their horses they've sold and only good reviews and testimonies. Love seeing all the great horses they have to offer!
Codi Gines
Diamonds In The Desert Horse Sale
Nevada
---
Dynamic duo that produces outstanding all around horses! Definitely the place to go find your dream horse! 110% recommend!
Devlyn Drake
California
---
Mozaun and Sarah have the Best Horses in the business. They are class acts and I look up to them:) thank you for setting the bar for the horse industry, and being great friends.
Alise Holst
Minnesota
---
We love our horses from mozaun and Sarah! They are such great people and have amazing horses!
Savannah Doak
SAPPHIRE
New Mexico
---
The Mckibben's are a very down to earth, honest team that helped my wife with two once in a life time horses. Thank you for the forever smile on her face.
Johnny Lanning
BATMAN & TIGGER
Virginia
---
Both Mozaun & Sarah have the intuition to fit a rider to the perfect horse. The horses they train are disciplined, well-mannered & very versatile. Their show record proves the success of their program.
Michelle Carnahan
Arkansas
---
I love The McKibbens and All their animals! They are such amazing trainers! All three of my children ride McKibbens horses and we wouldn't have it any other way!
Jackie Crawford
HOLLYWOOD
Texas
---
Incredibly impressed!!! Love this cowboy and cowgirl!! They are the best trainers!!!! Horses are amazing!!!
Vicki Sharp
Missouri
---
Made it home great. He's has a great personality. He will fit in perfect here. Thanks for checking in. When y'all get back in settle in let us know. I want to bring my granddaughters up.
Micheal Johnson
MONKEY
Texas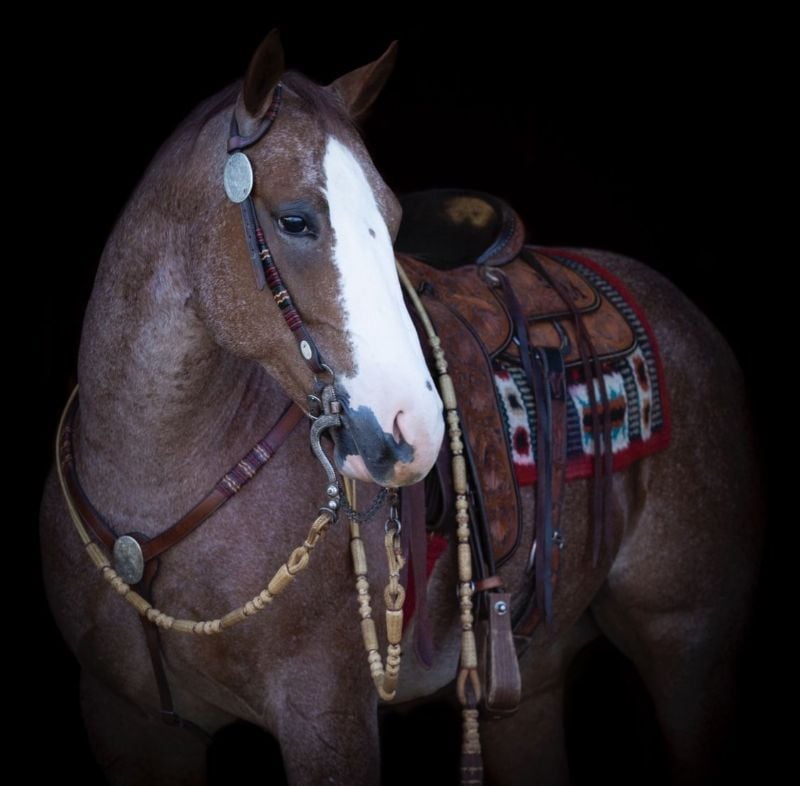 ---
Thank you for arranging direct and timely transport for this gorgeous horse. Jerry is doing well at our groves in Central FL and enjoys his new job. Our trainer is impressed with Jerry's level of training and response and says he is as smooth as it gets. He is a great horse and will be my number 1 ride. I would recommend your horses to anyone. Your videos, presentation, and communication are the best in the business.
David Ritter
JERRY
Florida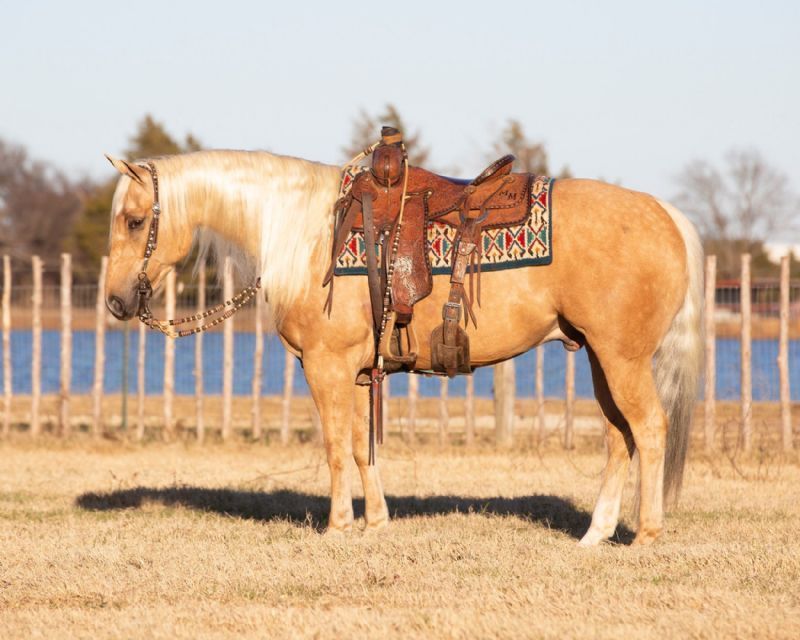 ---
If you were wondering how Cowboy was doing, he's doing great. I've ridden him every day. Love this horse. He's getting treated like a king here. He's definitely special.
Sid Steiner
COWBOY
Texas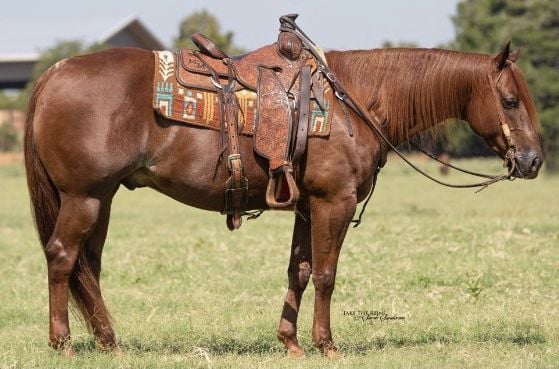 ---
We bought a horse called Ranger from Mozaun, Super Star horse !!! Would not even think of selling him. I won my 1st buckle on him and i'm sure there will be many more to come. thanks Mozaun….
Randy Schuchard
RANGER
South Dakota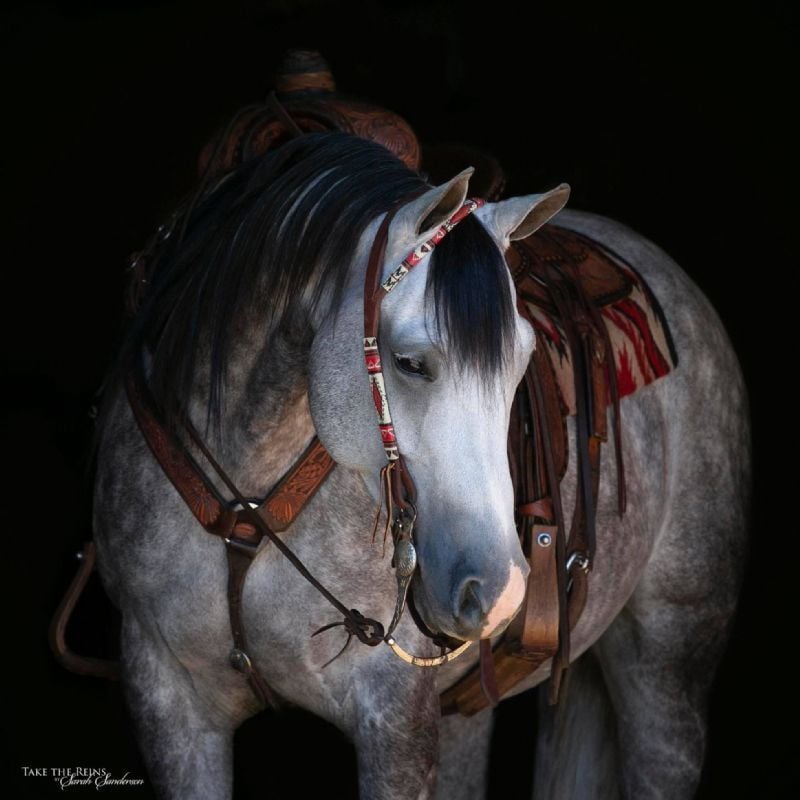 ---
Sarah, thought I'd update you on Hank, I've ridden him three times now just around the property but he's been perfect. Dad's farm has scary things everywhere and it doesn't bother him a bit! He is such a pleasure to work with. If we ever get to Texas I would really like to meet you and your husband. It's been a pleasure doing business with you.
Carolyn Stoner
HANK
Maryland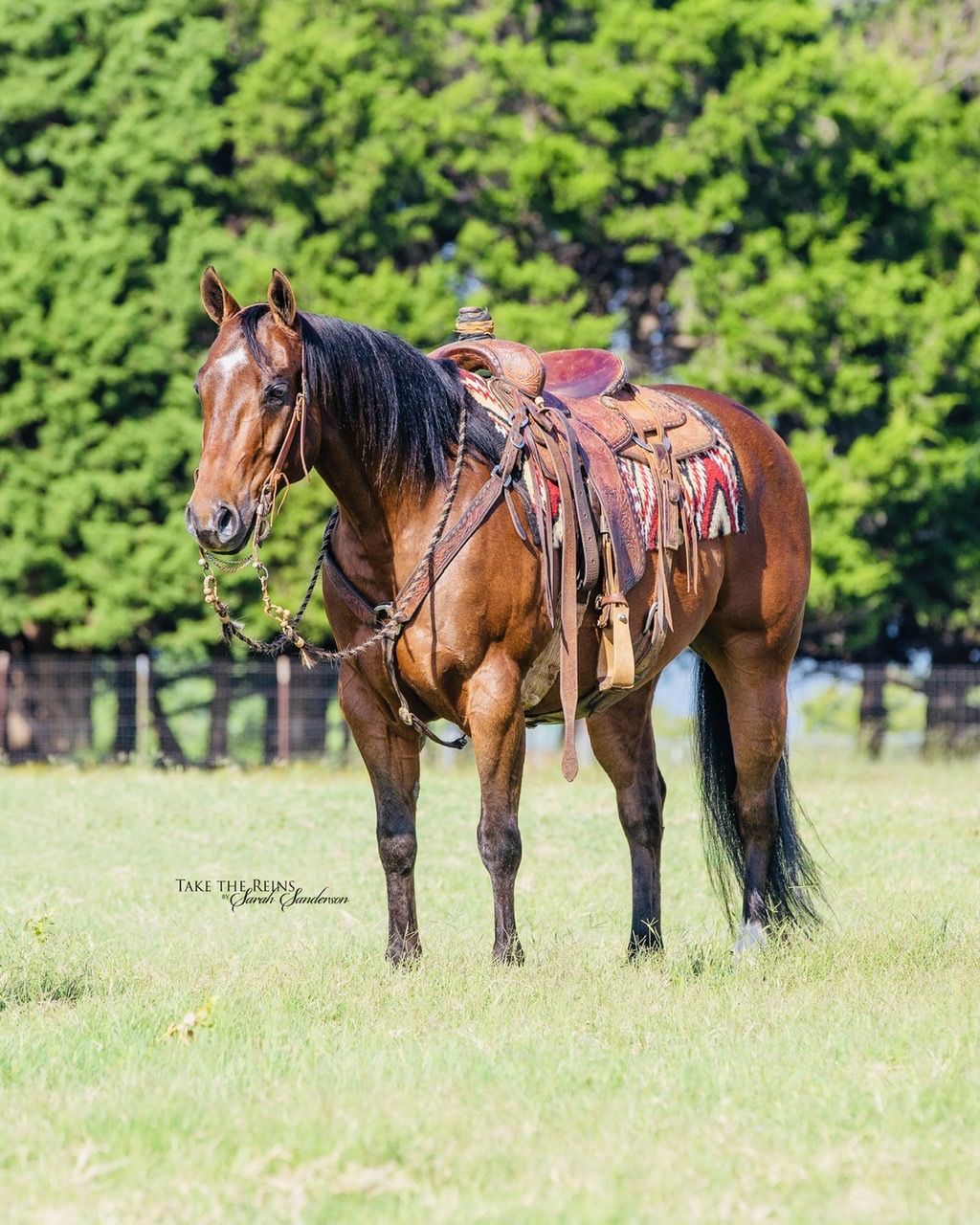 ---
I recently purchased 2 beautiful Geldings from Mozaun and Sarah. There names are Moonshine and Benz. I've only had them for a short time but after looking for 8 months at this point I feel like I couldn't have done better. I feel Mozaun is as good as you can get for training and Sarah does an awesome job of following up with any questions you may have. I'm just a greenhorn and they have treated me with great respect and courtesy and I really appreciate that. I bought the horses for my granddaughters and they are super excited just as I am. I would like to thank Mozaun and Sarah for helping me obtain my dreams and knocking one more number off my bucket list. God Bless you both.
Kenneth Bazemore
MOONSHINE
Georgia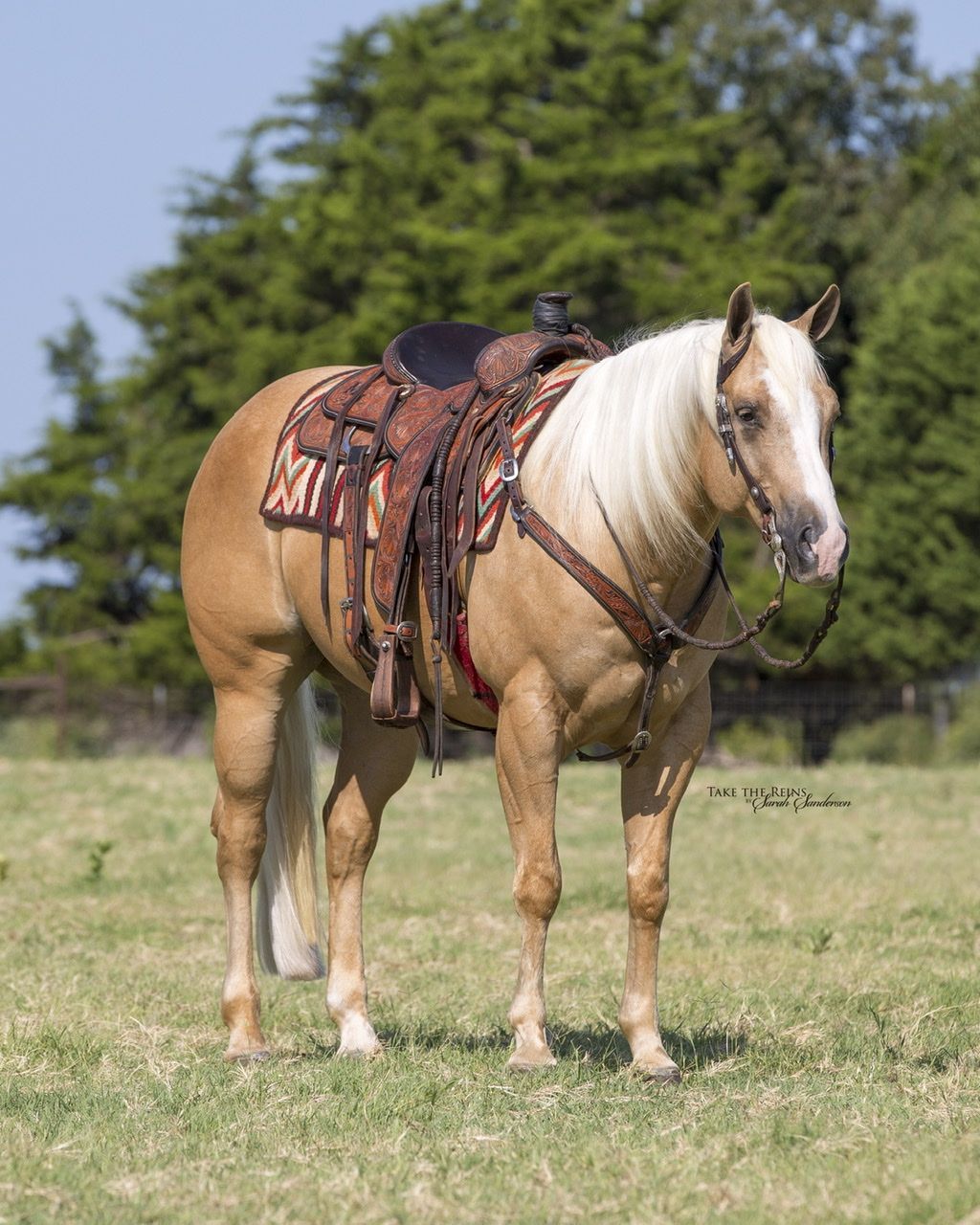 ---
I would like to thank Sarah and Mozaun for their professionalism and kind nature. We were looking for a good ranch horse and Mozaun was very helpful and directed me to the perfect horse. Boss is extremely well mannered whether you're gathering cattle , working in the pens or babysitting our 5 year old grandson. Thank you for such an awesome horse!
Jerry & Gina Davis
BOSS
Texas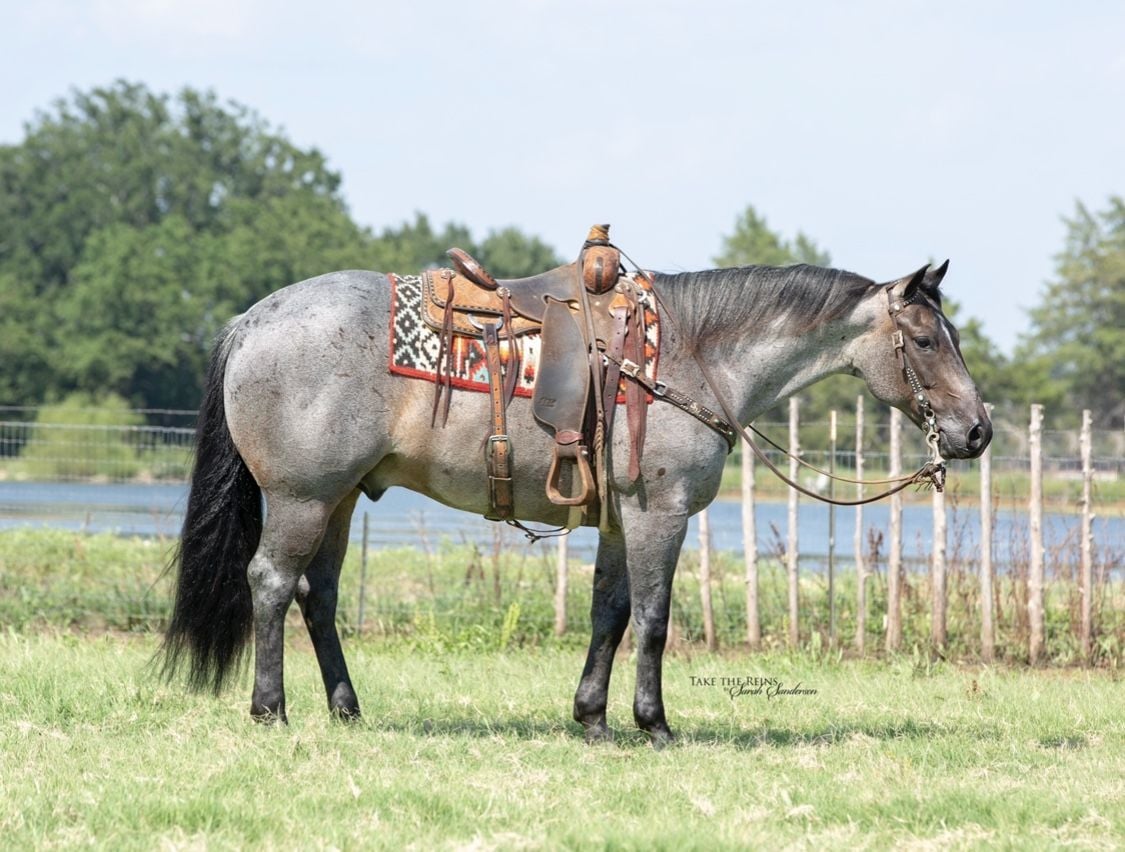 ---
Bubblegum is doing great. He's settling into the snaffle we're using and just a really good boy. Even after we had lots of rain and we could only ride in the crowded indoor arena, he was really good. I can feel that he has an intense energy about him, but he's never used it to be naughty, just like you said he would be. He is eager to please. I can see him constantly thinking. I really love him.
Jennifer Knight
BUBBLEGUM
Arizona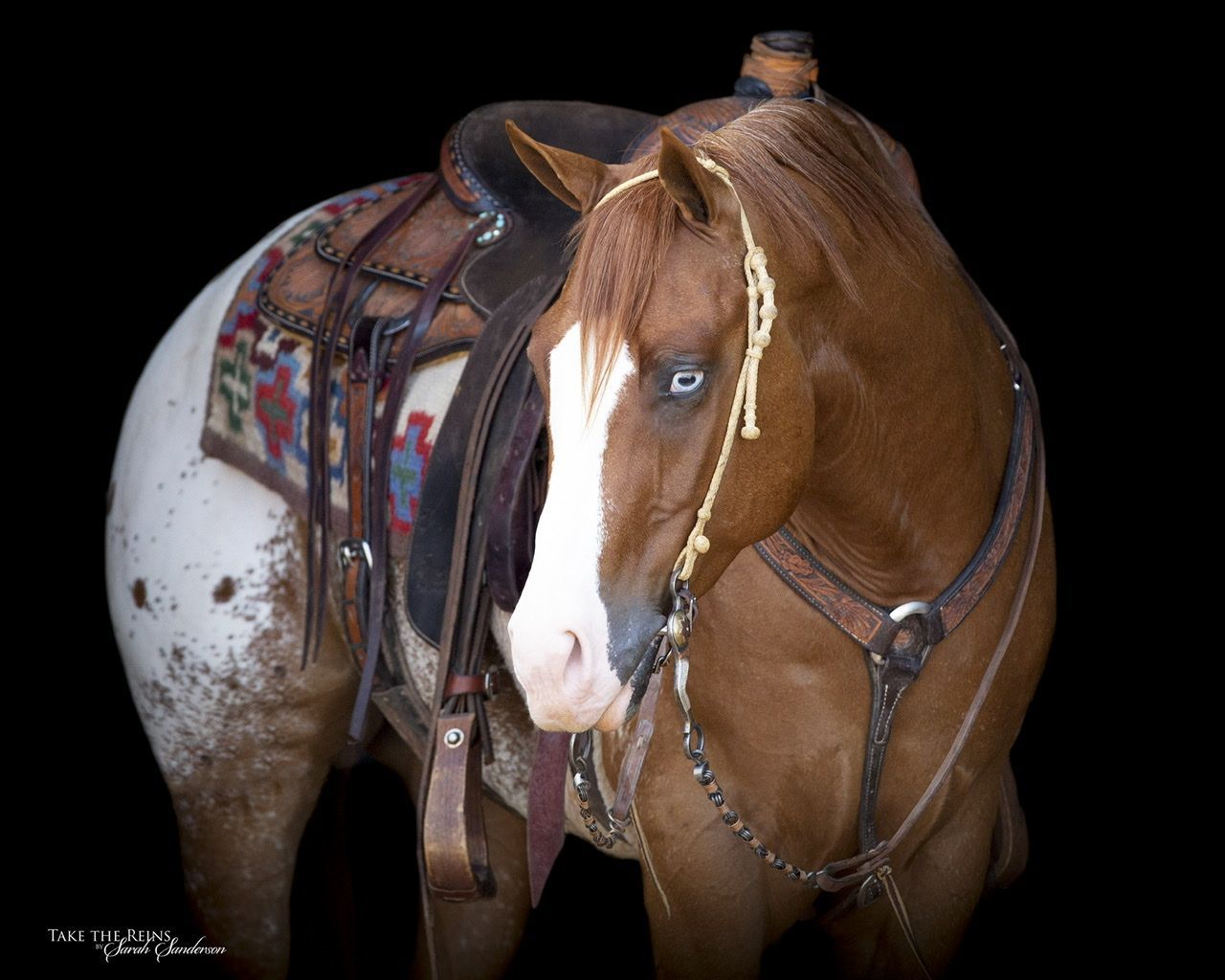 ---
Whizkey's buyer finally had the chance to come ride him. He had a great ride and Whizkey couldn't have been better. Thank you!
Ty Freidrich (Trainer)
WHIZKEY
Montana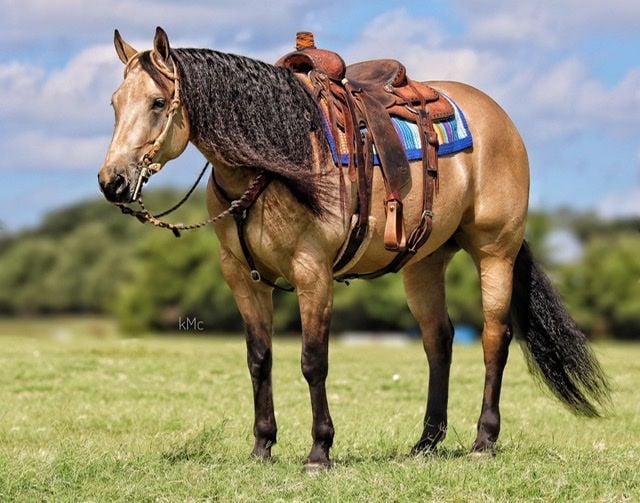 ---
LOVING Hotrod! He is awesome. I've put a lot of miles on him!
Mark Teele
HOTROD, ROCKY
Oklahoma
---
Swagger is doing swell. We gave him some time in a corral by himself yesterday morning and he really enjoyed that. Strutting around like a Lead Stallion. Nose and tail flying high. And snorting up a storm. Getting a bunch of ooo's and aaah's from the spectator's. I walked him around the facility on a lead rope, so he could see the surroundings. In the afternoon, I saddled him and we took about a 20 minute ride around the grounds. Linda and I did some grooming and he delighted in all the attention. We check on him each night around 7:30 just to tuck him in. He has such a fun personality. Very Playful and he definitely has connected to both of us. We love him so much! We have daily turn out and grooming for him. His stall is cleaned twice a day. He now has a mineral Block and I got a playful hanging ball for his stall. We are changing his Nickname to "Cowboy". I hope you don't mind. Thanks to you and Mozaun for giving us such a joyful horse. And thanks for you friendship.
Bob and Linda Stallings
SWAGGER
California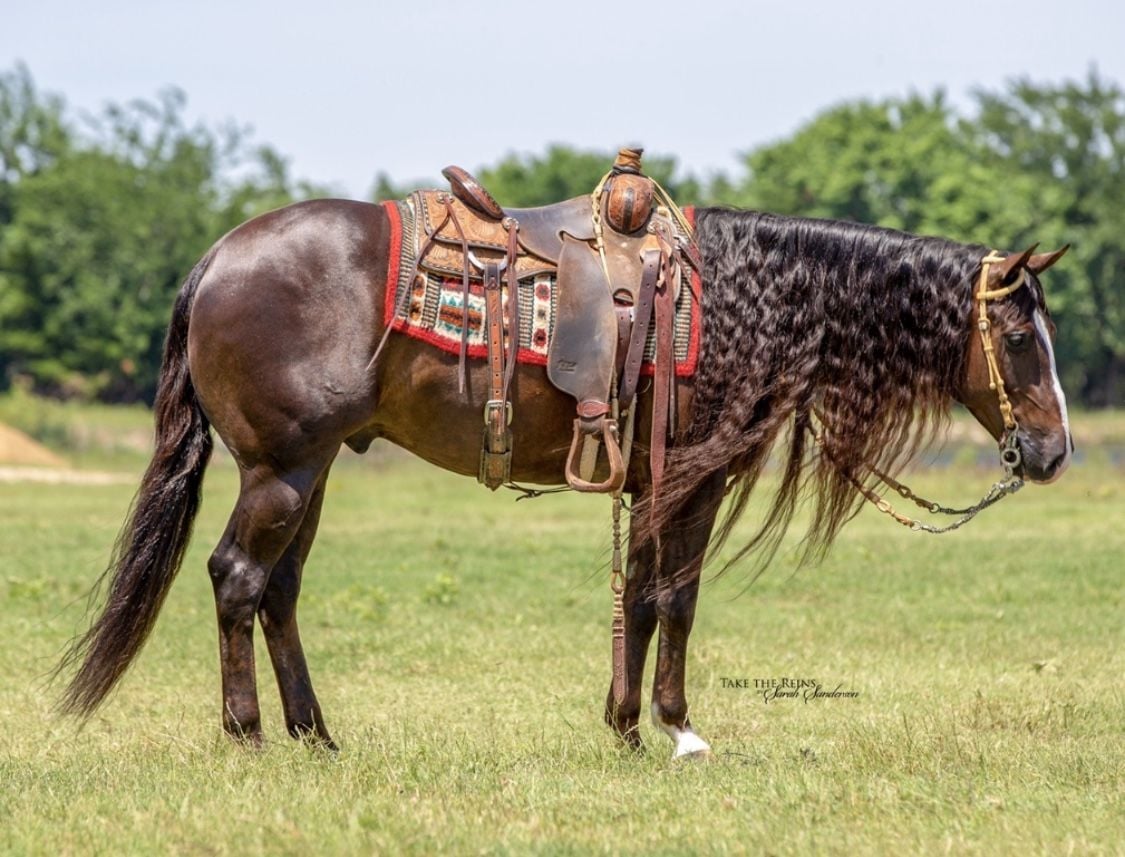 ---
National Day of the Horse. Wrangle The Stars has changed my whole life! We are a Duo, a Team, we are Dance Partners! We have total respect for one another! A Once in a Lifetime Horse! I LOVE My Wrangler!!!
Sherri Nabours
WRANGLER
Texas
---
Merry Christmas!!! We have Christmas ponies and are looking forward to great fun and adventures this coming year. Thank you to Diamonds In The Desert Horse Sale, Mozaun and Sarah McKibben, McKibben Performance Horses, Westfork Ranch, Shane Vaughn and Amy Heitland for these AMAZING ponies!
Jennifer Knight
BUBBLEGUM
Arizona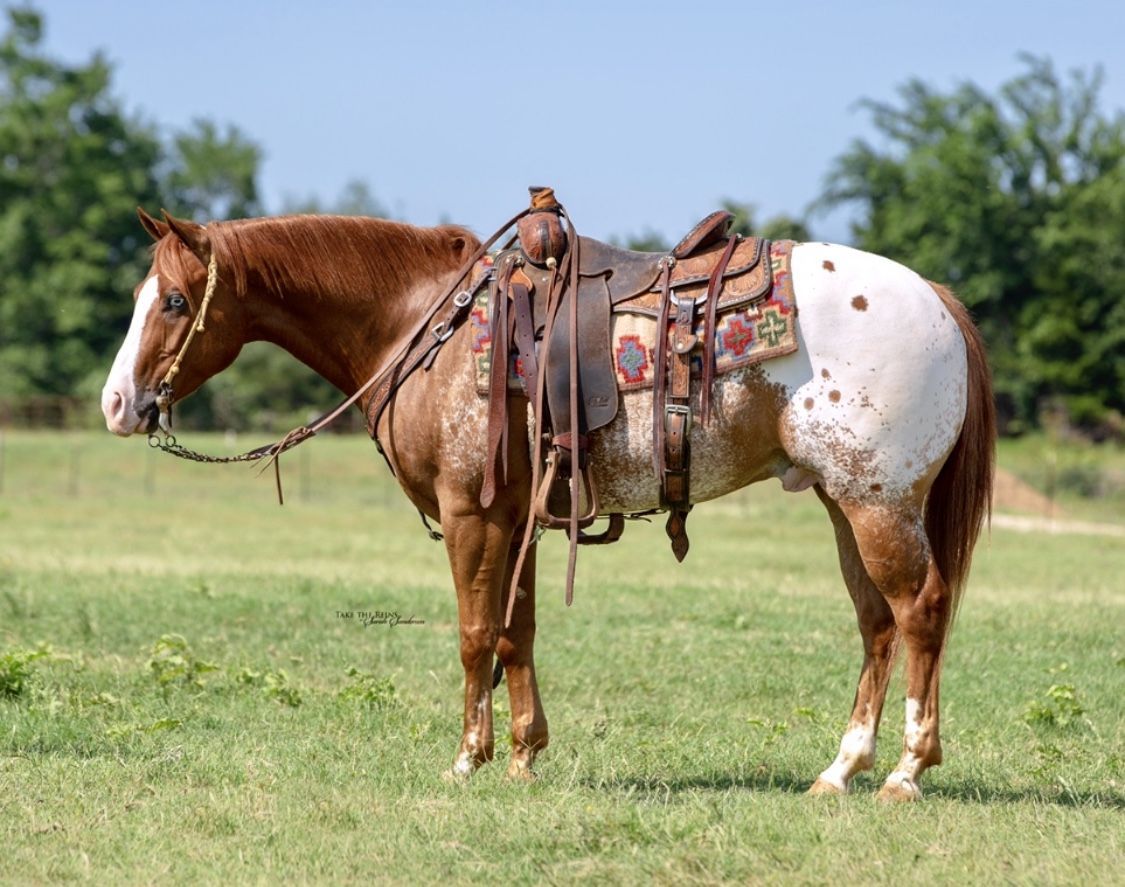 ---
Thank you for the opportunity to have and enjoy such fun horses.
Sue Stevens
JASPER, TANGO, TWINKIE
Texas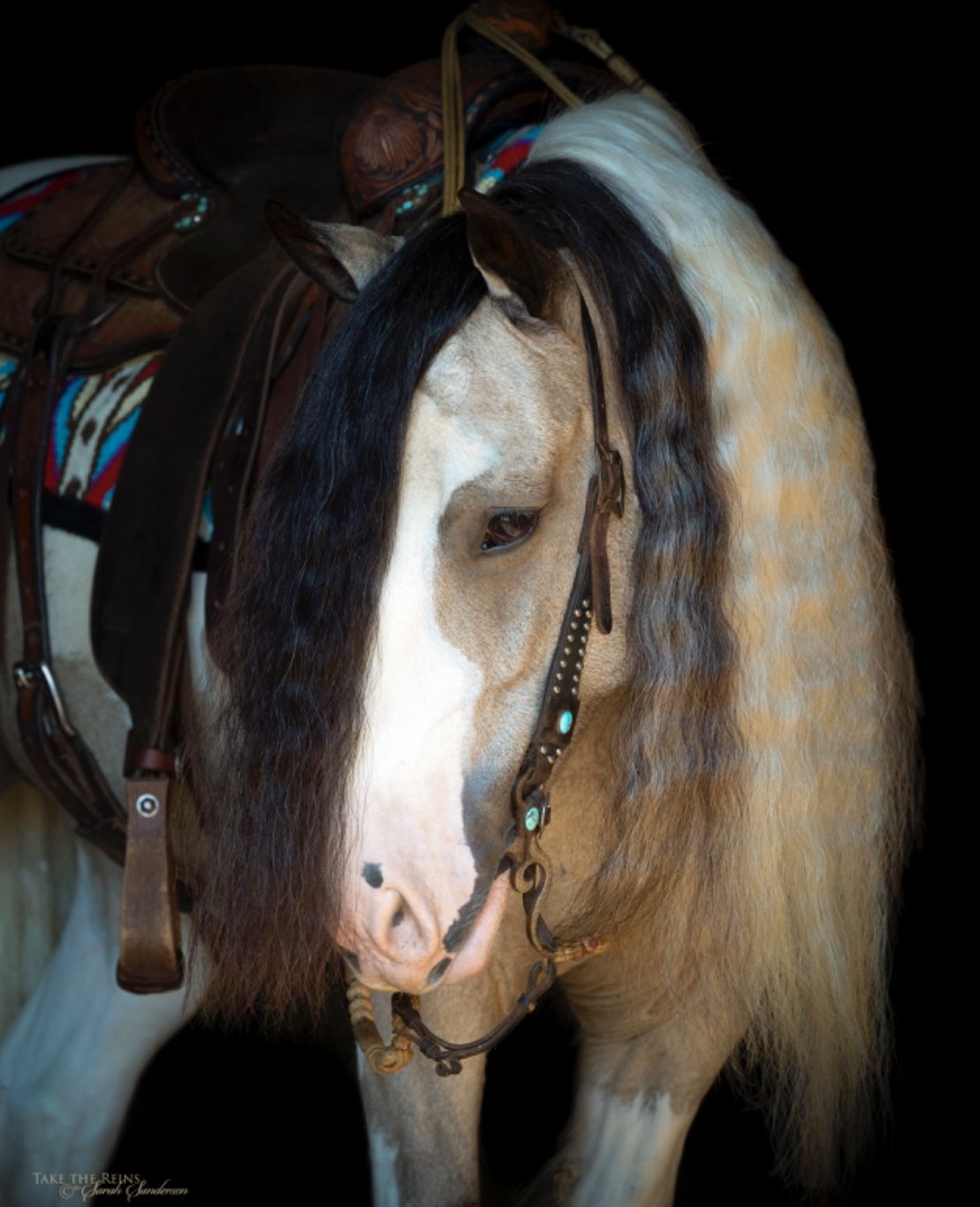 ---
We have been so blessed to meet the McKibbens and to have Flint in our lives! My kids have/are overcoming their fears and doing more than their little hearts have ever imagined. Flint has truly been a big part of our lives and we are so grateful!
Jackie Crawford
FLINT
Texas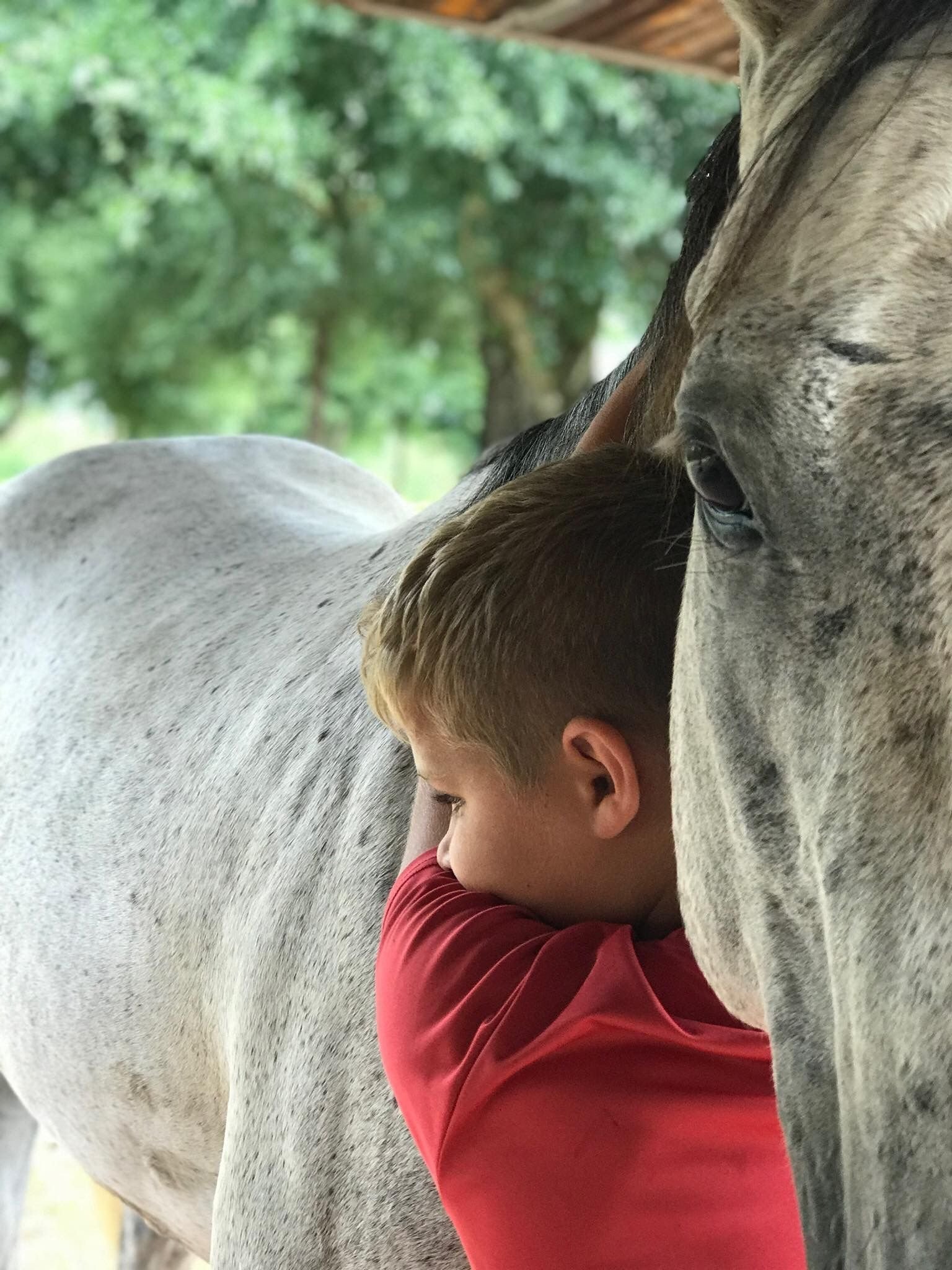 ---
Good morning a Mozaun! Rolex and I are getting along very well. I Took him across a very deep river yesterday and he never hesitated! You are right he is a very sweet animal and I do love that!!!
Vicki
ROLEX
California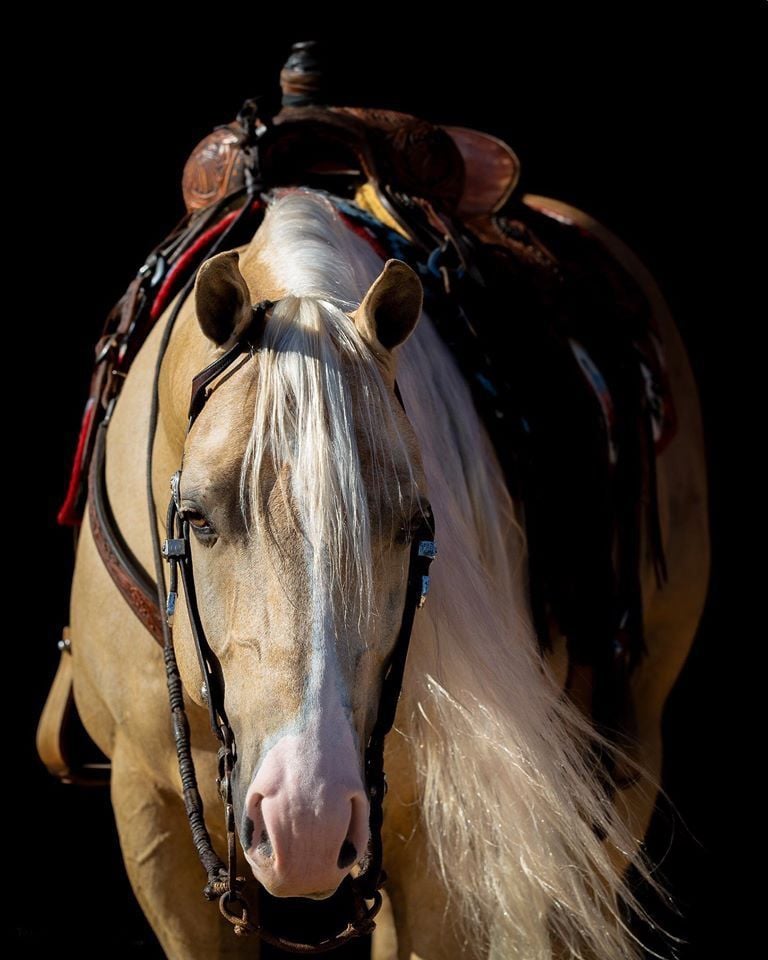 ---
We just LOVE him! So many similarities between him and Batman!!! Hope we can make you proud!
Beth Guthro (Trainer)
TIGGER
Virginia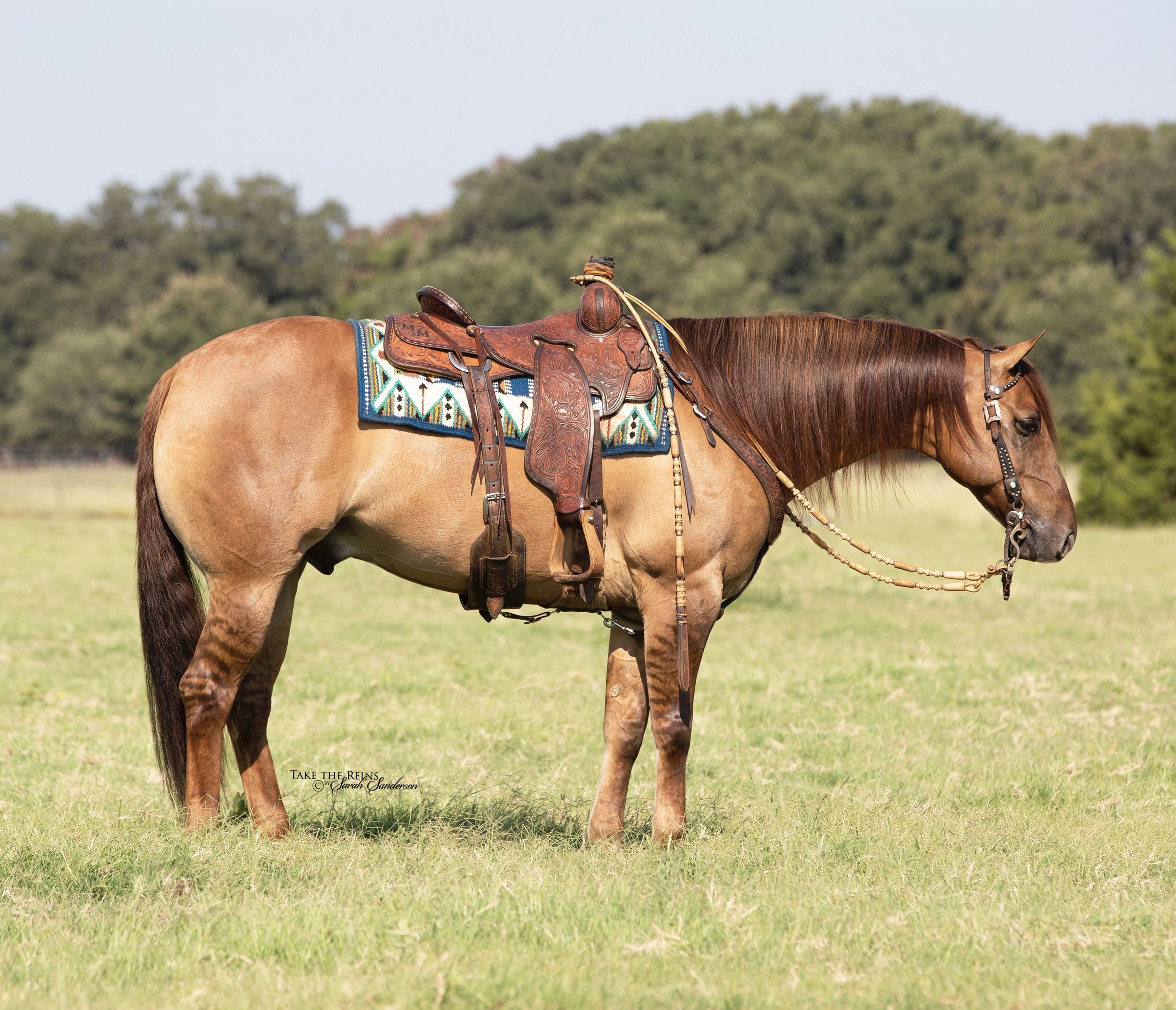 ---
A couple of years ago I watched a horse video of Mozaun Mckibben it blew me away. I contacted Mozaun and discussed what I was looking for in a Horse. Over time I tried to buy a couple of different horses they had for sale at select horse sales. I was unsuccessful. The Mckibben's invited me to come down to there Facility in Whitesboro TX. I took them up on there offer. When I got to Crossfire Arena I was greeted by Mozaun and Sarah both of whom are very accomplished horse people/ the real deal. The arena was first class, but what I wasn't expecting was 70 plus outstanding looking horses in there program and they know these horses inside out which enables them to match them to buyers needs. After I rode a few horse we collectively agreed BLK Diamond was the horse for me. He is great. The Horse Business can be very misleading at times and many buyers have had bad experiences. That is why I would strongly suggest contacting Mozaun or Sarah they most likely will be able to provide you with the Horse you are hoping to buy. 2017 Canadian Senior Pro Rodeo Association, Champion Header.
Daniel Baer
BLK DIAMOND
Alberta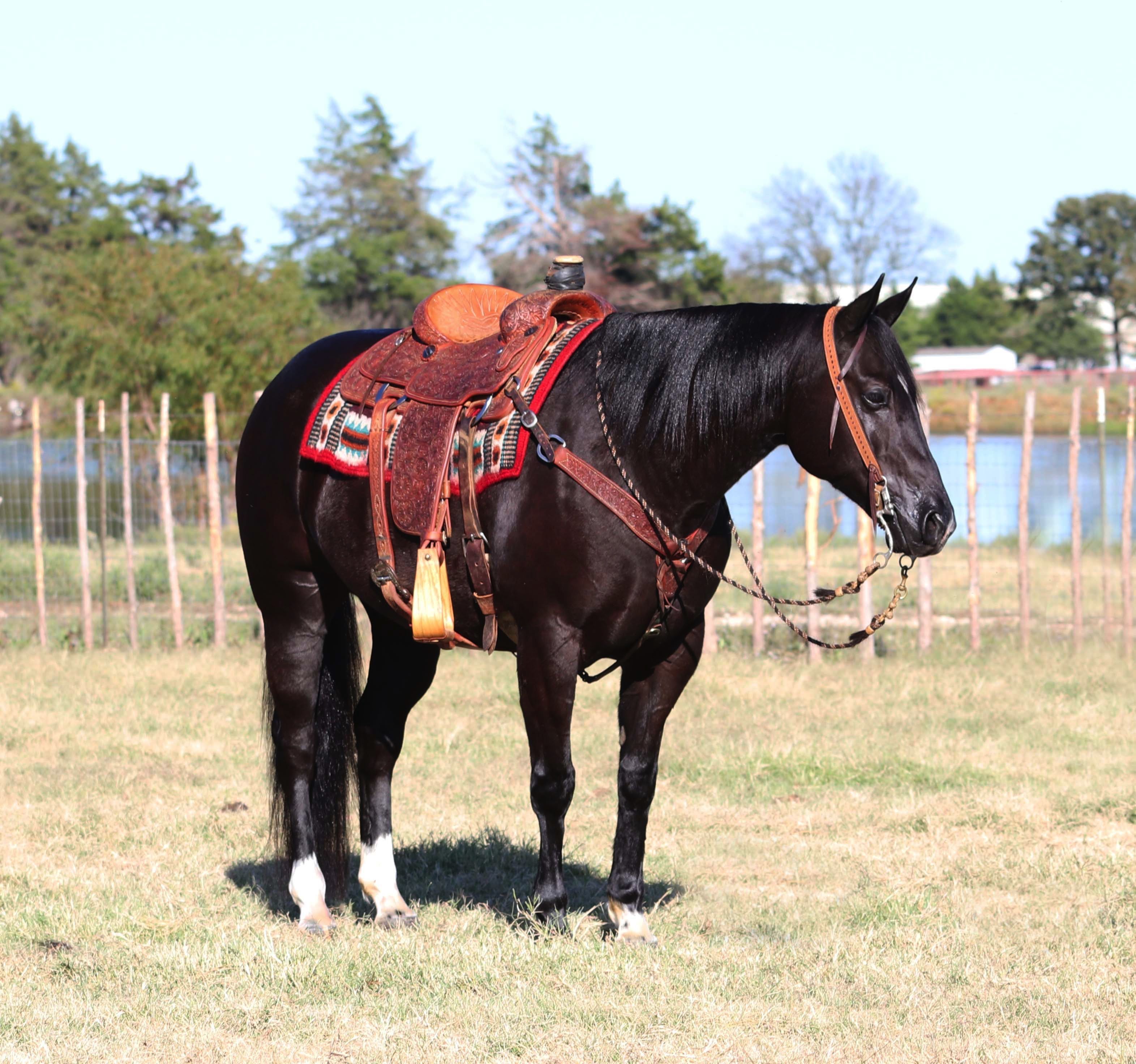 ---
Mozaun and Sarah are top notch and their horses show it! I purchased one of their geldings at the League of Legends sale in Montana and I am in love with my new boy. He is super trained, great at cutting and can lay down and sit, too! I get compliments on him all the time and he is just an all around great horse! Thank you Mozaun and Sarah for a great gelding!
Felicia Davies
RIGGIN
Ohio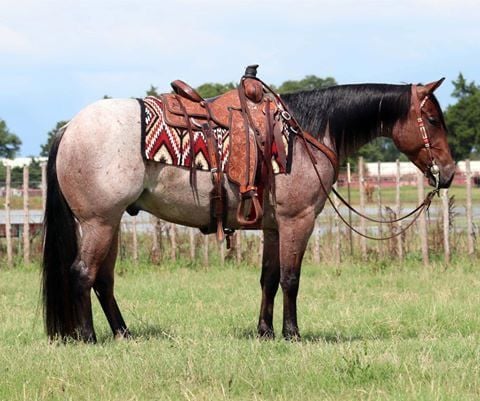 ---
He is a very happy horse. We have been working cattle. Gathering cows and weaning calves. He is getting used to the zebras and the camel, Joseph. We will start back on barrels soon He sends his Love
Nonie Reed
DEWALT
Texas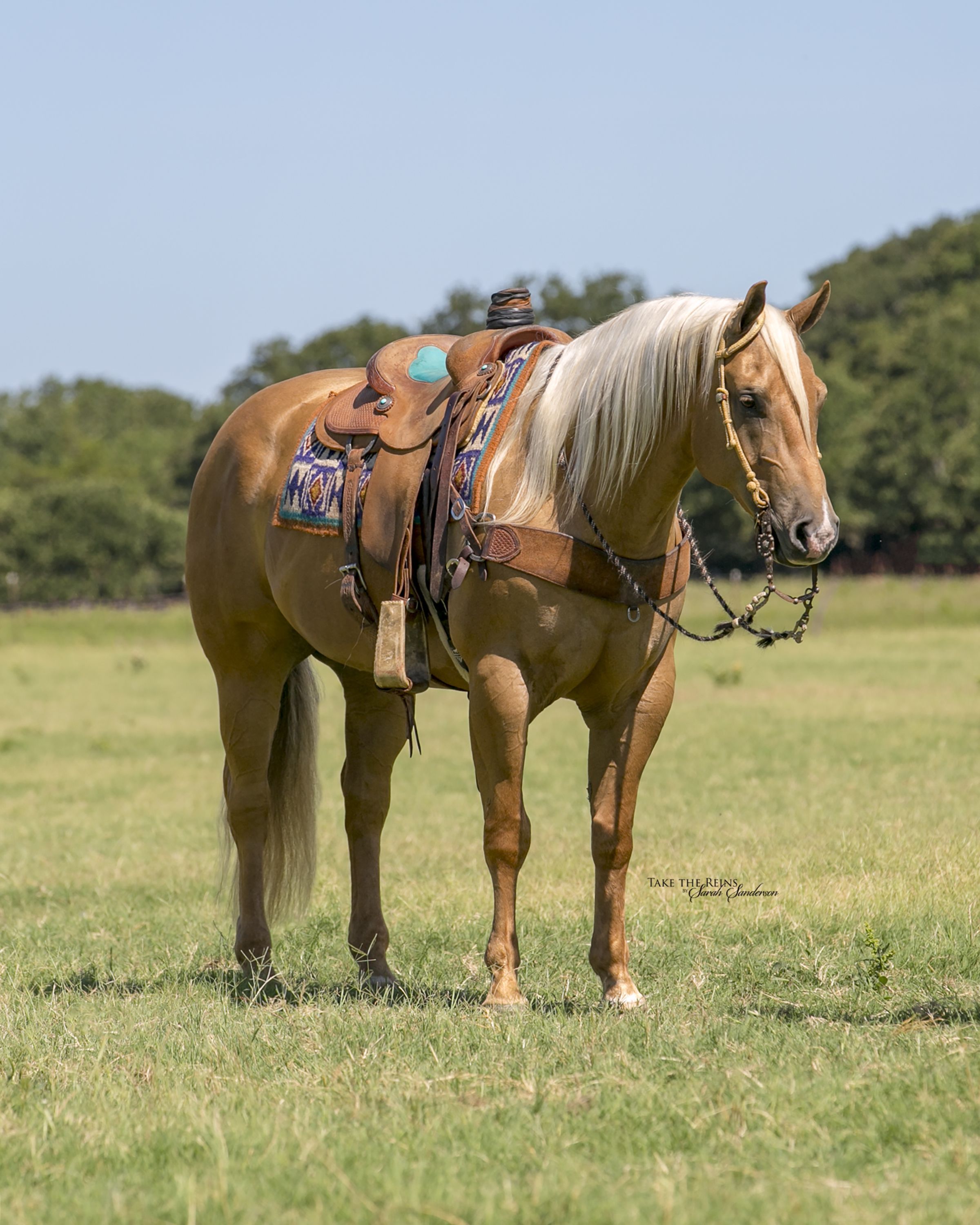 ---
I was looking for my unicorn, a gentle, level headed gelding with reining training. Base on my descriptions, Sarah picked out Blu. Trip to Crossfire Arena was such a great experience! I was welcomed, given the chosen horse and rode most of the day to make sure he was a good fit. Mozaun and Sarah both let me experience the horse on my own but was always nearby for questions and instructions. Sarah taught Blu to lay down as well, to be used to mount on the trail if need. Riding out in the pastures, sealed the deal. Blu is exactly what they said, and what I needed. I trusted there from the start. I am excited about our future. I am extremely impressed with their operation and got to watch both Mozaun and Sarah in action training other horses. I have admired the training talents for over a year. Thank you, Sarah and Mozaun for making a life long dream come true. It's wonderful to ride a horse so well trained.
Silvia Gisclar
BLU
Texas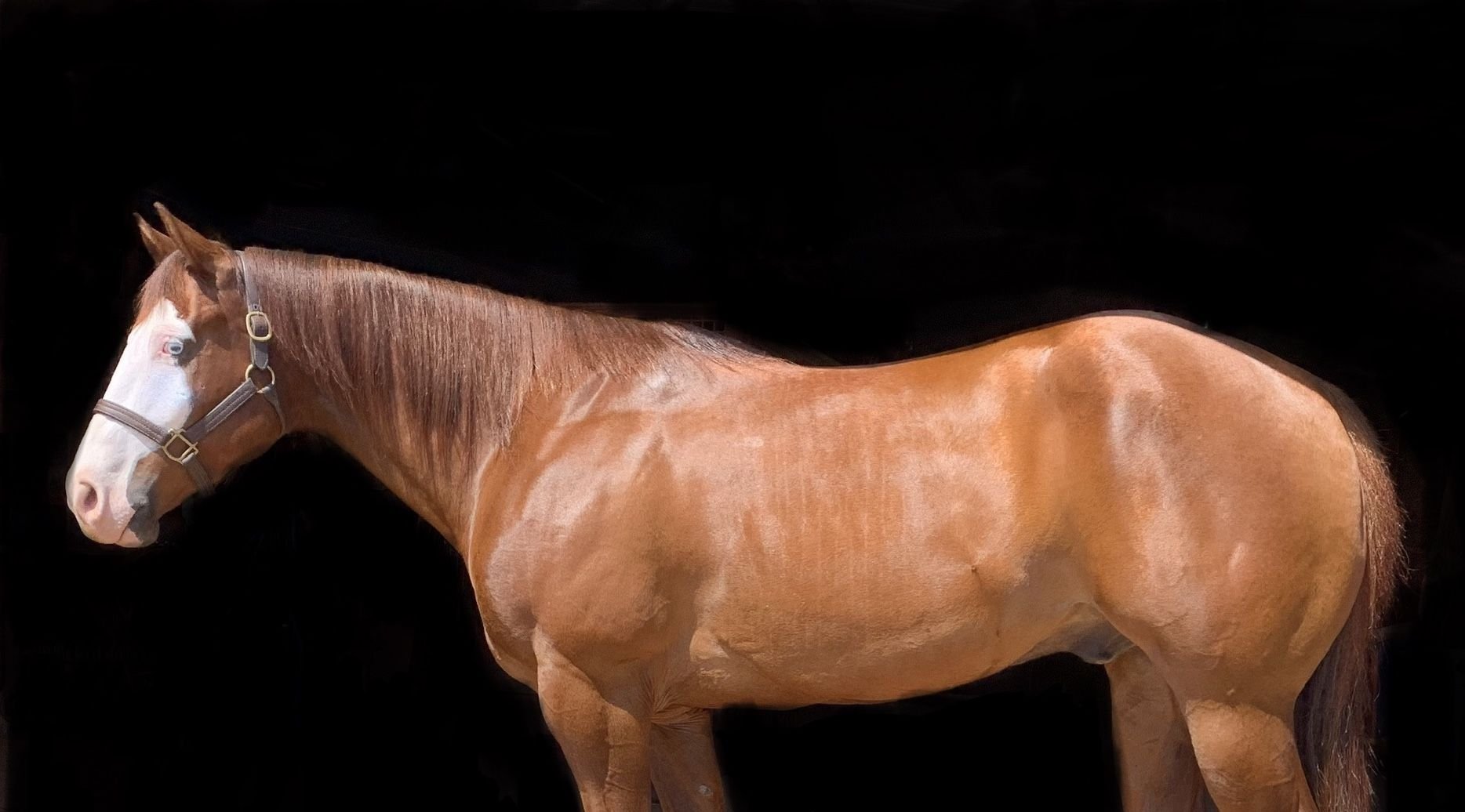 ---
Hi There. I wanted to thank you again for selling me my pronominal horse last May. He has been amazing and we have done great this year in the NWRCHA shows. What we love about Riggs is that I have been able to ride and show him without having him in training. I go to lessons with a trainer but I am the one riding him. We have killed it this show season and everyone is shocked that he is not with a trainer. He is so honest. He is the perfect horse and if you could find me a duplicate I would be so happy. I also show in the ranch riding classes. Riggs is the best horse ever. Thank you.
Delinda Jokela
RIGGS
Washington
---
Cowgirl Cadillacs is an awesome event for anyone looking to purchase truly remarkable horses! I participated in the 2019 Cowgirl Cadillacs sale. It was easy to participate from Alaska. I had telephone in one hand speaking with my assigned sale representative, while simultaneously watching LIVE video streaming of the sale via internet. Owner/Trainers', Sarah and Mozaun McKibben, together with sale coordinators, the Sankey family provided all pre-sale and post-sale support I needed. Very honest and helpful folks! Professional and courteous in every way. I just LOVED everything about the Cowgirl Cadillacs sale! Heaps of thanks, Razoo is a wonderful addition to our family, and a great horse!
Debbie Brown
RAZOO
Alaska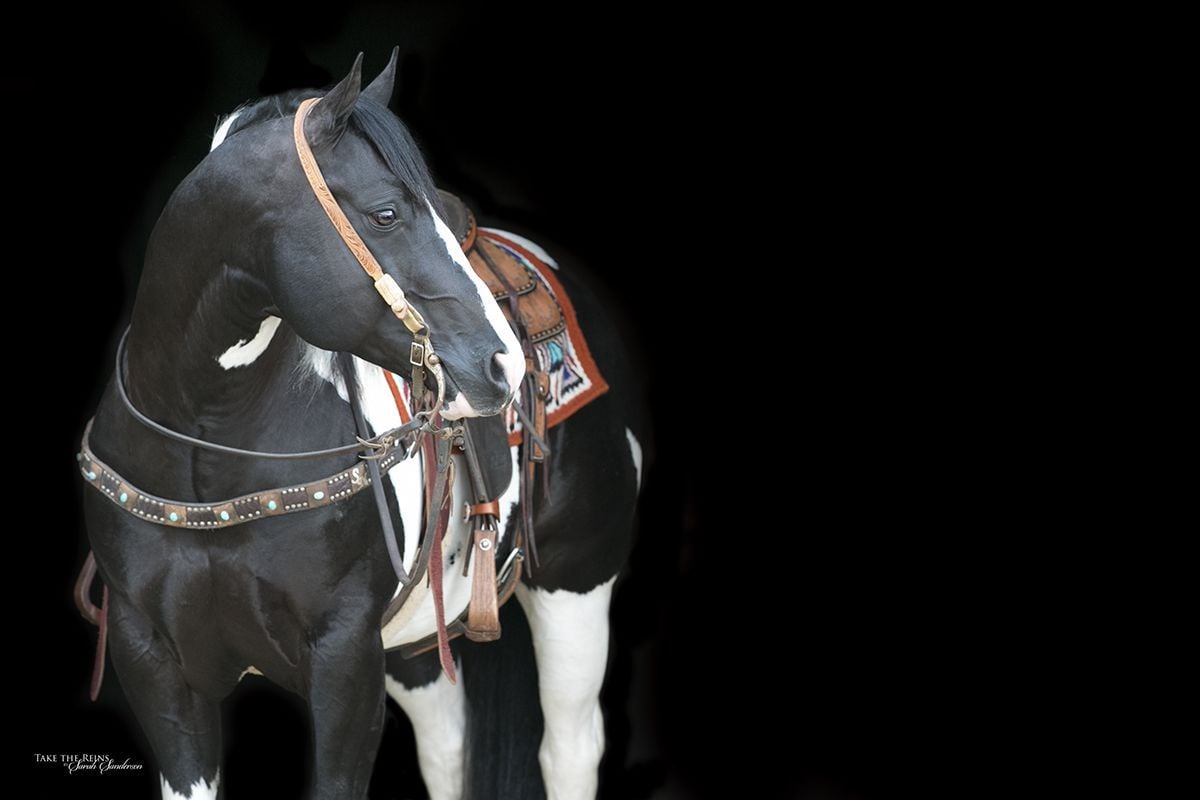 ---
Everyone loves him. He will be in rope horse futurity in fall. We believe he will be the next "big deal". I've had several people ask me where he came from, so heads up hope that's ok!
Ryan Morrow
HAPPYHOUR
Texas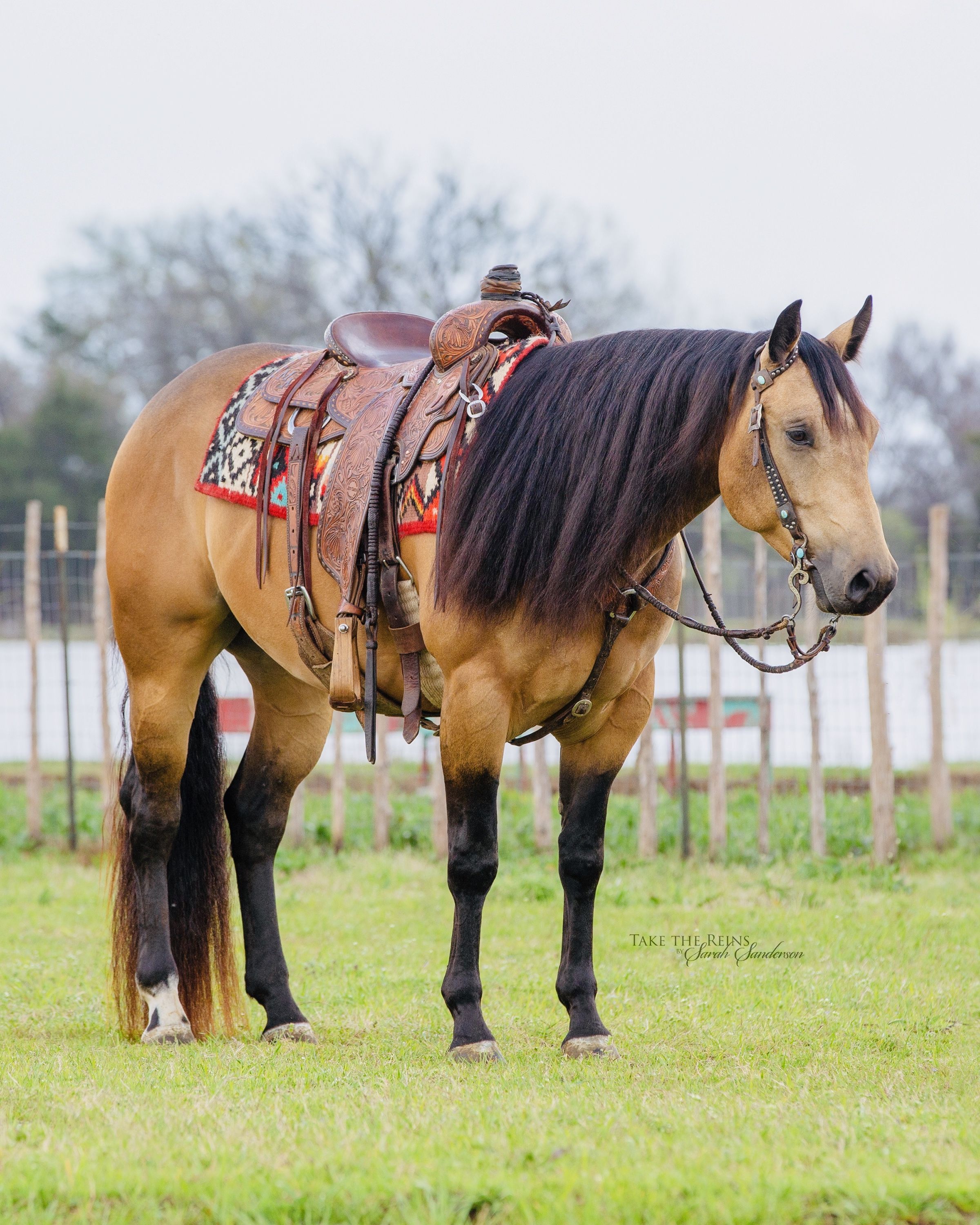 ---
I for one am thankful for what these two have done to elevate the gelding industry. They have taken their horses to a whole new level.
Col. Steve Friskup
New Mexico
---
Tito is a one in a million horse for me and I couldn't be any happier! Ranch riding, Ranch trail, reining, and ranch horse halter. He does it all
Mariah Gipson
TITO
Ohio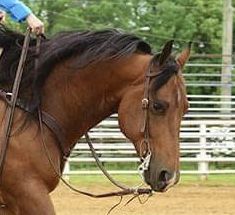 ---
All is good. He has been a perfect gentleman everything he was represented as. He has been claimed by one of my twins and has been ponying around on him. The boys have laid a hundred hats in front of him and kicked the aerobic ball for him. They think he should play like a dog lol. When you have others for sale please keep me in mind.
Russ
BULLET
Washington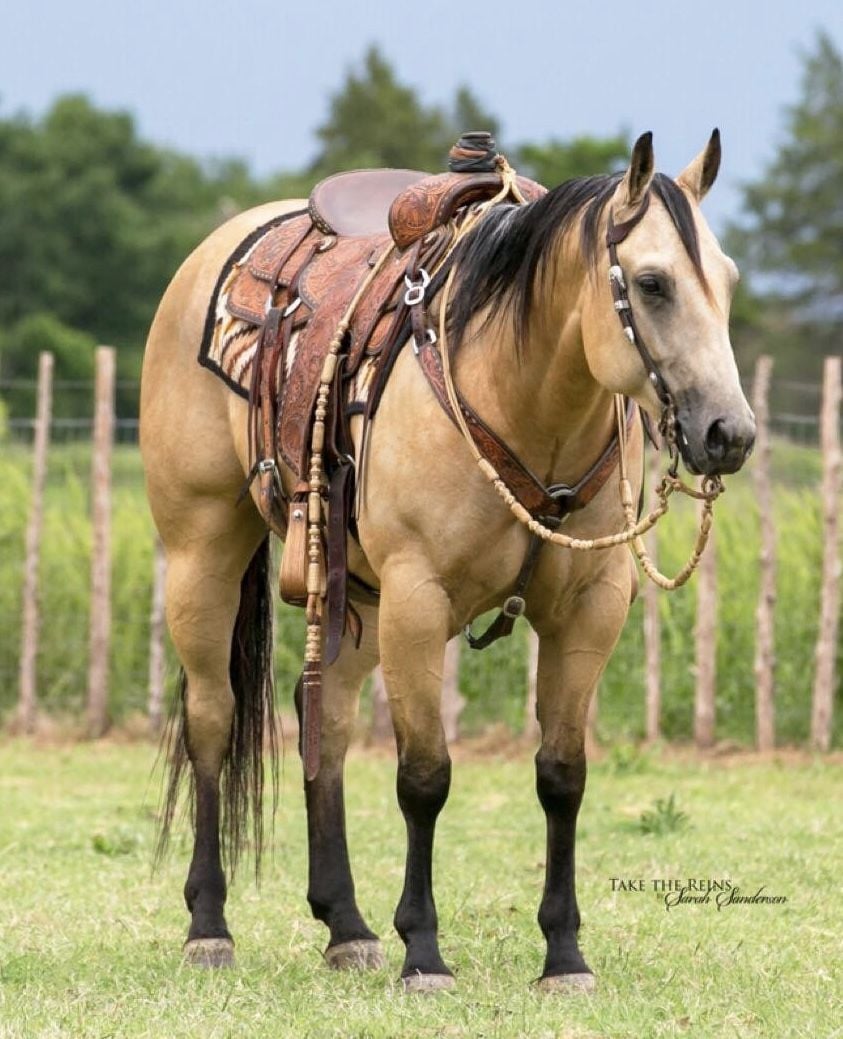 ---
Ditto to all the above! Sarah and Mozaun are rarities in the horse selling business! Sarah goes above and beyond to answer questions and matching the horse to what you tell her you're looking for. I love my horse I got from them and love the buying experience they provide. First class all the way.
Dee Rush
CAPTAIN
Oklahoma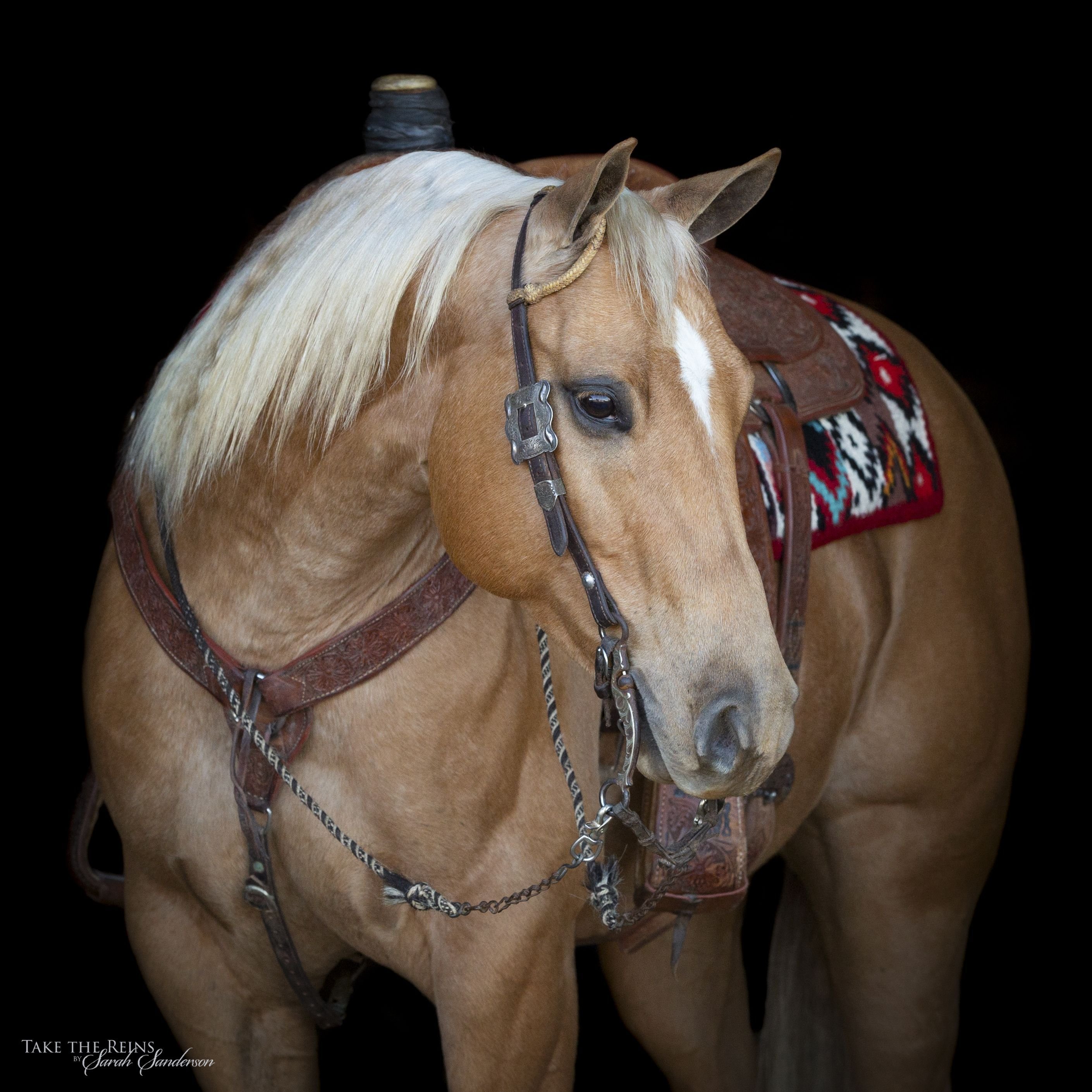 ---
Mozaun and Sarah McKibben are the most loving, honest horse people that you can meet. They care more about matching the horse to the person, than just selling a horse. When we met them, I was looking at a big strong palomino but they steered me to Dinero instead, a solid gentle versatility horse. They spent three days with me making sure that this horse and I were a perfect fit! Both Moz and Sarah are accomplished horsemen and champions. If you have the opportunity and privilege to buy a McKibben horse, consider yourself blessed! The best money you will spend on a horse!
Karen French
DINERO
California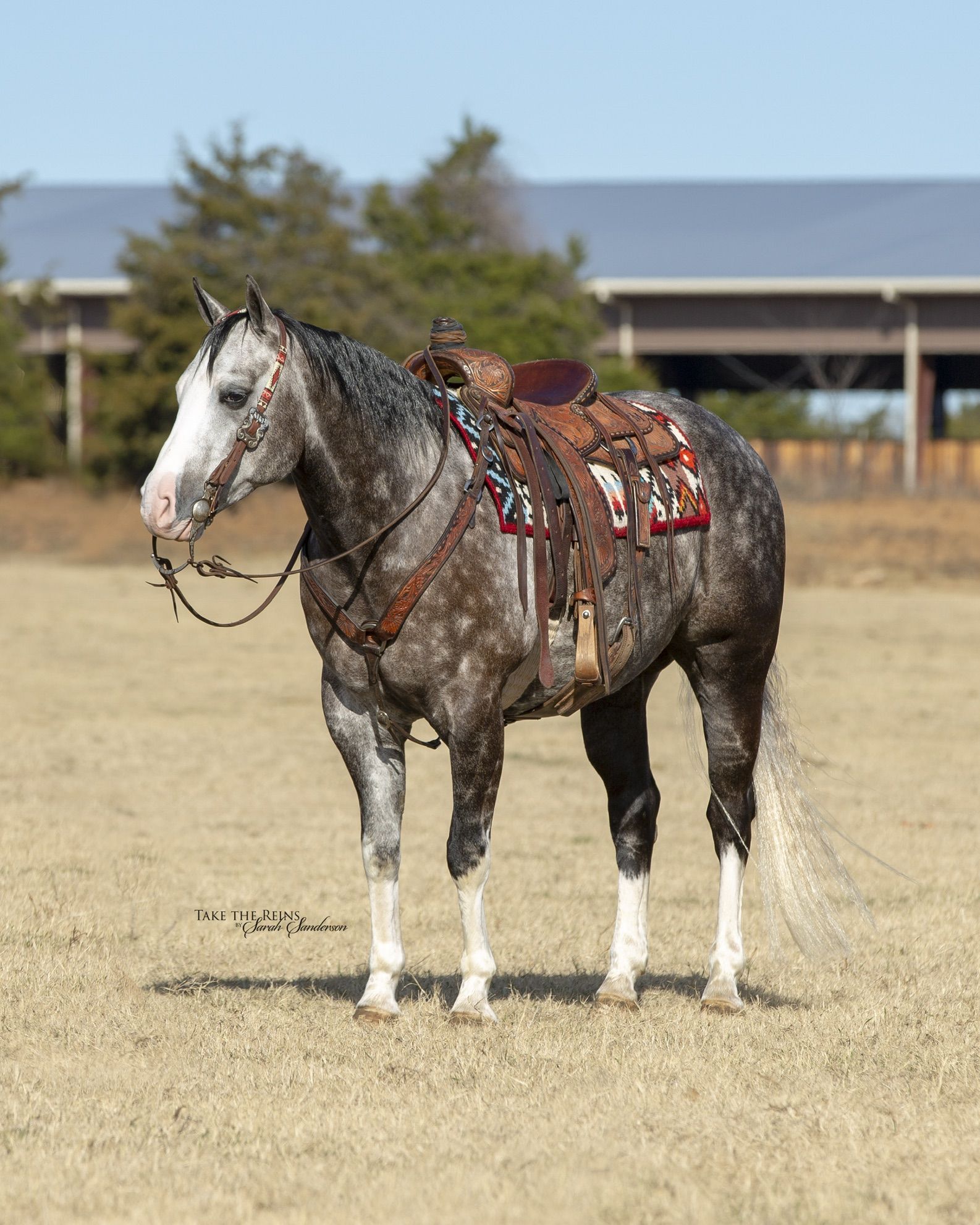 ---
Latigo is now living on our ranch in ND. He is an amazing animal, and pretty darn flashy to boot. Mozaun did an incredible job of training this horse. To say that both the trainer and the horse are something special would be a major understatement. We could not be more pleased.
Bruce Stidham
LATIGO
North Dakota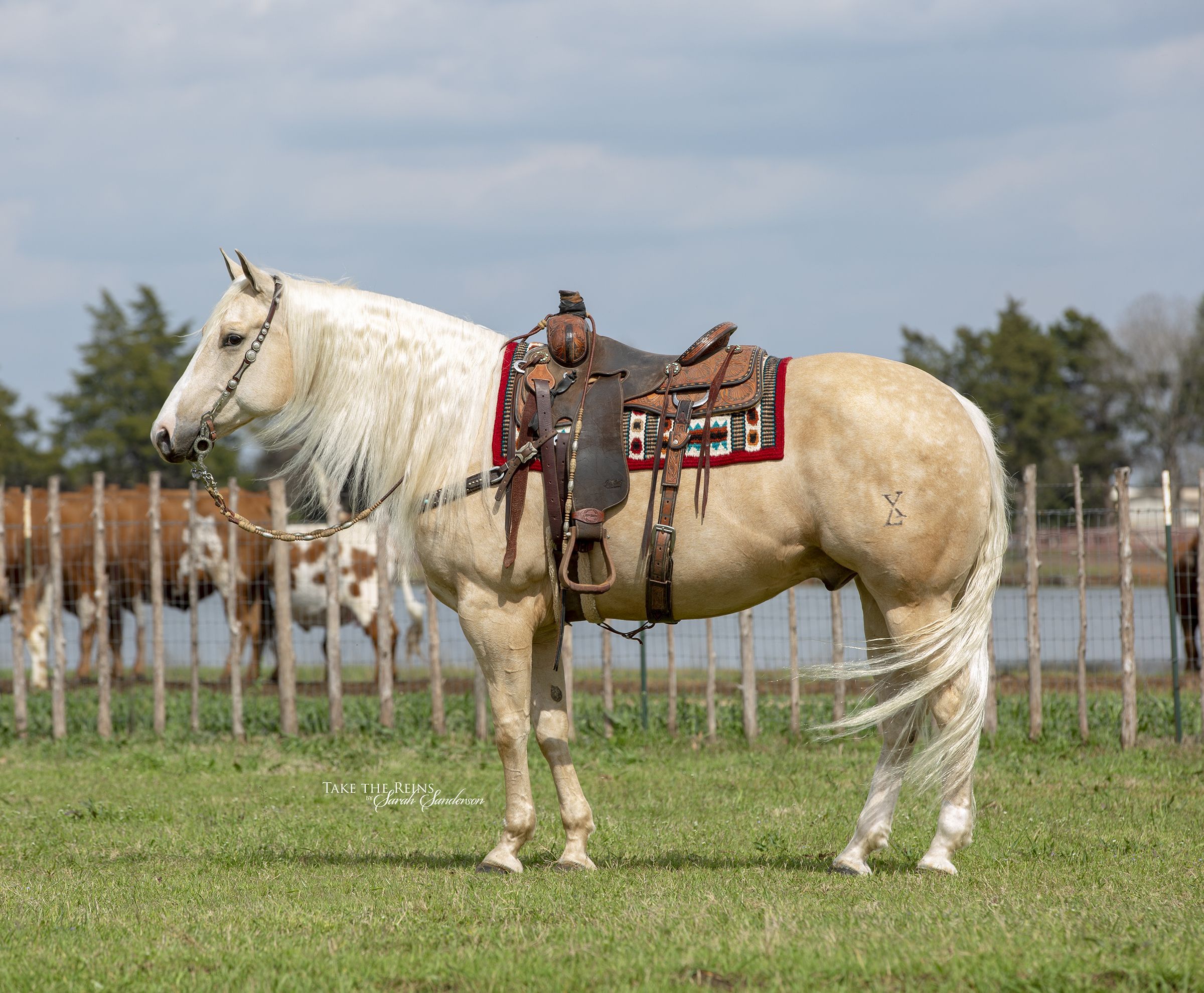 ---
Thank you so much for selling me Dexter. He has given me the confidence I need in the show pen. He is always consistent and patient with me. I love him and so does everyone in our stable. I will definitely be buying my next gelding from you. Good, honest and down-to-earth people. Thank you!
Taylor Ray
DEXTER
Florida
---
By far the coolest we have ever owned! I can't thank you guys enough!!!
Joel North
ROCCO
IDAHO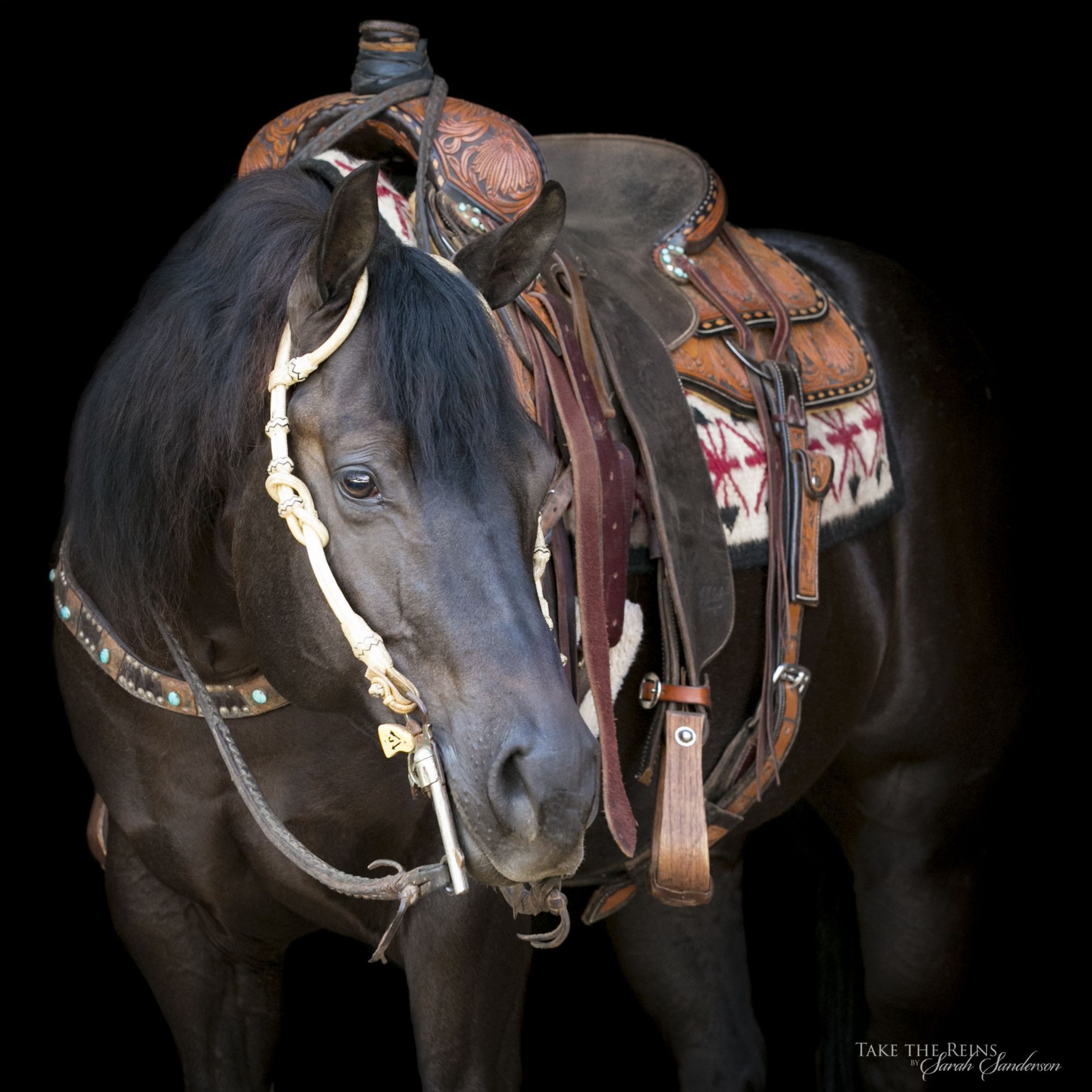 ---
My wife and I purchased a beautiful paint horse from Mozaun Mckibben. Bell was everything they said she was. If I was to buy another horse I would definitely consider buying from them. Very easy to deal with and honest. Just watch there videos on YouTube. Amazing!!
George Salvagio
BELL
Pennsylvania
---
Two years ago I attended the San Antonio Ranch Gelding Sale held in conjunction with the annual San Antonio Stock Show and Rodeo. I bought a bay roan called GUS. I've ridden and owned many horses over the last 50 years but I have never had one as finished and versatile as the Gelding I bought from Mozaun and Sarah McKibben. This Gelding is kid gentle, can rope, rein, ranch, cut,and trail with any level rider who can sit in the saddle and hold the reins. Mozaun McKibben is incredibly talented,widely recognized and highly regarded as a "horseman's" trainer. His horses top the sales around the country and deservingly so. I'm coming back to you and Sarah for more just like GUS. Thanks Mozaun! A very satisfied owner, Roy!
Roy Barrera
GUS
TEXAS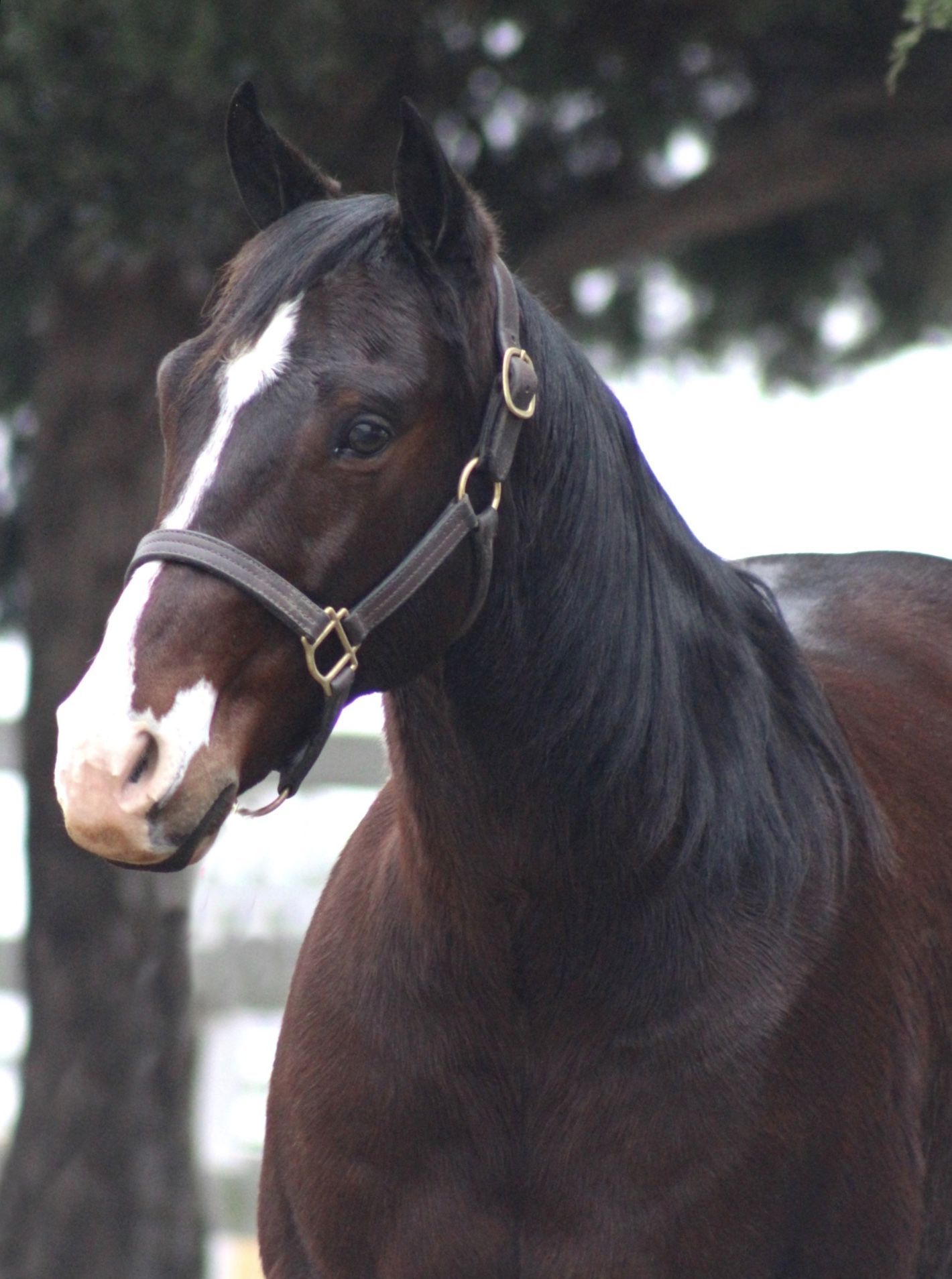 ---
I met the McKibbens in Livingston Montana. I bought a gelding from them and will share they did everything they said they would do and more. They were pleasant, honest, and went far the extra mile. Now long after the sale is concluded we stay in contact, always helpful. I know they will not tell me what I want to hear, but what they believe to be the facts. They've become trusted friends in the industry; along with – I bought a great horse with a quiet mind and fun to ride and work on the ranch. Chief has been a great addition to our ranch and herd, he loves to work hard and really covers some ground….. and Lord forgive the cow that doesn't move the way he wants! Happy to share my experience...
Bill Singleton
CHIEF
Colorado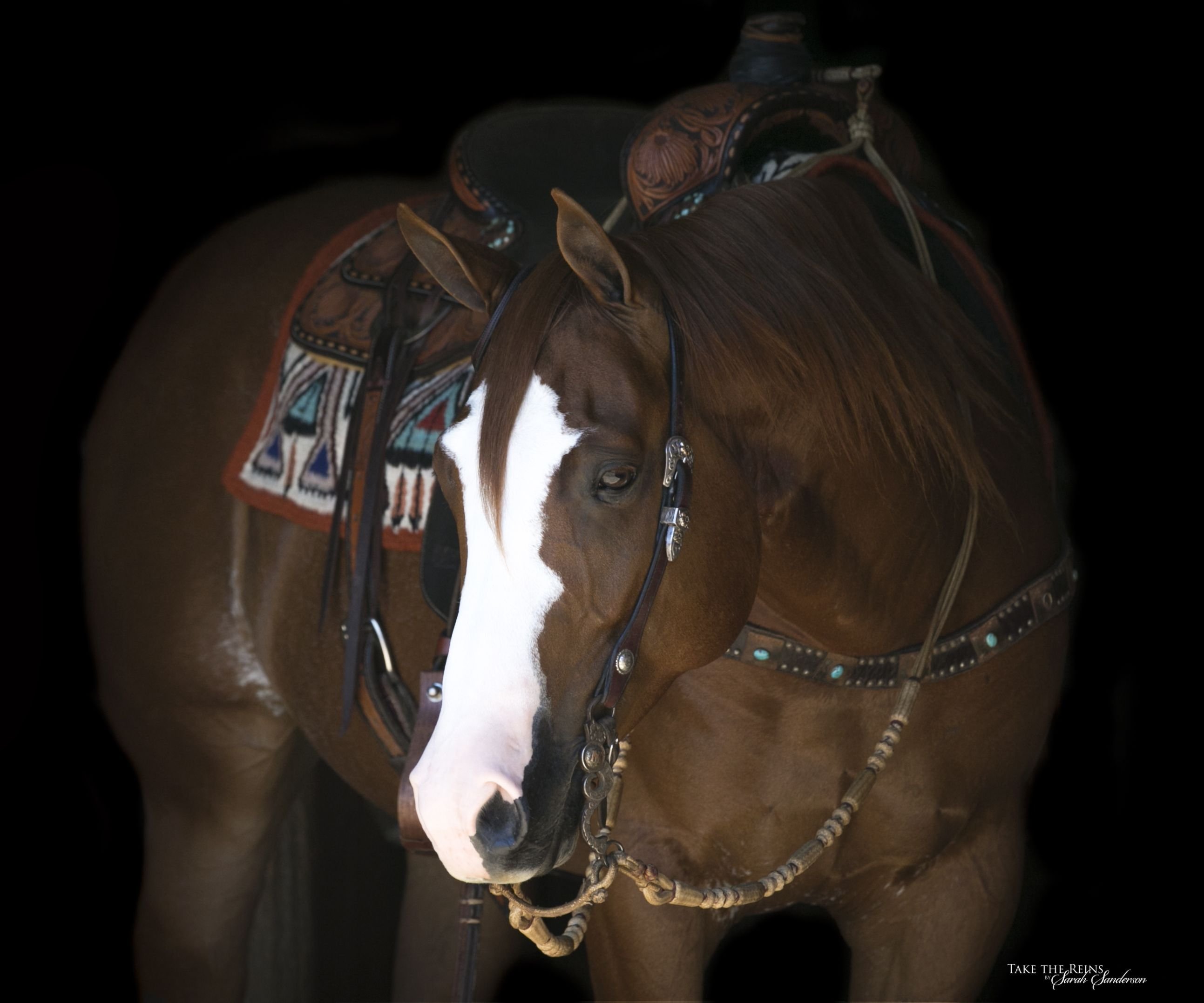 ---
2 years ago I bought a horse sight unseen from someone who promised me the horse was suitable for my needs. I was totally ripped off. After much research and of course being nervous of trusting anyone, I reached out to Sarah McKibben. After watching lots of videos and making a few inquiries I now wanted desperately to own a horse trained by Mozaun and Sarah. I made a call to inquire about a gorgeous mare they were selling. After explaining to Sarah I needed a very quiet safe horse due to my weight and my extreme nervousness. Sarah could have sold me the horse I called about, but instead, she was extremely honest and told me that specific horse would not be the right one for me. Sarah promised she would help me find the right horse for me.
Well, a couple of months later, I would receive a message from Sarah telling me she had the perfect horse for me. She was willing to work with me and make sure I got him home to Canada safely. Dude is everything she said he was and more. He is the love of my life. I will never buy another horse from anyone else.
Bonnie Rowntree
DUDE
Canada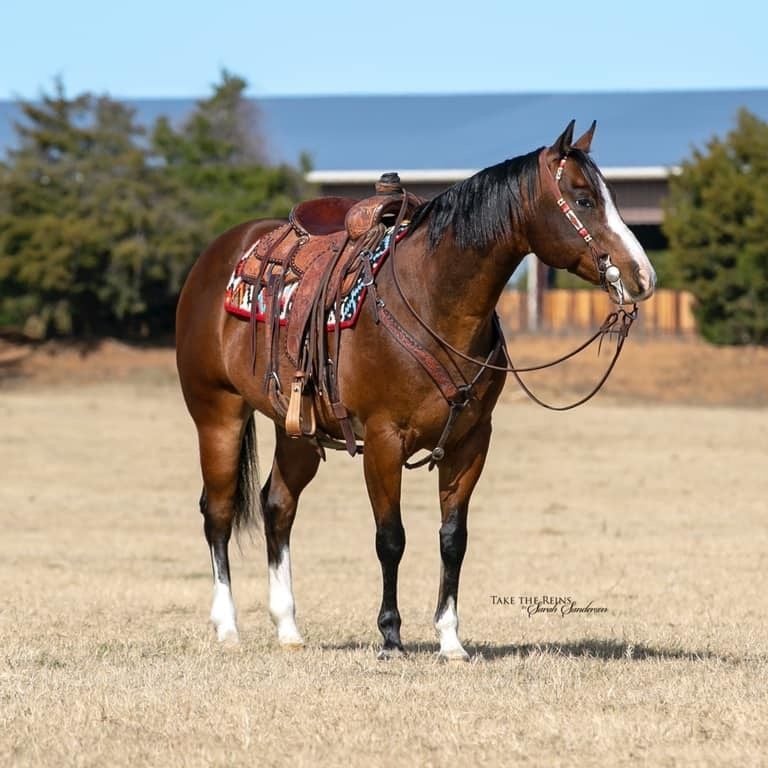 ---
I have purchased one of the best trained gypsy Vanner in the world. This horse was trained by Mozaun and Sarah mckibben from Whitesboro Texas. The first horse I bought from mozaun was a Vanner cross I bought in Shawnee ok. Tomahawk is an outstanding horse. I was so impressed that I also purchased Rambo from the cowgirl Cadillac in Wickenburg az. I cannot express what a joy it has been to be so fortunate to have been blessed with these wonderful horses. Mozaun an Sarah have been so helpful in the transition of these horses. I would recommend anyone to have one of the mckibben trained horses, from novice to professional if you are looking for a premium trained horse from trail riding through professional performance horses I would recommend Mozaun and Sarah should your go to horse providers.
Don Doak
RAMBO, TOMAHAWK & SAPPHIRE
New Mexico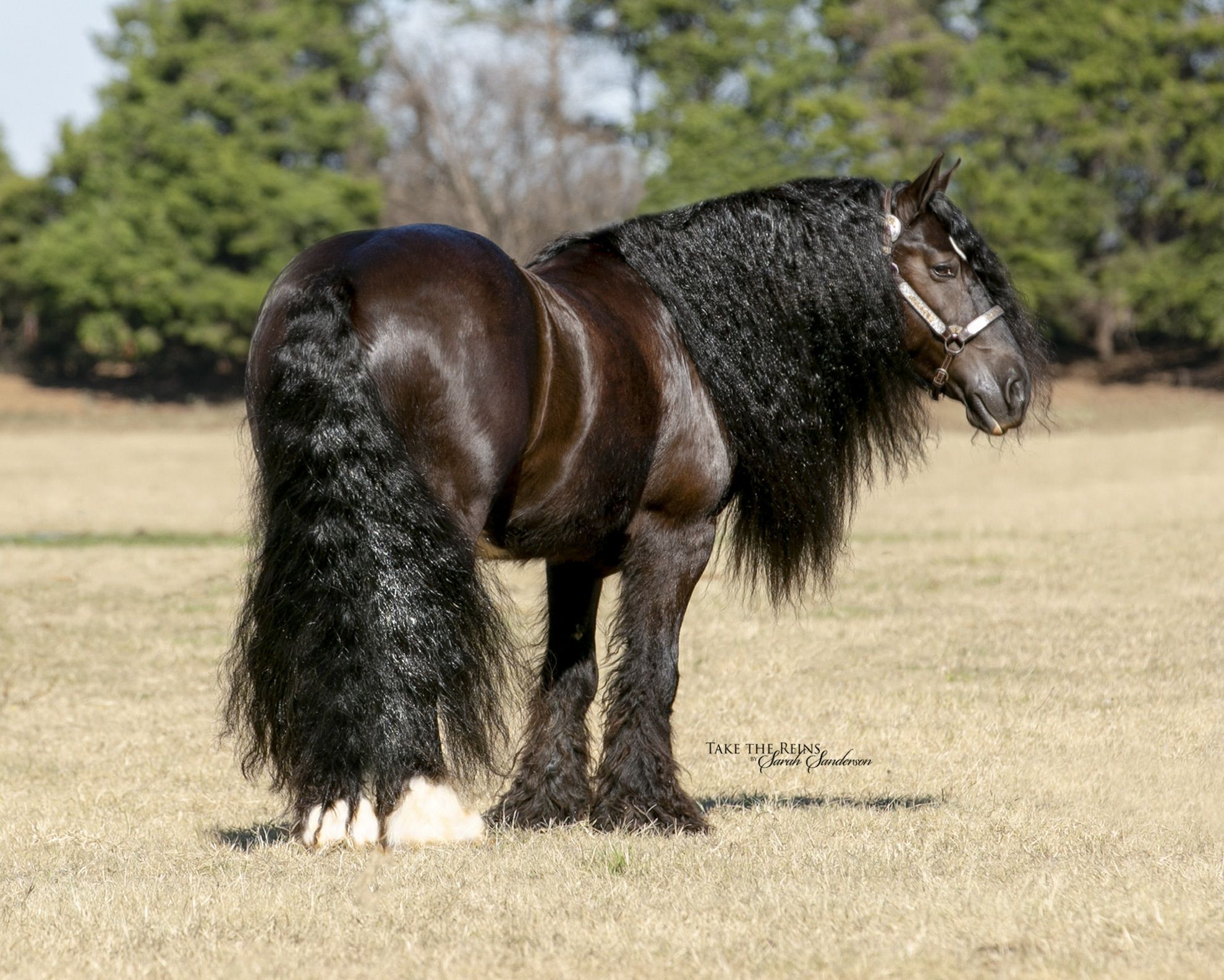 ---
What a wonderful experience it's been buying from Mozaun and Sarah. Cimmarron is exactly as promised, and fit into the family right away. Sarah was there for any questions we had post-sale, and went out of their way to have him delivered since our work schedule the week post sale was nuts. Cimmarron has found a forever home, and we know where to look for our next horse-first stop: Mozaun McKibben.
Chloe Bronson
CIMARRON
Texas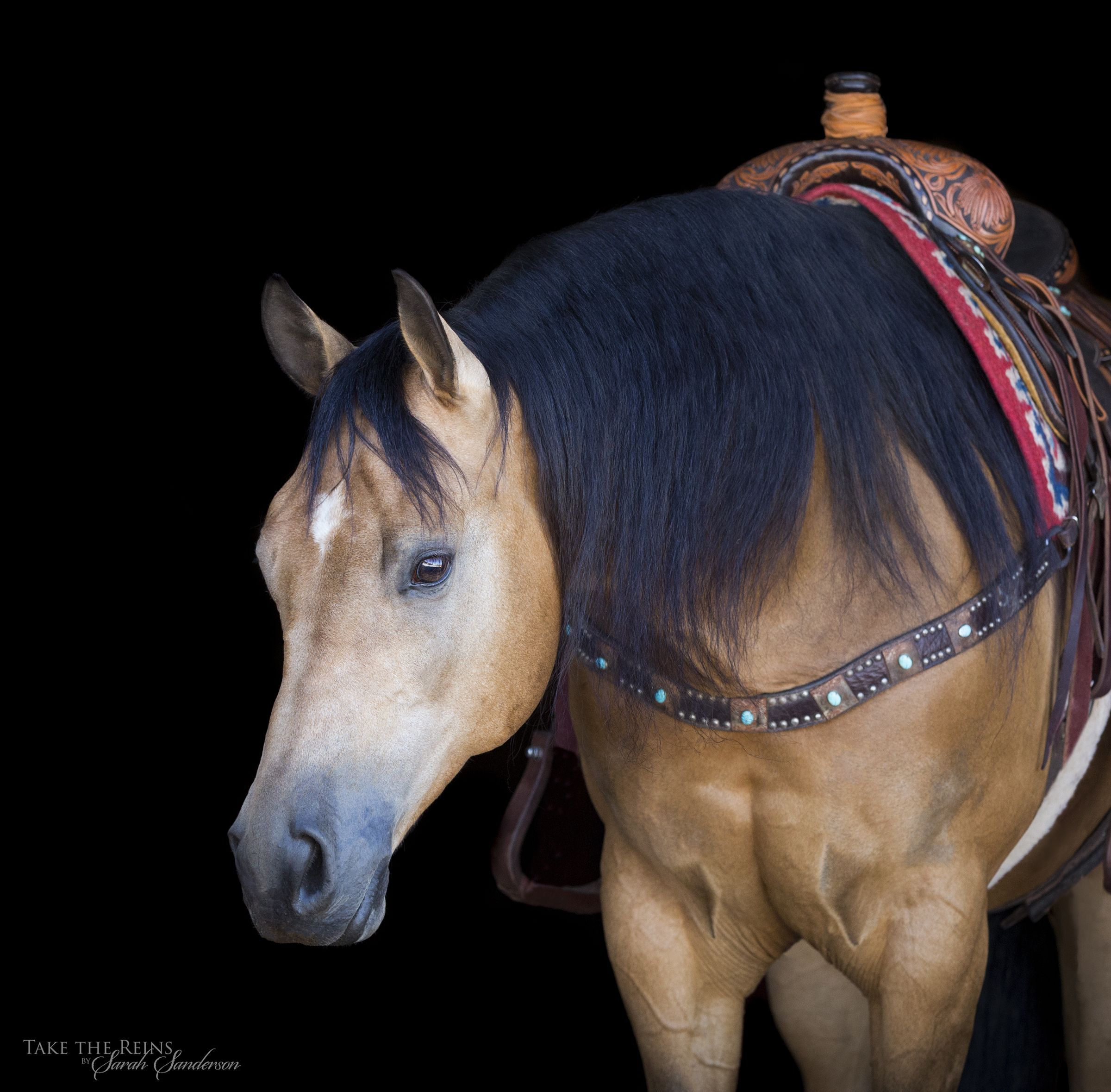 ---
So, so proud of my little mare yesterday...she battled the sorting hole, battled tough cows & took 1st place. She has become one of the neatest little horses I have ever owned. Love my Metallic Cat girl! Thank you Sarah McKibben!
Michelle Carnahan
RUSH
Arkansas
---
Gunners Mega Rascal was purchased from the McKibben's and has been a pleasure to show. He has continued his winning ways showing his versatility by earning the High-Point Open Ranch Horse at the 2018 APHA World Show.
Heather Young
BULLSEYE
Texas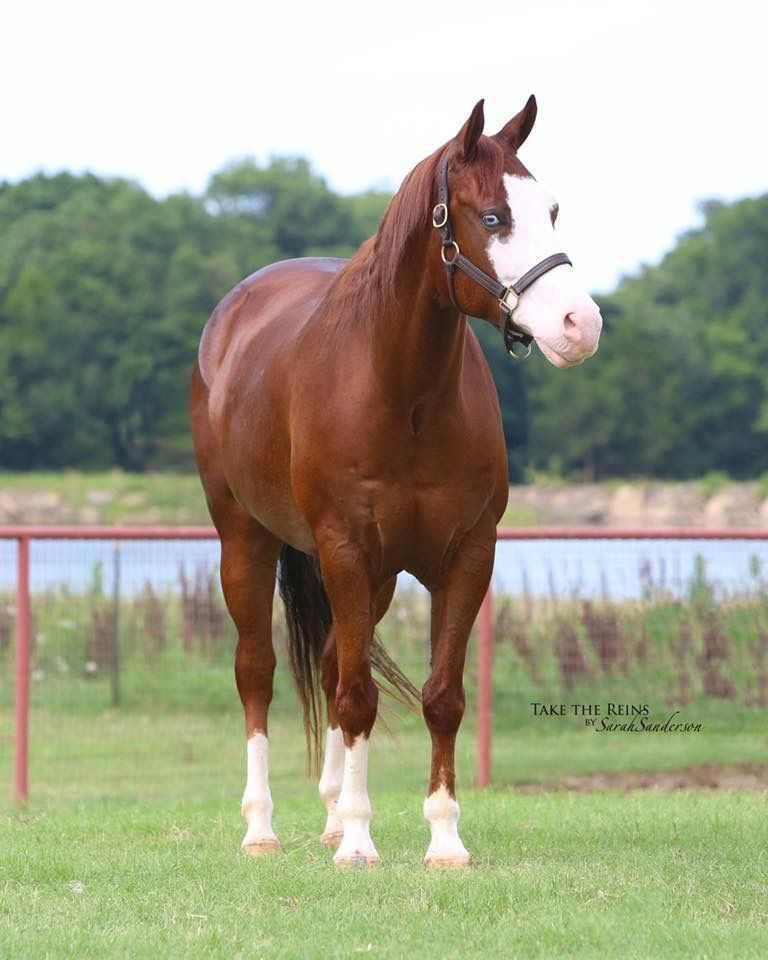 ---
American Quarter Horse Youth Association RESERVE WORLD CHAMPION!!!
Wyatt Hershberger
CASSIO
Arizona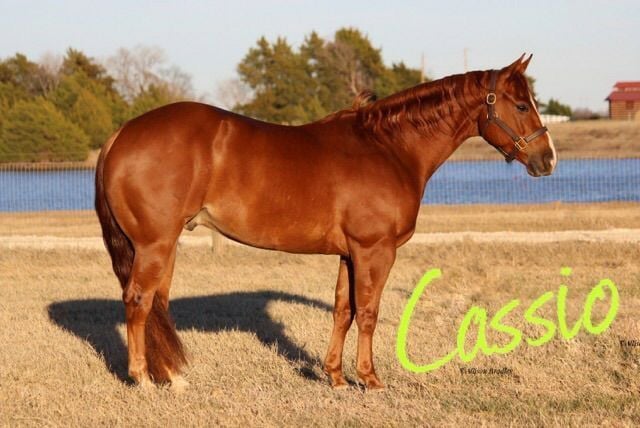 ---
I found it to be a very good experience buying a horse off Mozuan. Horse was everything they said he was. Very happy with my purchase.
Bob Baffert
FLASH
California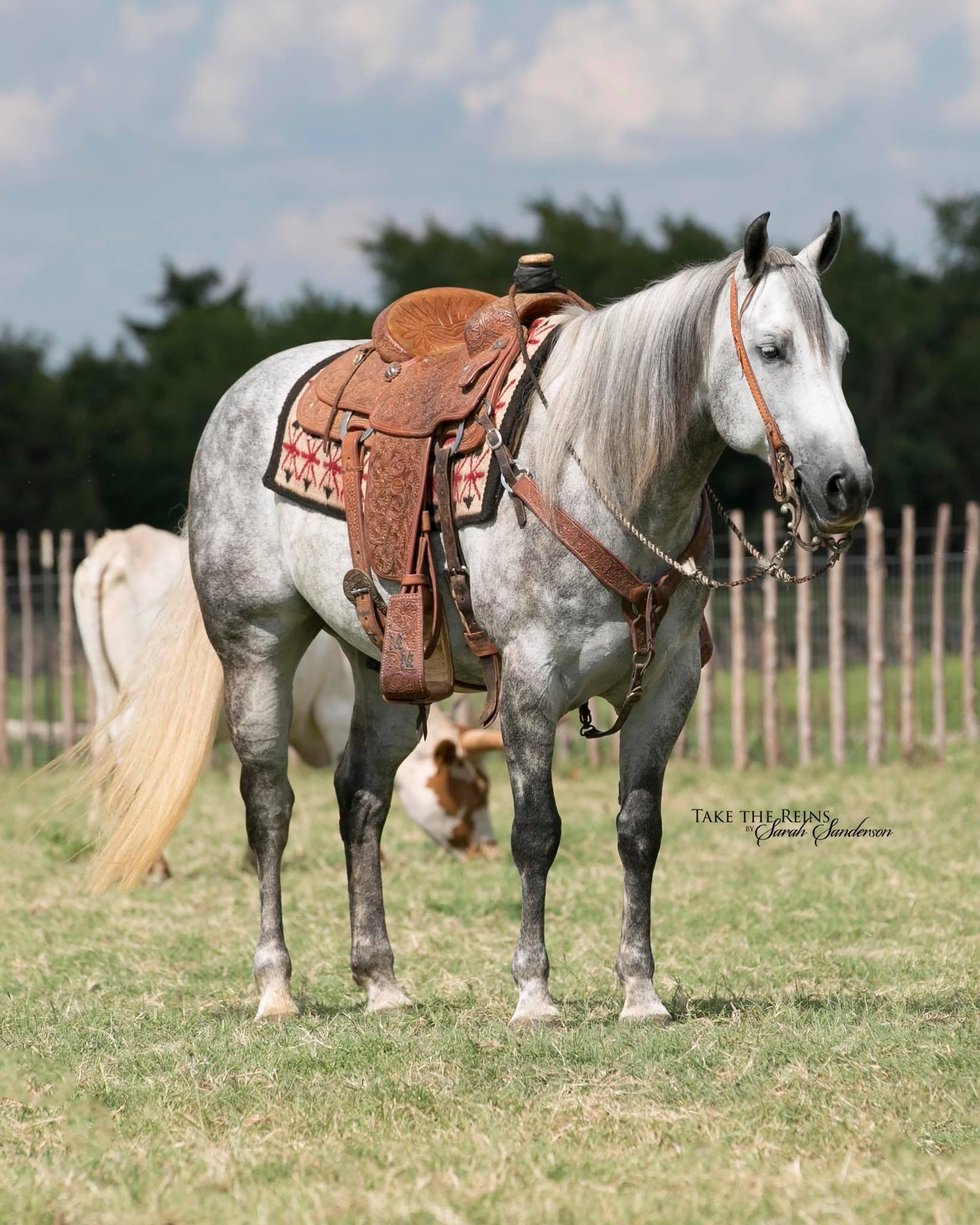 ---
Well trained horses that are also beautiful are hard to find! Sarah and Mozaun specialize in training these types of horses. If you want a cutter, reiner, roper or just a pleasure horse, they will have what you want. The horse you choose will also be calm, well mannered and drop dead gorgeous! I searched for a year to find my perfect horse, and finally found him at Mozaun McKibben Performance and Versatility Horses. Jeannie/ Oklahoma
Jeannie Rodgers
SCOOTER
Oklahoma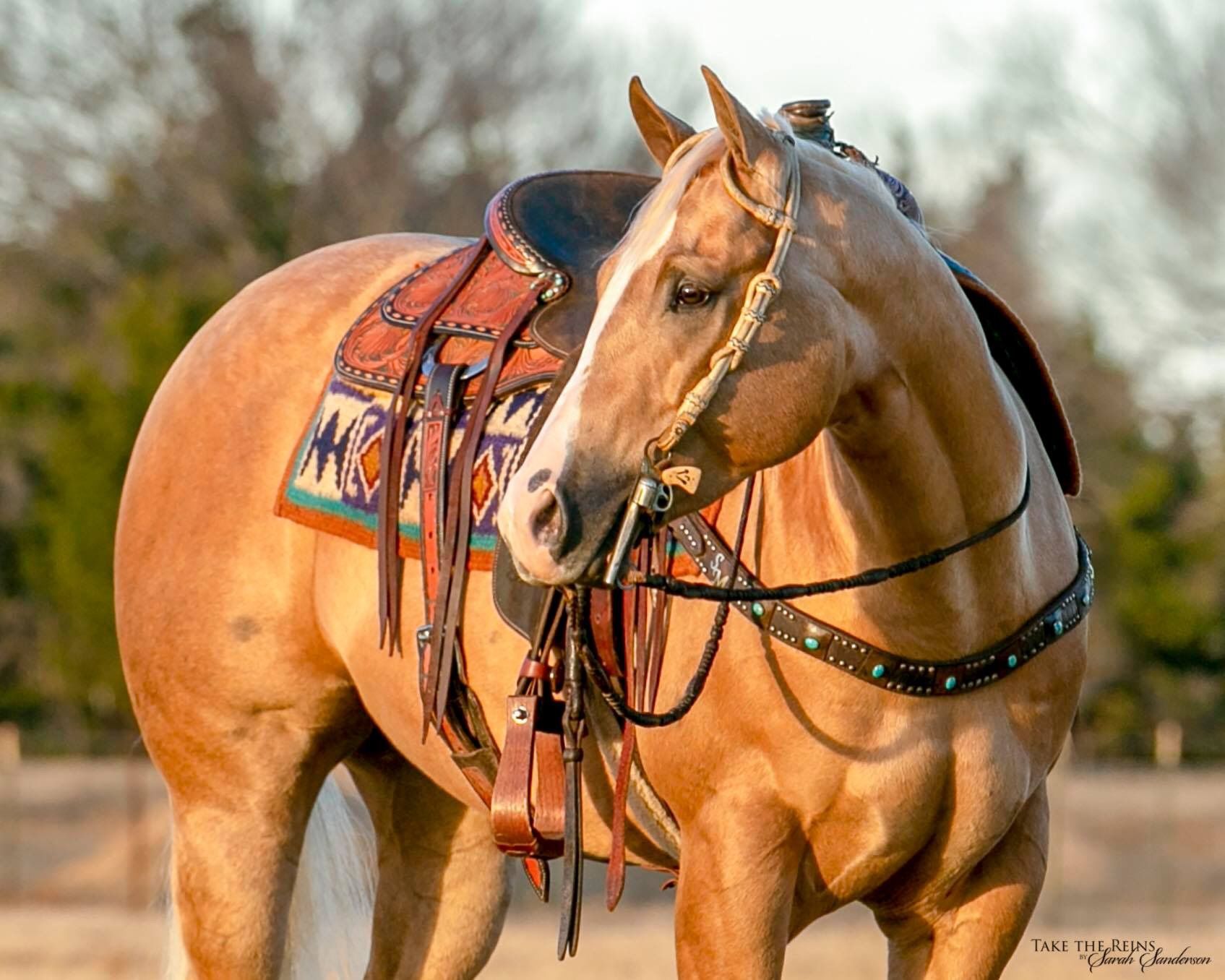 ---
God has blessed me with many nice horses in my lifetime, two of the best have come through my friend Sarah McKibben. The first being, Dover, who helped qualify me five times to the Texas Circuit Finals rodeo and maintain a Top 15 status in the world standings for several years in the WPRA. The second is a horse named Mack who I know has a brilliant future as well. Sarah and Mozaun's commitment to training and selling quality horses is apparent the moment you step into their barn. Sarah's hard work and love for horses combined with Mozaun's gift to train them to accomplish things we typically only see in the movies makes this delightful couple a tremendous asset to the horse world! I trust their expertise and would recommend their program to anyone.
Kendra Dixon
DOVER & MACK
Texas
---
I have had a fifty year career as a professional horseman. Multiple national champions in the Show Hunter World, polo ponies that went on to play in forty goal tournaments . Now is the time for me to have a horse that is in an entirely different discipline with the goal to see him become a World Champion Versatility Horse. This Woody Be Tuff gelding will hopefully take us there. Thank you Mozaun and Sarah. We bought a wonderful horse from Sarah and Mozaun last September at the League of Legends Sale in Livingston, Montana. He is and was everything they said he was. This horse has an exceptional foundation and we have high expectations for him in the Show Pen. We were present at that sale, but will not hesitate to buy from them again, even sight unseen over the phone. They are the best...
Ed & Roz Davis
TINY
Georgia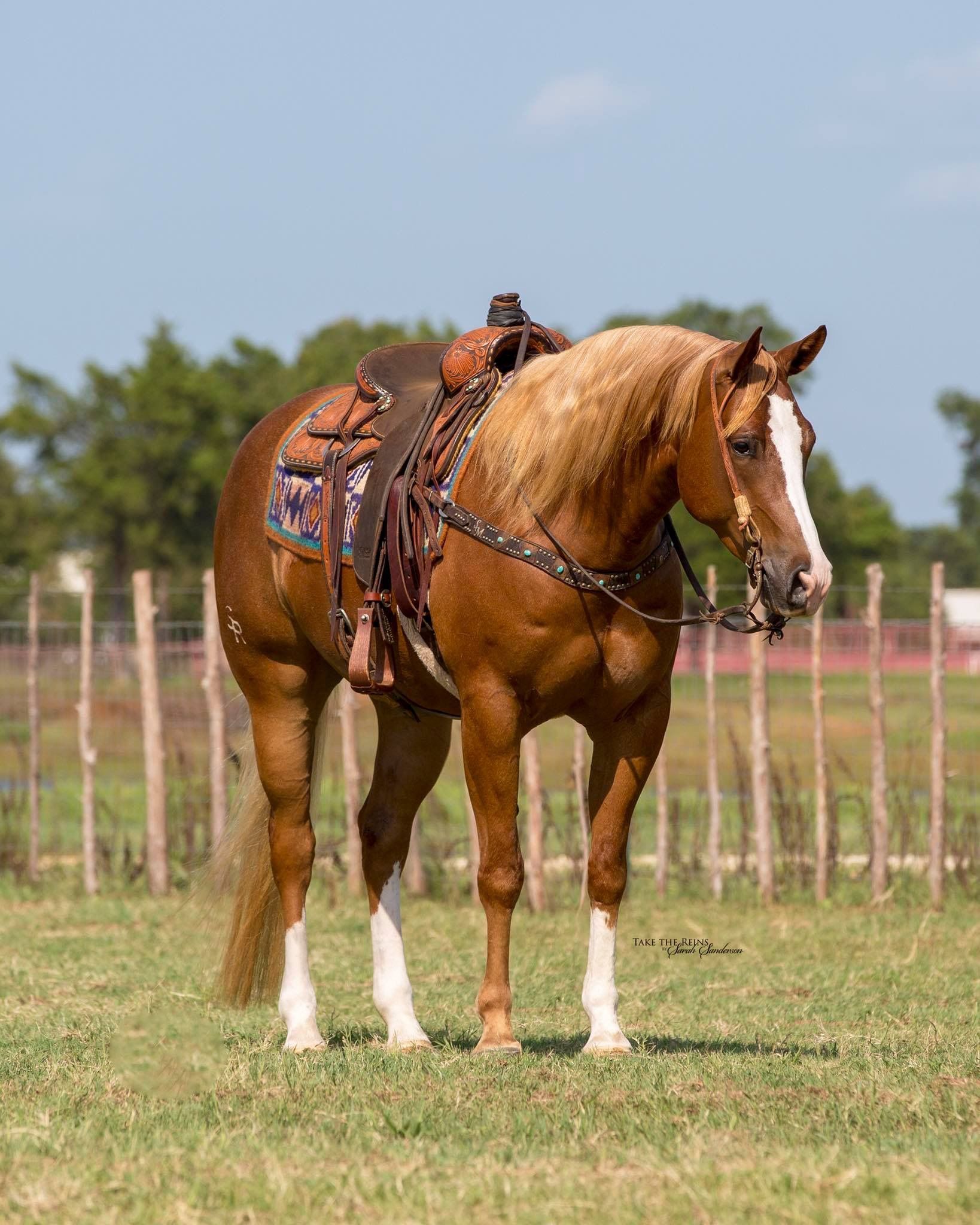 ---
Buying my horse over the phone from Mozaun and Sarah was a wonderful experience. It allowed me to buy outside of New England. The horse is everything they said he would be and more. I highly recommend doing business with them. I really appreciate how helpful, kind and honest they were.
Sandy Main
MARSHALL
Maine
---
Just want to thank you both again for such an awesome horse! What started out as purchasing a horse because he was kind and gentle turned into a competitive individual in the show ring! He possessed everything you said about him plus much more!! I can't begin to tell you what a once in a lifetime horse " Blackjack Bhooty " is. I was always be thankful to you!
Rob Stein
ZORRO
Pennsylvania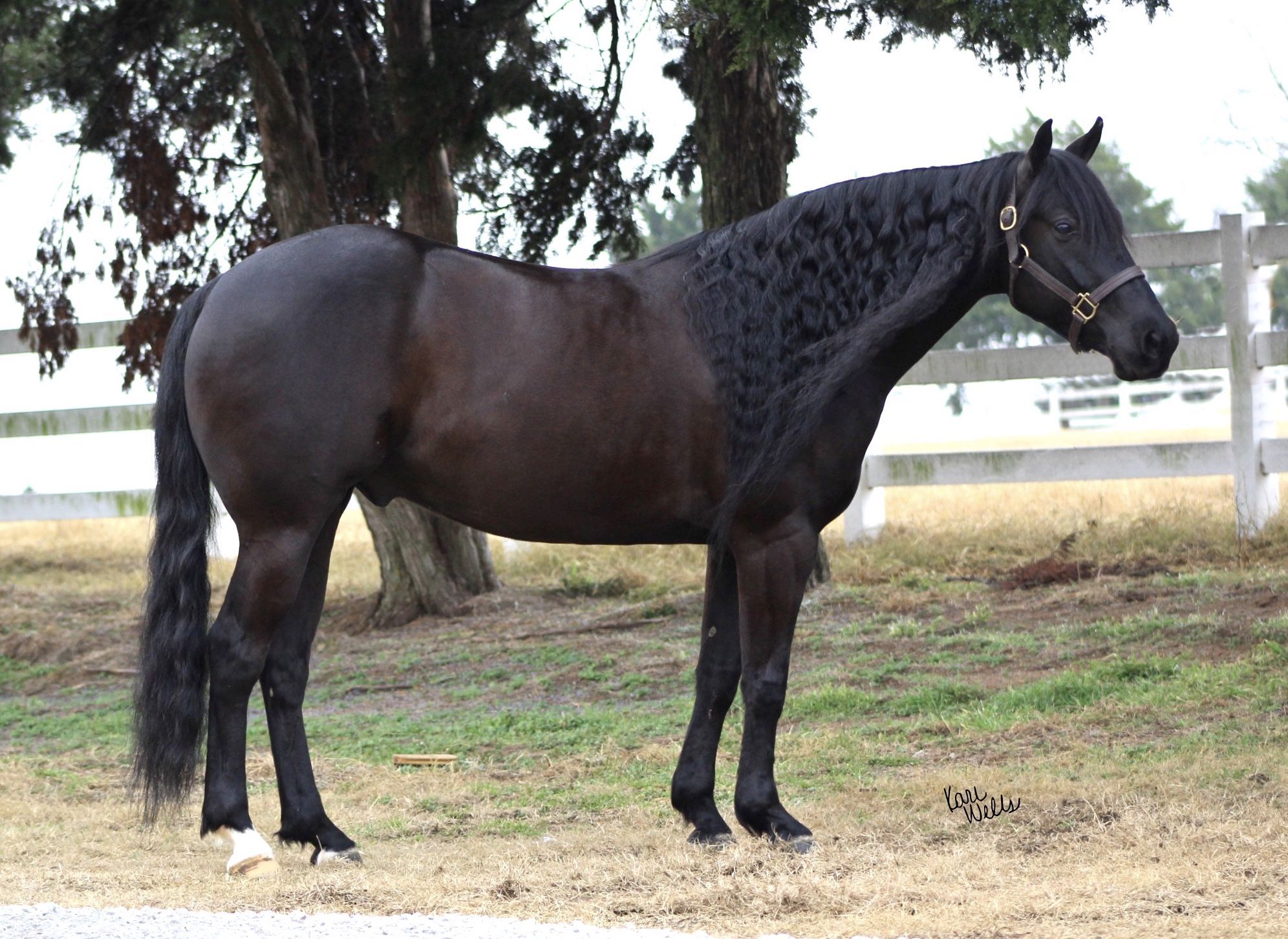 ---
We have purchased two Mozaun Mckibben horses recently at sales in Shawnee, Okla. We are very pleased with them, the horses have been well trained and conditioned to perform as represented...
Jimmy Harrell
NACHO & Q-BALL
Oklahoma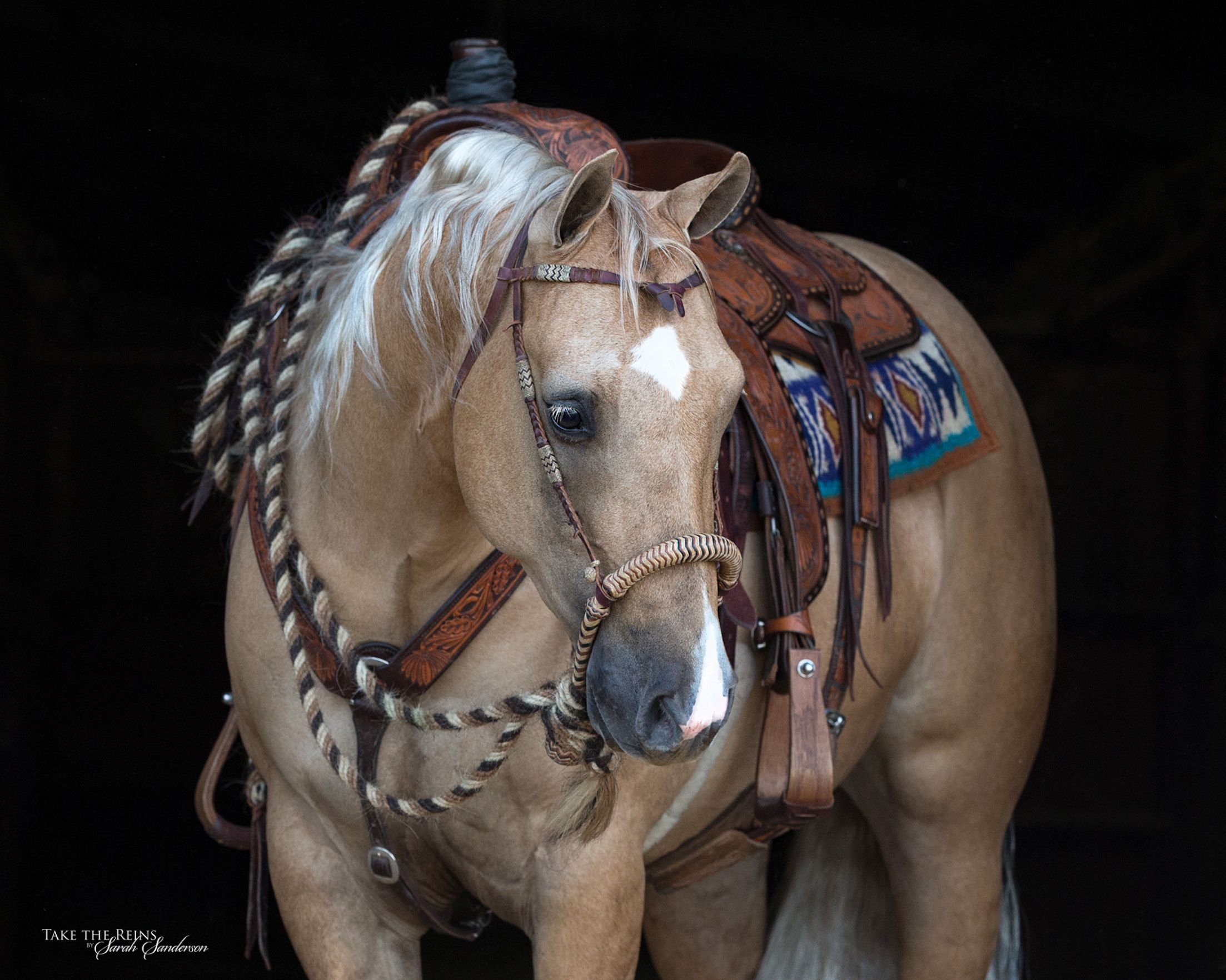 ---
I purchased one of your horses through an online auction out of Las Vegas. I had only been able to view him on a video prior to the sale but Pecos was exactly as presented upon his arrival. I also appreciate you making yourself available to me for information and advice after the sale.
Jann Cal
PECOS
California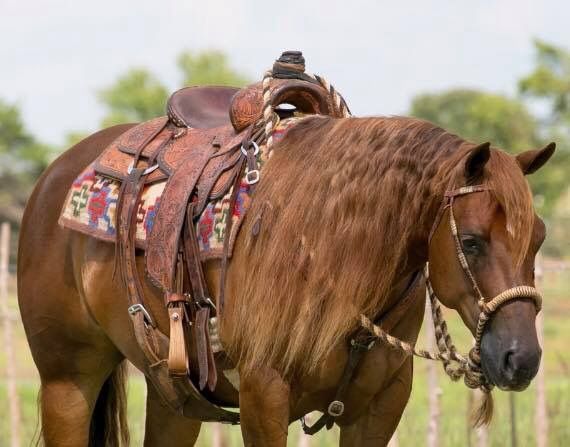 ---
I bought my "once in a lifetime" horse from Sarah and Mozaun in October of 2017 having never met them before. What an awesome experience we had and quickly found out they are such down to earth honest people . I cherish our friendship and most definitely will buy my next horse from them.
Dana Lanning
BATMAN
Virginia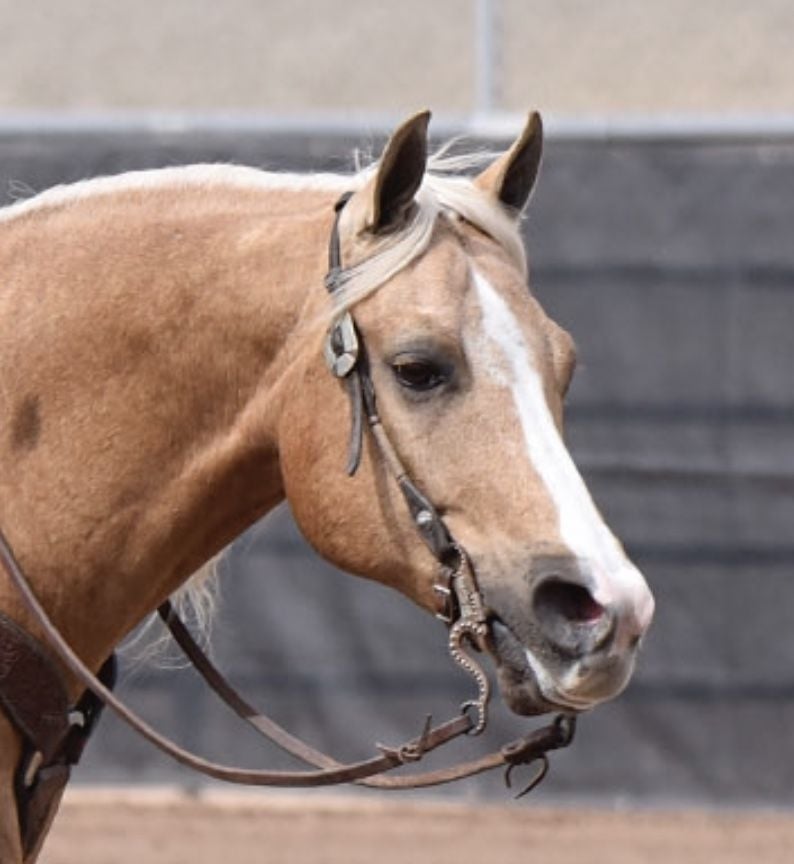 ---
I purchased a horse from Mozaun and Sarah McKibben in 2018. Ajaxx is everything they said he was and more. I found them to be friendly, trustworthy and very knowledgeable. They will be the first trainers I contact for any future purchases and I really appreciate their follow-up after the purchase.
Jack Bass
AJAXX
Texas
---
We have known Mozaun for over 20 years. We bought a horse from Mozaun and Sarah about a year ago. Thought we knew what the horse was at the time we purchased him and he has turned out far nicer than we expected. We will definitely buy another horse from Mozaun and Sarah in the future. 5 star review :)
Rhonda Graham
NEON
California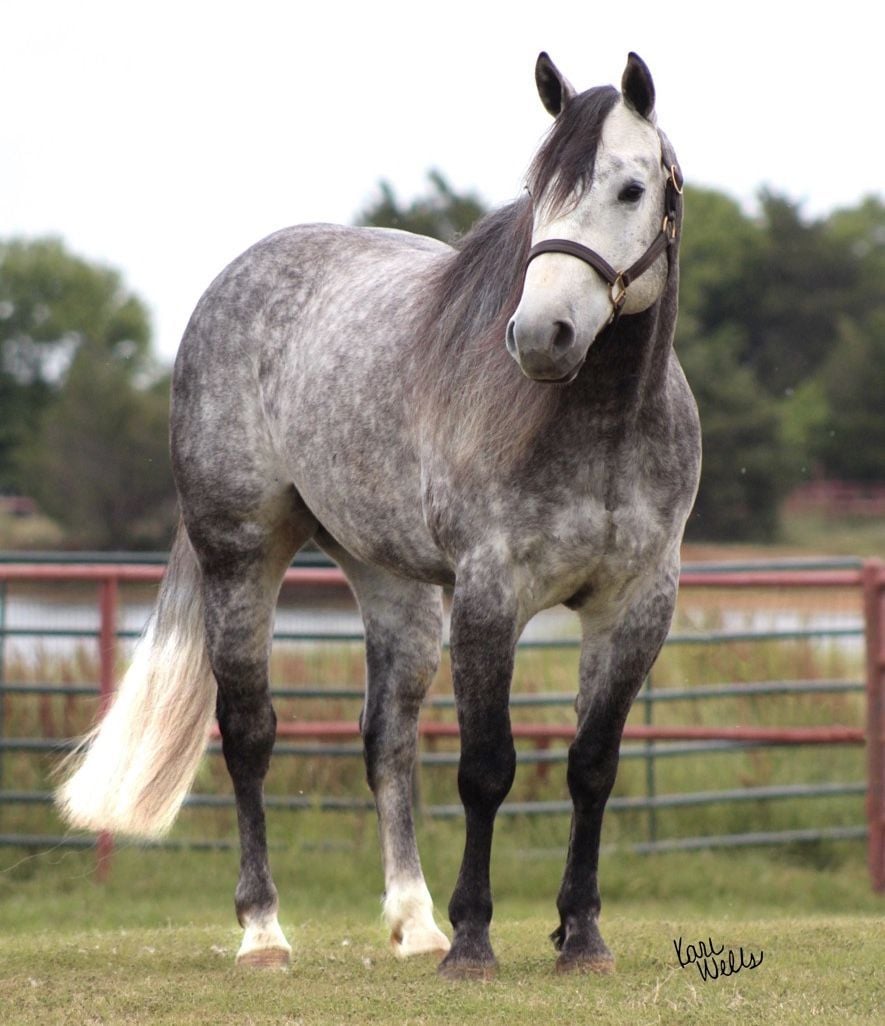 ---
Last year I had the pleasure of purchasing 3 horses from Mozaun and Sarah. After watching the videos, I found out they would be sold at an auction via a Facebook ad. I contacted Ike Sankey of Botts Remount to find out how the auction would work. Since I was unable to attend, I signed up as an online bidder. Under normal circumstances I would not purchase a horse sight unseen but Ike assured me that these were some amazing horses and that Mozaun would guarantee them. I purchased Bandit, Rooster and Geronimo. Bandit is my roping horse, Rooster is my working cow horse and Geronimo is all around. When they delivered the horses to me in Texas I was ecstatic! They were everything that the videos portrayed and then some. Over the years I have had many horses but all of them needed training of some sort. I can't say enough about being able to get on one of these horses and go, no training required! Gives a whole new meaning to owning a horse! I would totally recommend any horse Mozaun and Sarah have trained whether you have the opportunity to see them or sight unseen!
Cindi Perez
ROOSTER, BANDIT & GERONIMO
Texas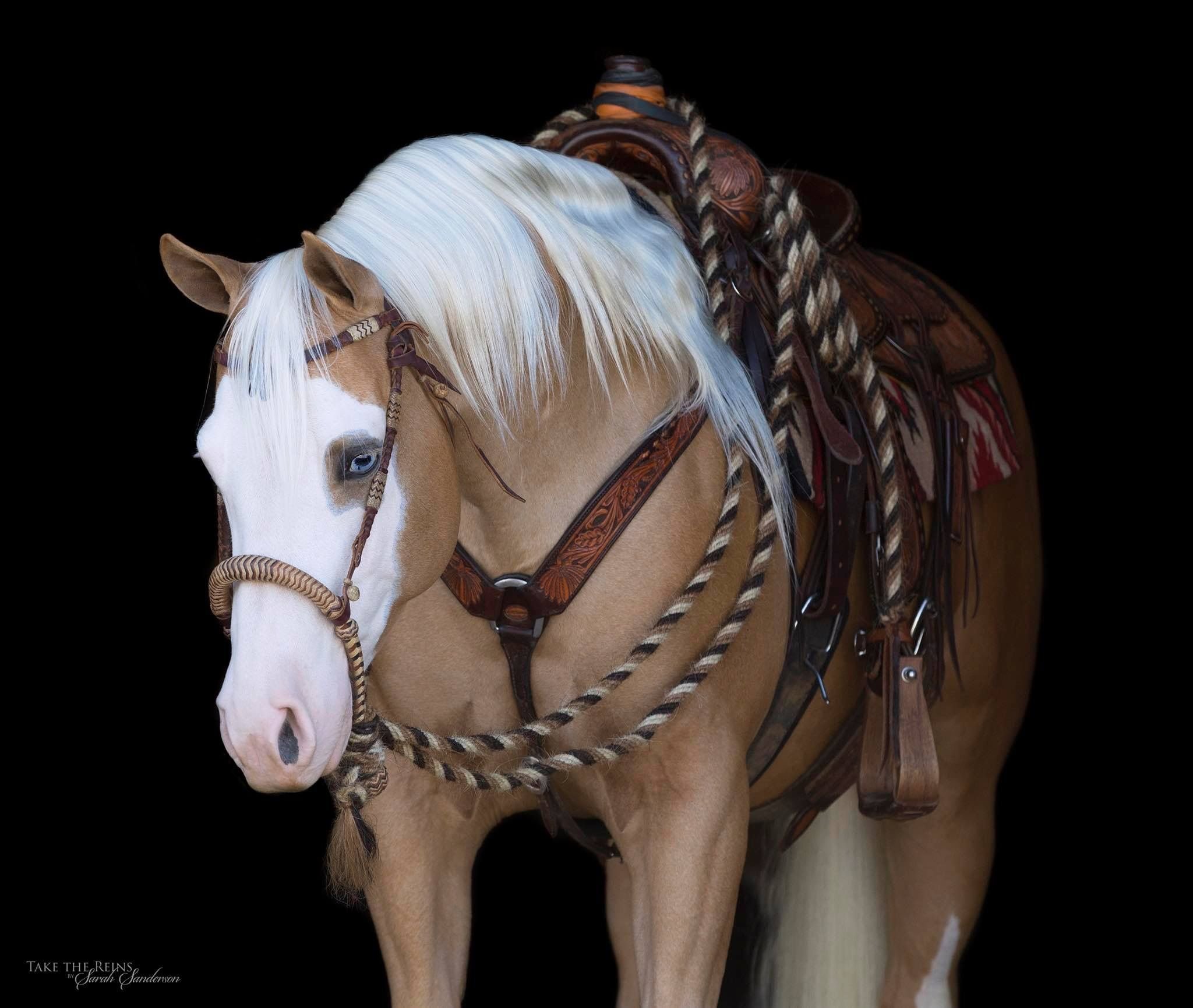 ---
What a sweet horse, quiet. You can tell he was very well trained! A people horse.
John Richardson
TEX
New Mexico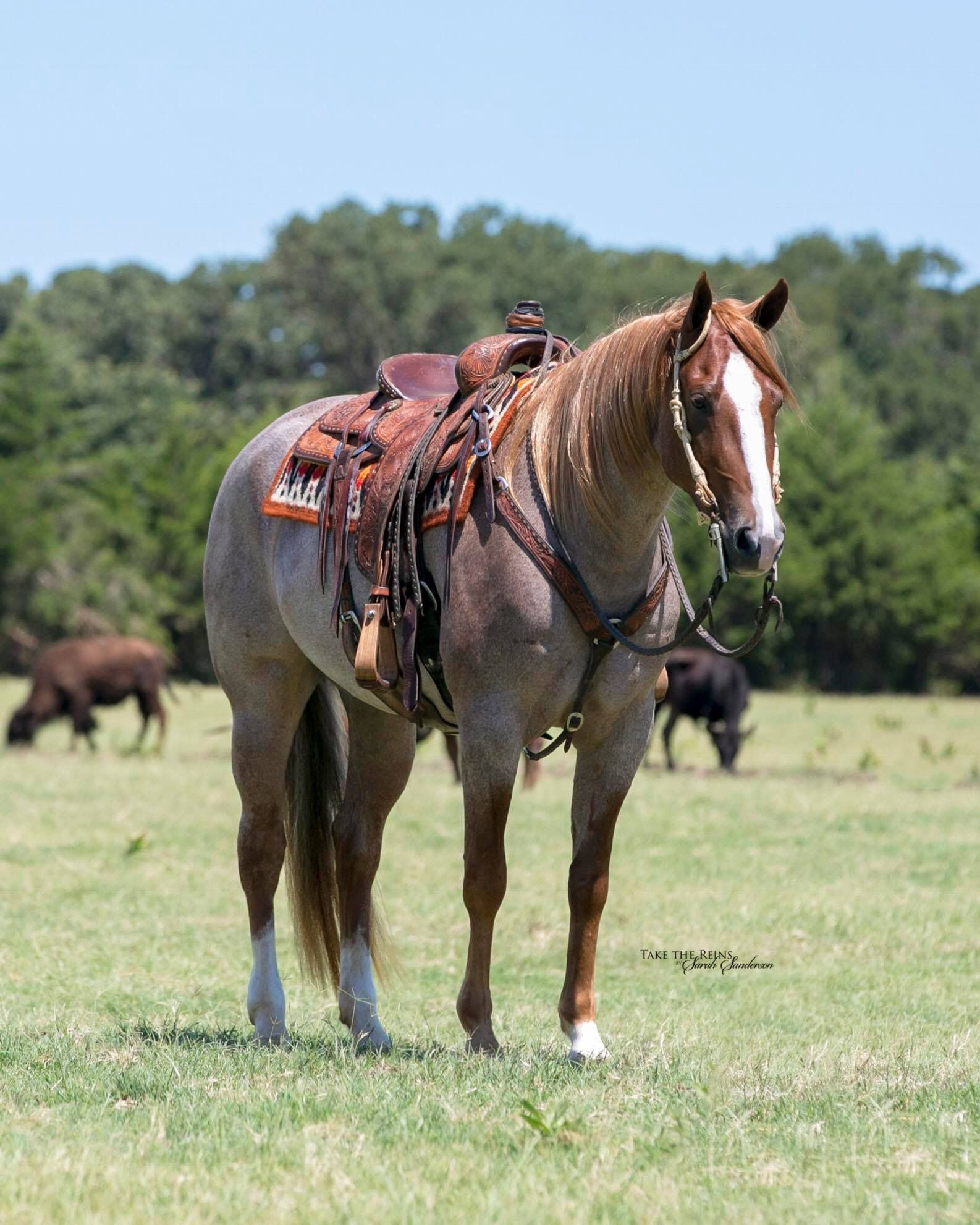 ---
Sarah, Just a personal note of thanks to you and Mozaun for your hospitality and friendship.You are successful because of the little things you do extra. (You're my kind of people) I look forward to our future associations. Thanks again.
Ronnie Shelby
RIO
Tennessee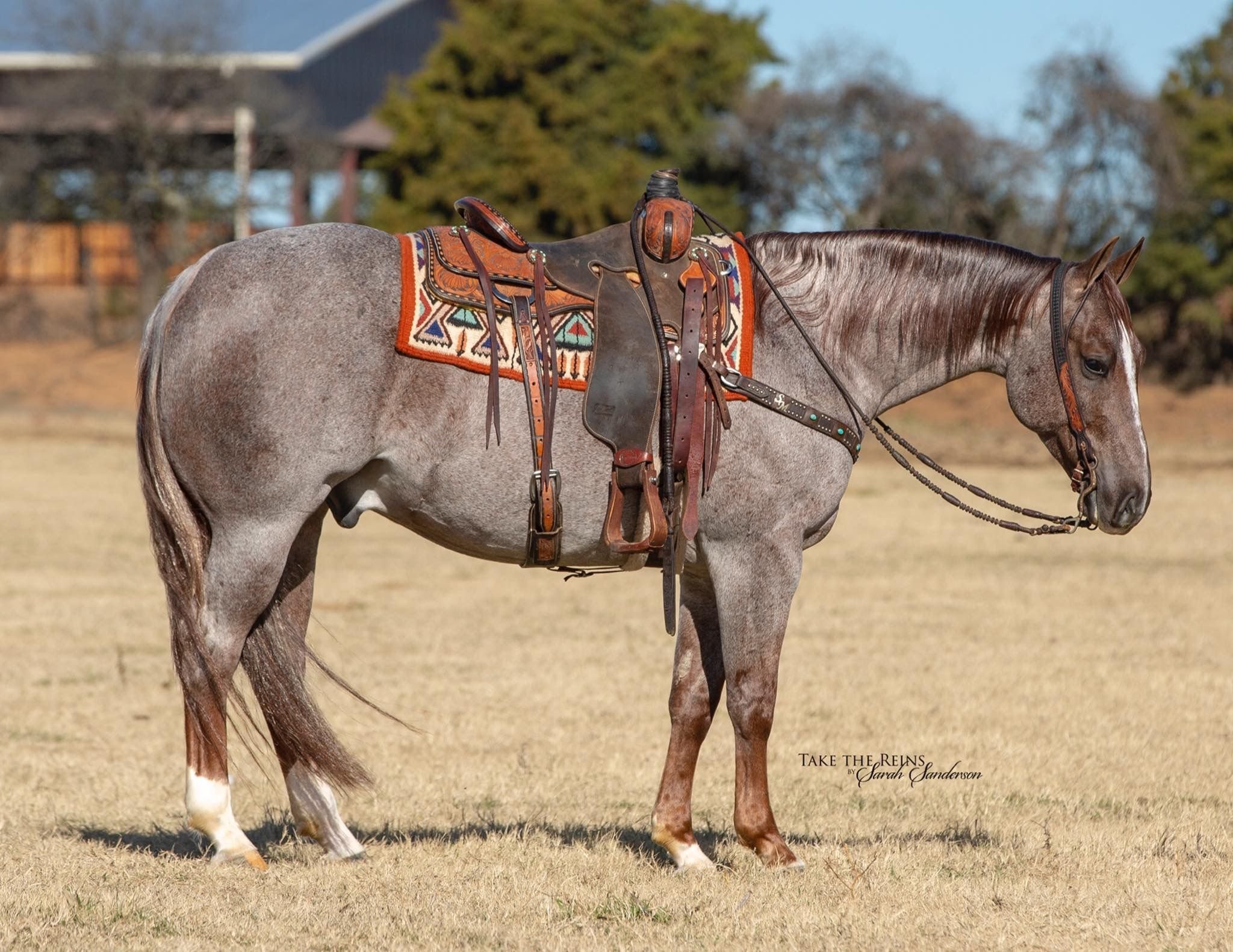 ---
I bought my horse from the McKibbens overs a year ago. I wanted to return to riding after a forty year absence, so I needed a horse that was both gentle and well trained. I remember Mozaun telling me that I could drive all over the United States and not find another horse as special as Levi, and I thought to myself that that was probably just "horse trader BS." After owning this horse for over a year, I have to say that was a fact. Levi truly is an exceptional, highly-trained horse that has been so patient with me as I've learned to compete in reined cow horse, western pleasure, trail, and reining. I won third in reined cow horse in my very first competition! I can trail ride on Levi, and he's the same if I ride him daily or once a month. I wouldn't hesitate to buy another McKibben horse...they're worth it!
Tammy Hacker
LEVI
Texas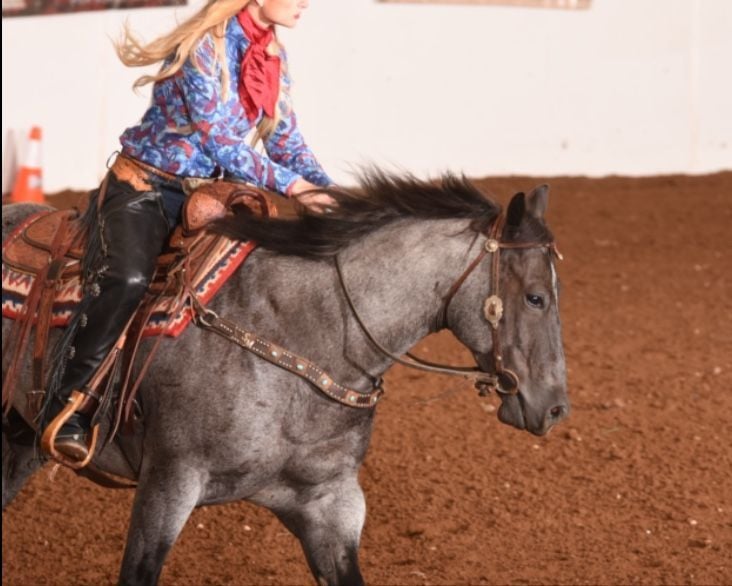 ---
If you are looking for your dream horse...look no further! The McKibbens are truly amazing and fantastic people with even more incredible horses! I got my dream horse over the phone on a bid! And yes, it was easy and fun! My horse is more breathtaking than I can imagine. All I can say is don't worry if you cant travel pick up the phone. I'll be bidding again! 5 Stars
Terri McCue
BLING
Ohio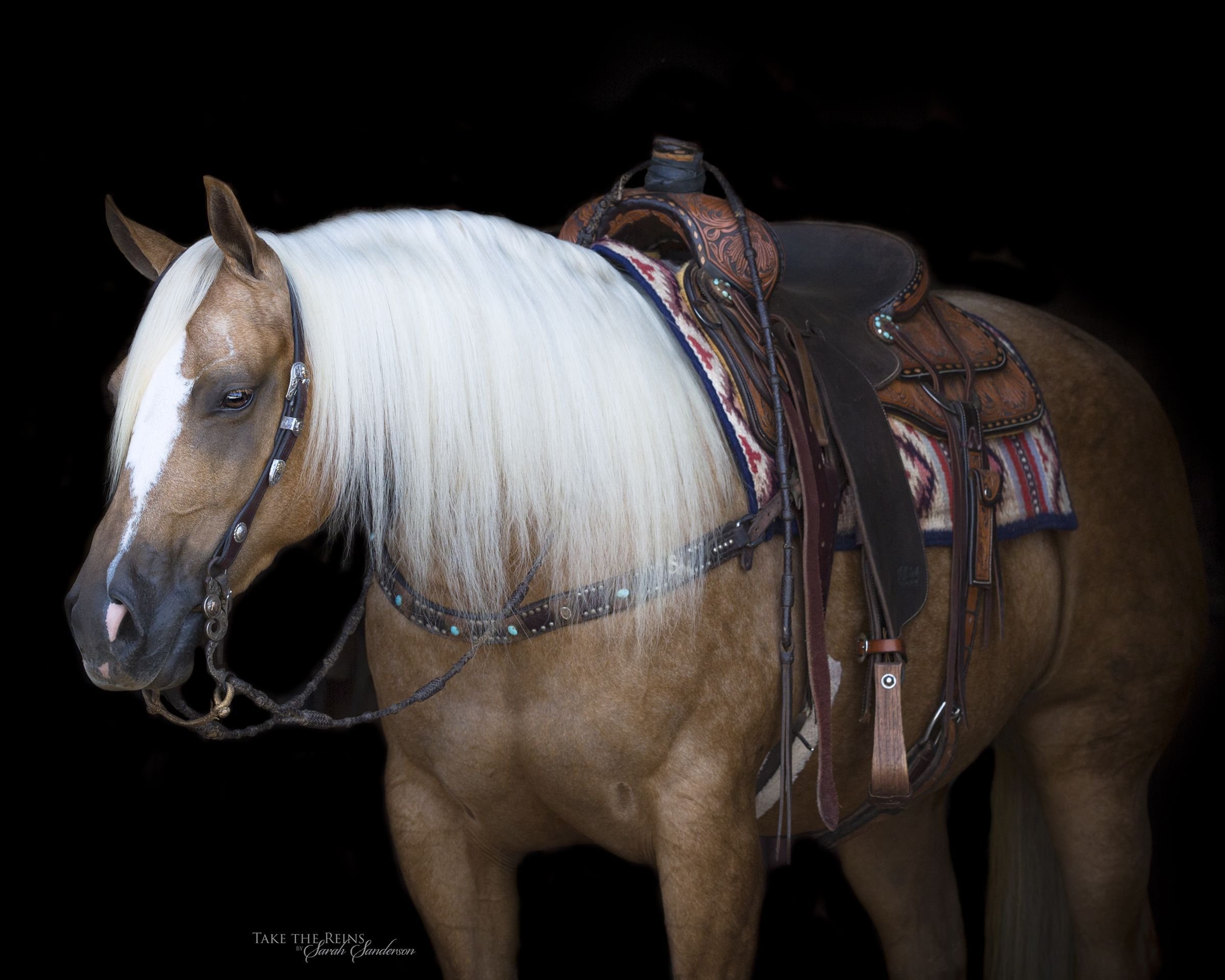 ---
In January we bought, unseen, social Sioux. A lovely buckskin mare. Living in The Netherlands this was quiet an adventure as based on trust we stepped into this. In May we got to get to know the horse and Mozaun and Sarah. What a lovely honest and warm-hearted friends we found and above all an AMAZING HORSE! Social Sioux is after 4 weeks of quarantine in The Netherlands. She is everything and more that Mozaun and Sarah promised us. A completely relaxed, easy to handle horse, well trained, well mannered and speedy and fun to ride with a ton of fun tricks on board!! A beauty I proudly show to all our friends and family. Such beauty it makes cars stop... social Sioux very quickly adopted her new home, the new sounds and smells and stayed as steady as Mozaun and Sarah trained her. We are in heaven!!!
Marie-Claire Greve
ARROW
Netherlands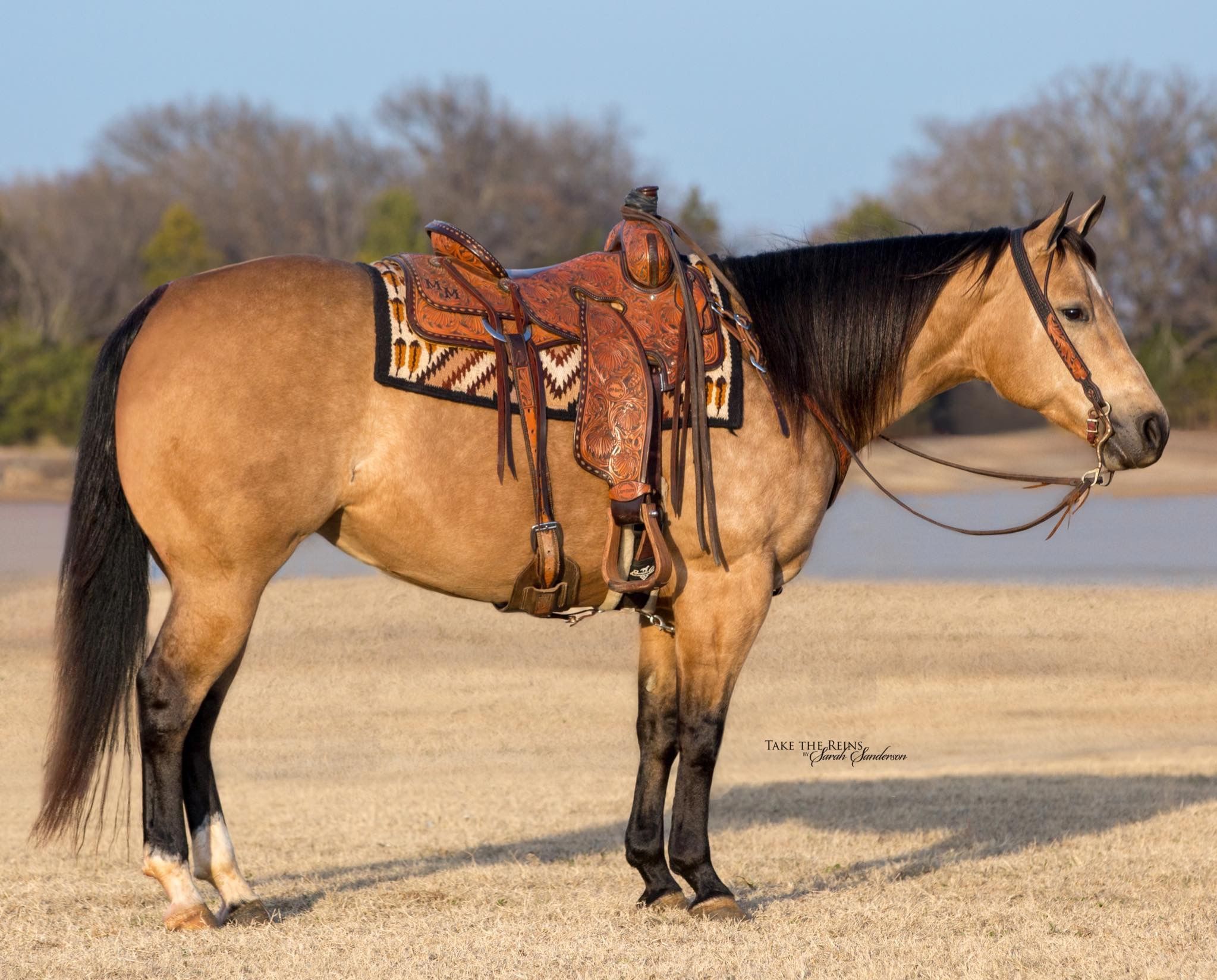 ---
I recently bought a horse from Mozaun McKibben Performance Horses and am completely satisfied with him. I have never been around a horse that is as solid broke and well trained as this horse. He has a lot of energy but is absolutely controllable. This horse is up to any job given to him. Everyone that rides him is impressed with how well he handles and how athletic in and out of the arena that he is. I consider this horse a very good buy.
Doyle Fredrickson
FROSTY
Wyoming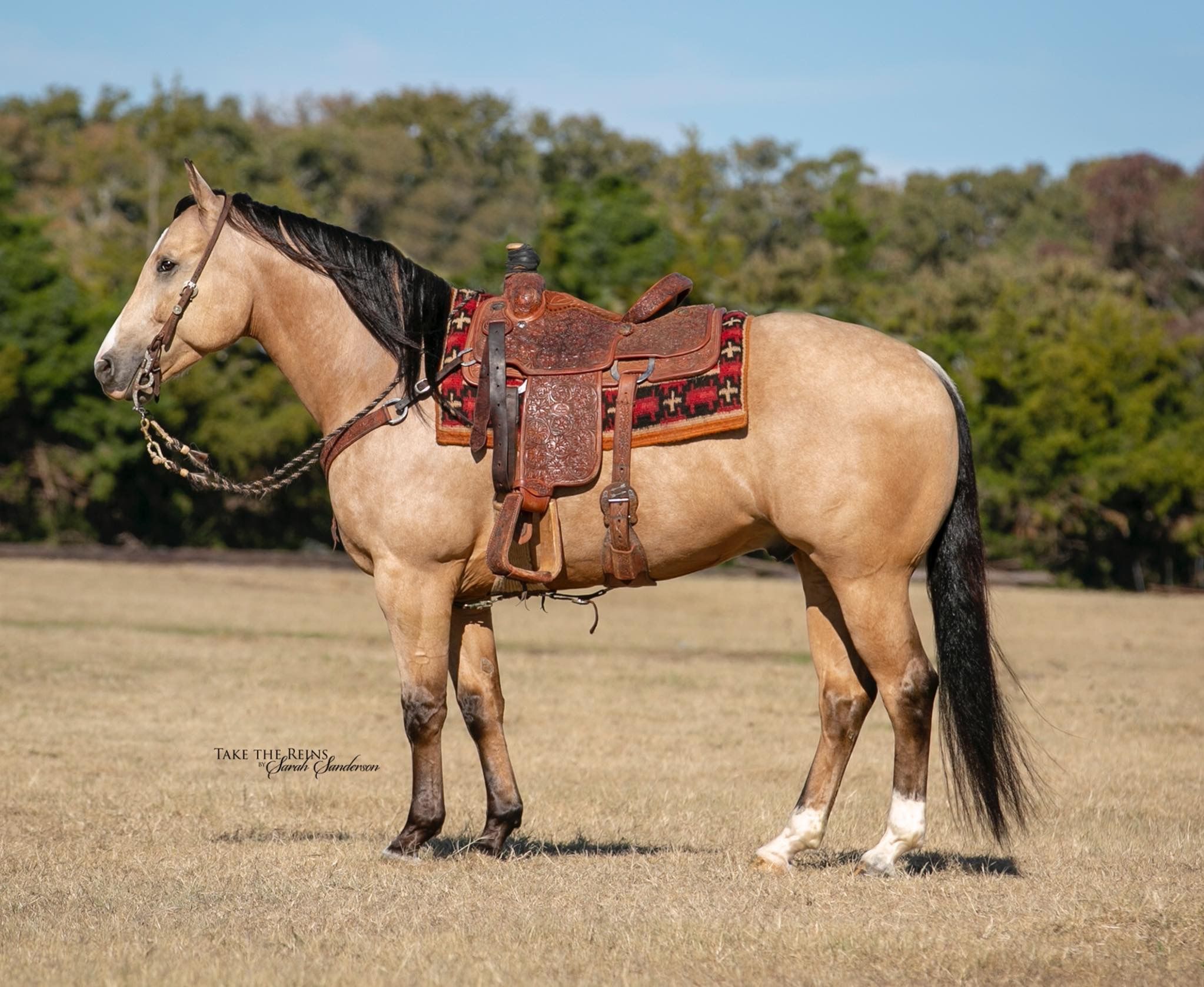 ---
These folks were so hospitable and kind to us on our visit to their ranch. Can't say enough about their good character and good training that we witnessed. Hope to get to enjoy one of their horses in the future!
Kara Mitchell Coats
Tennessee
---